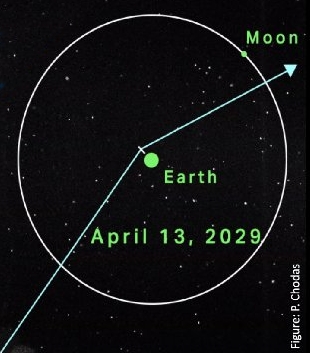 From the conference's logo.
Last week planetary scientists held a three-day virtual conference focused on the asteroid Apophis, whose orbit regularly places it close to the Earth with a real possibility that it might someday hit the Earth.
When Apophis was originally discovered early in 2004, it wasn't at first seen as an out-of-the-ordinary asteroid. Not much was known about it other than its albedo and that it was not trivial in size, probably around 1,000 feet in diameter. All this changed in December 2004, when further observations suggested that it had a 2.7% chance of impacting the Earth in 2029, making it the most dangerous asteroid ever discovered.
Fortunately, all subsequent observations of the asteroid have since eliminated any possibility of an impact, at least through the year 2068. Depending on what happens during the 2029 and 2036 fly-bys of Earth, there is a very small chance that it could hit the Earth in 2068, though the data says the chances of that happening are quite small (1 in 150,000).
On April 13, 2029 however Apophis will still zip past the Earth less than 20,000 miles above its surface, well within the orbit of all geosynchronous satellites. For viewers in Europe and Africa it will be a naked eye object, with a magnitude of -3.
Because the date of that close fly-by is so well known, and because this asteroid still poses a threat to the Earth, the planetary science community is very much interested in taking advantage of that close approach. From the conference's webpage:
Knowledge is the first line of planetary defense, and the 2029 Apophis encounter is a once-per-thousand-year opportunity for investigating an asteroid as large as 350 meters passing within 6 Earth-radii. Time is of the essence as we have less than a decade to plan Earth-based and possible in-situ missions whose measurements can deliver unprecedented detailed knowledge on the physical nature of Apophis as the prototype example (poster child) of potentially hazardous asteroids.
I attended that conference, and am here now to give a summary.

First, the scientists are decidedly unsure how much they should do. While they very much want to use the close fly-by to study this asteroid, they also realize that if they are not very careful, there is a measurable chance the arrival of a planetary probe could shift Apophis's orbit and increase the chances of a later impact. As Stephen Chesley of the Jet Propulsion Laboratory in California noted in his talk, it is possible for "a spacecraft arriving before April '29 fly-by to affect the 2068 path by several Earth radii." Since a spacecraft arriving after the fly-by could only shift things by about 1,600 kilometers, he advised that any planned missions "stay away until after" the '29 passage in order to minimize any risks.
At the same time, the scientists see this fly-by as an opportunity to test and demonstrate the planetary defense technologies that will be needed should we someday discover another asteroid on a collision course with Earth. These technologies not only include the ability to quickly put together a mission to study an asteroid, but to do so with the goal of getting the precise information needed to mitigate its threat, such as its mass, density, spin rate, shape, and internal structure. You can't plan to deflect or destroy an asteroid without knowing these facts.


A shape model of Apophis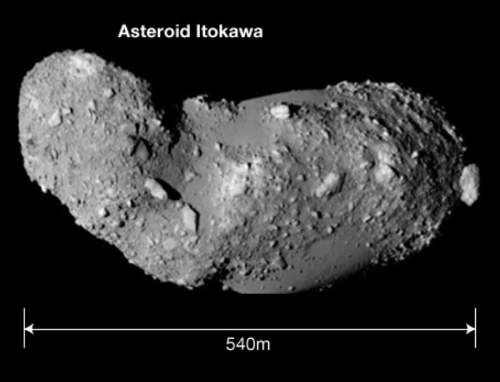 In fact, Apophis is even more ideal in this context because we really know so very little about it, despite an intense effort to study it since 2004. We know its approximate size, about 1,500 by 1200 feet. We roughly know its shape, which is asymmetrical like a boulder, with the hint of a neck that suggests it might be a contact binary. We also know it has a composition similar to the asteroid Itokawa (shown to the right), which the Japanese probe Hayabusa-1 visited in 2005.
We know its rotation, about once every 30 hours, but that spin appears very chaotic, almost like the asteroid is tumbling. Actually, in watching one presentation during conference showing its spin, I realized the asteroid's rotation is actually following the Dzhanibekov effect, where it flips its pole every few revolutions.
All of these facts carry enormous uncertainties and large margins of error. Moreover, none tell us the asteroid's precise mass or density and whether it is a solid body or a rubble pile.
As such, the conference presenters outlined a whole range of proposed space missions, including a European mission to rendezvous and grab a sample for return to Earth, a South Korean mission to fly in formation with the asteroid during the fly-by, a Taiwanese mission to send a cubesat there just after the fly-by, and a whole range of proposals for sending multiple smallsats to the asteroid. In fact, almost all the proposed missions were planning to use some form of cubesat design or plasma/ion engines in order to keep their costs down and to speed development.
The most likely mission to Apophis in 2029 however is not a cubesat, and is in fact a spacecraft that is already in space. After OSIRIS-REx delivers its sample from the asteroid Bennu in September 2023, it will possible to send it elsewhere to study other asteroids. According to its principal scientist Dante Lauretta, they have calculated a path that would rendezvous with Apophis just days after its close '29 passage, after which OSIRIS-REx could fly in formation "for as long as we want."
What will happen when Apophis zips past the Earth on April 13, 2029? First of all, its orbital path will change, allowing scientists to better estimate what will happen in both 2036 and 2068. Second, it is believed that the asteroid's tumbling spin will be shifted. According to some models, that spin could double, or be slowed by half.
Third, the scientists think that there is a good chance the tidal effects of passing so close to the Earth will cause landslides and shifting on the asteroid's steeper slopes. This is very uncertain, which one of the prime reasons they want to get some baseline images prior to fly-by, and why some of the mission proposals included landing seismic and passive probes on the surface to gauge any changes. (Whether any such missions will actually touch the asteroid is doubtful. The risks are great, and I got a sense from the scientists that they would strongly discourage such missions.)
Finally, there is one variable that is completely unpredictable, and could change everything. Because Apophis will get closer than 20,000 miles on April 13, 2029, it will be passing through a region where there are some satellites and space junk. There is the possibility, though quite small, that it could hit one of these man-made objects during its passage. If it does, that impact could produce changes in its orbit and spin in ways that no one can predict. While such an event would pose no threat to Earth in 2029, no one can guess what the ramifications would be during later orbits.
So stay tuned. The arrival and exploration of a dangerous asteroid is only a few years away.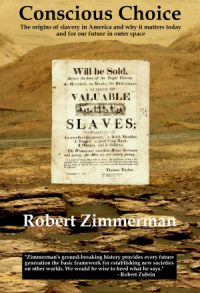 Now available in hardback and paperback as well as ebook!
From the press release: In this ground-breaking new history of early America, historian Robert Zimmerman not only exposes the lie behind The New York Times 1619 Project that falsely claims slavery is central to the history of the United States, he also provides profound lessons about the nature of human societies, lessons important for Americans today as well as for all future settlers on Mars and elsewhere in space.
Conscious Choice: The origins of slavery in America and why it matters today and for our future in outer space
, is a riveting page-turning story that documents how slavery slowly became pervasive in the southern British colonies of North America, colonies founded by a people and culture that not only did not allow slavery but in every way were hostile to the practice.
Conscious Choice
does more however. In telling the tragic history of the Virginia colony and the rise of slavery there, Zimmerman lays out the proper path for creating healthy societies in places like the Moon and Mars.
"Zimmerman's ground-breaking history provides every future generation the basic framework for establishing new societies on other worlds. We would be wise to heed what he says." —Robert Zubrin, founder of founder of the Mars Society.
All editions are available at Amazon, Barnes & Noble, and all book vendors, with the ebook priced at $5.99 before discount. The ebook can also be purchased direct from my ebook publisher, ebookit, in which case you don't support the big tech companies and I get a bigger cut much sooner.
Autographed printed copies are also available at discount directly from me (hardback $24.95; paperback $14.95; Shipping cost for either: $5.00). Just email me at zimmerman @ nasw dot org.