Please consider donating to Behind the Black, by giving either a one-time contribution or a regular subscription, as outlined in the tip jar to the right or below. Your support will allow me to continue covering science and culture as I have for the past twenty years, independent and free from any outside influence.
It appears that the Arctic icecap has reached its 2010 minimum. Though the icecap extent in the spring was the largest since 2002 (see image below), the melt was fast and the minimum appears to be the third lowest since 1979.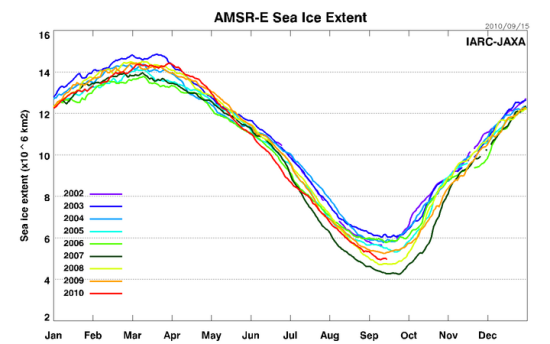 Does this mean the icecap is melting and will disappear shortly, as some politicians like to believe? Hardly. Though the data suggests a long term decline in ice extent, recent trends also show evidence that the icecap might be recovering. What will actually happen is still anyone's guess.