In recent weeks I have grown so horrified by the blatant hate being screamed by Democrats and leftists in the mainstream press against Republicans, conservatives, and Trump supporters that I have found myself unable to write about this stuff.
It is just too disgusting. Here are just a few examples that barely represent the full gamut of anger and hate being expressed by Democrats and their willing accomplices in the press:
All of the accusations against Trump and Republicans in these stories are outright lies, worthy of Joseph Goebbels. And the actions of Democratic politicians like Biden and Castro to attack and smear Trump and his supporters is equally vile, and worthy of the worst form of scapegoating done by anti-Semites. Worse, these people are using terrible mass murders, committed by clearly unstable and sick individuals, to score political points. Such behavior is beyond the pale.
One might, if one was willing to stretch the truth beyond the breaking point, to find some justification in the criticisms of Trump. However, though Trump's twitter comments are often ugly and crude and insulting, the one thing a careful reading of all those statements reveals is that he has always tried to state the truth, honestly and bluntly. Moreover, there is no evidence of racism in any of his comments. He has merely been attacking those who deserve attacking.
The Democratic attacks, however, on the decency of the American population, especially its non-minority population, are especially vile and dishonest. Remember, this is the same population that only a few years ago twice voted for a black president. For Democratic politicians and mainstream press pundits to accuse it of being in favor of white supremacy is more than just absurd, it is a lie and slander.
The problem I have is that I try to be a decent human being. I don't like to give these liars and slanderers a platform to spread their hateful lies. In fact, I don't even wish to read or discuss their childish and mean-spirited behavior. Thus, I have posted nothing until now about the mass murders that occurred this past weekend and the reactions to them.

I suspect that most people feel as I do. They don't want to talk about this, In most cases it is because they fear retribution from these vicious people. I fear their retribution as well, but I also publish a website, and have an obligation to report on these issues as well as express my opinion on such subjects, especially in cases where such evil behavior is exhibited not only by mass murderers but by mainstream public figures.
Most decent people however are running away from this evil. Rather than fight it, they are becoming silent and sullen, fearful of the terrible consequences should they try to resist this mob. Such behavior could result in one of two results in the coming 2020 election: Either we shall be stunned by a complete landslide for Trump, or people will put their heads in the sand, avoid voting, and give the election to the Democrats.
I don't know what will happen in 2020. I know that my inclination is to get enraged and, at a minimum, to make sure I vote, no matter what. Sadly in my life I have generally found my approach to be the exception. It seems that the majority of my generation has instead decided that they just don't like politics and would rather have nothing to do with it.
Common decency however is dying, especially if we allow this vicious Democratic Party to get rewarded for its bad behavior. It is for this reason that I am posting this essay today. We must fight these people, at all costs, or we will pay dearly for our timidity in the future.
So, are you a decent human who is afraid to speak, or is so disgusted that you simply want to avoid the subject? If so, I understand entirely. As I said, I have not written about this stuff much lately, for similar reasons.
Nonetheless, even if you don't publicly express your disgust at this behavior, please make sure you go and vote, and make sure you vote to throw out every Democratic politician possible from political office. The only way we can save our society is to remove this party from power, since it has become a party that believes that lying and slander is an acceptable tactic in politics.
And if you are a registered Democrat, I ask again, as I have done repeatedly, that you reconsider your support for that party. It is not the Democratic Party of Roosevelt and Kennedy, or even Carter. It has become a party of bigoted, hateful, and power-hungry individuals, willing to do practically anything to cement their hold on power. Their present positions of power poses a threat to every decent person in America, regardless of where any of us stand on policy and the use of government to improve society.
More important, a major wipe-out of the Democratic Party in 2020 will give that party an opportunity to clean house, and to start over with new people aware that they must follow basic standards of decency. And if you are Democrat who wants the passage of liberal policies, you need a decent Democratic Party to achieve those ends. Otherwise, you will not get what you want. You will get tyranny instead.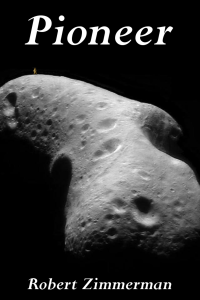 From the press release: From the moment he is handed a possibility of making the first alien contact, Saunders Maxwell decides he will do it, even if doing so takes him through hell and back.
Unfortunately, that is exactly where that journey takes him. The vision that Zimmerman paints of vibrant human colonies on the Moon, Mars, the asteroids, and beyond, indomitably fighting the harsh lifeless environment of space to build new societies, captures perfectly the emerging space race we see today. He also captures in Pioneer the heart of the human spirit, willing to push forward no matter the odds, no matter the cost. It is that spirit that will make the exploration of the heavens possible, forever, into the never-ending future. Available everywhere for $3.99 (before discount) at
amazon
,
Barnes & Noble
, all ebook vendors, or direct from the ebook publisher,
ebookit
. And if you buy it from
ebookit
you don't support the big tech companies and I get a bigger cut much sooner.