In space, science, and technology, there really is very little new news to report today. Instead, almost all the stories are about the passing of Neil Armstrong. On spacetoday.net alone I count almost seventy stories on Armstrong, practically everything posted since yesterday, And that is only a sampling.
This response tells us several things.

First, the small-minded people who have tried to convince the world that Armstrong never walked on the Moon, that the entire Apollo program was a hoax, have failed miserably. The public knows what really happened, and has not forgotten. Moreover, the outpouring of good will to Armstrong and his family contrasts sharply with this ugly effort to denigrate the achievements of the United States by making believe this single most astonishing accomplishment never happened. The contrast illustrates to us all the right kind of things on which we should devote our minds and hearts.
Second, the leftist arguments that we would have been smarter to spend the money on our problems here on Earth now seem very old and tired. The achievement of getting a human to the Moon and then back again safely didn't specifically solve any problem here on Earth. However, its accomplishment made possible so many other and more incredible human successes in the ensuing years that we would be hard pressed to list them. The lunar landing revolutionized human technology and science in ways that no one could have been imaged beforehand, resulting in a more prosperous lifestyle and a far better world in which to live. And the reaction today to Armstrong's death illustrates well how everyone recognizes this.
Third, and probably most important of all, the vision of a human striding the surface of another world has inspired and continues to inspire future generations in ways that cannot be counted. Since that night on July 21, innumerable children have decided, "If Neil Armstrong can walk on the Moon, then maybe I will someday walk on Mars." This kind of hopeful inspiration is priceless, and worth far more than every single engineering spin-off that has come from our space effort. For if we believe we can do anything, than we surely will. And Neil Armstrong proved that on July 21, 1969.
God speed, Neil. We will follow you to the stars.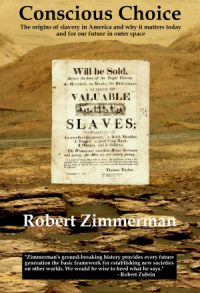 Now available in hardback and paperback as well as ebook!
From the press release: In this ground-breaking new history of early America, historian Robert Zimmerman not only exposes the lie behind The New York Times 1619 Project that falsely claims slavery is central to the history of the United States, he also provides profound lessons about the nature of human societies, lessons important for Americans today as well as for all future settlers on Mars and elsewhere in space.
Conscious Choice: The origins of slavery in America and why it matters today and for our future in outer space
, is a riveting page-turning story that documents how slavery slowly became pervasive in the southern British colonies of North America, colonies founded by a people and culture that not only did not allow slavery but in every way were hostile to the practice.
Conscious Choice
does more however. In telling the tragic history of the Virginia colony and the rise of slavery there, Zimmerman lays out the proper path for creating healthy societies in places like the Moon and Mars.
"Zimmerman's ground-breaking history provides every future generation the basic framework for establishing new societies on other worlds. We would be wise to heed what he says." —Robert Zubrin, founder of founder of the Mars Society.
All editions available at Amazon, Barnes & Noble, and all book vendors. The ebook can be purchased direct from my ebook publisher, ebookit, in which case you don't support the big tech companies and I get a bigger cut much sooner. Note that the price for the ebook, $3.99, goes up to $5.99 on September 1, 2022.
Autographed printed copies are also available at discount directly from me (hardback $24.95; paperback $14.95). Just email me at zimmerman @ nasw dot org.