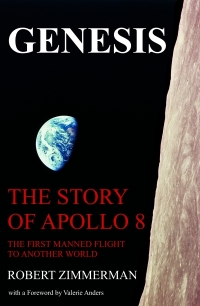 On Christmas Eve 1968 three Americans became the first humans to visit another world. What they did to celebrate was unexpected and profound, and will be remembered throughout all human history. Genesis: the Story of Apollo 8, Robert Zimmerman's classic history of humanity's first journey to another world, tells that story, and it is now available as both an ebook and an audiobook, both with a foreword by Valerie Anders and a new introduction by Robert Zimmerman.
The ebook is available everywhere for $5.99 (before discount) at
amazon
, or direct from my ebook publisher,
ebookit
.
The audiobook is also available at all these vendors, and is also
free with a 30-day trial membership to Audible.
"Not simply about one mission, [Genesis] is also the history of America's quest for the moon... Zimmerman has done a masterful job of tying disparate events together into a solid account of one of America's greatest human triumphs." --San Antonio Express-News
The filmmakers for the Neil Armstrong biography film, First Man, made a conscious decision to hide or obscure the American flag in certain situations.
This new information has been provided to me by a Washington consultant who, because of his own outrage over their decision to not show the planting of the American flag during the lunar landing, had been given the opportunity to see selected clips from the movie as well as ask questions to the production team.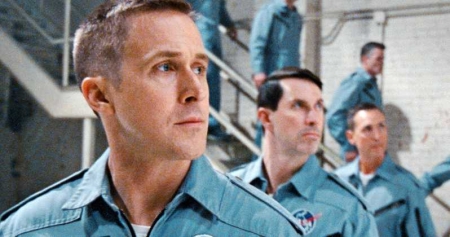 According to that meeting, he learned that they had consciously made the decision to either reposition or remove American flags from the blue flight suits that the astronauts wore from day to day so that it would not be visible. The image on the right, from the movie, illustrates this, as the American flag was almost always sewn into the upper left shoulder of these suits.
The filmmakers also purposely repositioned the flag or filmed angles for many scenes that acted to obscure the flag on the astronauts' white pressure suits.
The reasons the filmmakers gave for doing this was to enhance their foreign ticket sales.
To this I say, baloney. They might have had this financial excuse, but I think this holds little or no weight. By willingly admitting that they hid the flag in this petty way they have confirmed their political agenda, their desire to convince the world that this mission was not an American achievement but a "human achievement." Both the film's Canadian star as well as its director have made it clear they have a globalist vision of the Apollo program, and wanted to spread the credit of its achievement to all humanity. Consciously hiding the flag in this small-minded manner demonstrates their political motives.
Moreover, even though the director, Damien Chazelle, might have wanted to focus on "Neil Armstrong's personal saga and what he may have been thinking and feeling during those famous few hours," removing or obscuring icons of the United States serves no purpose other than to remove the United States from this decidedly American moment. Showing the flag on the flightsuits and pressure suits does not make this a jingoistic pro-American propaganda film. Nor does it do anything to prevent Chazelle from telling Neil Armstrong's personal story. In fact, if anything, hiding the flag detracts from that goal, as Armstrong was very much doing this for his country (as numerous people who knew him have said), and to de-emphasize that reality is to rewrite history in a very dishonest way.
The pettiness of this entire action further outrages me. There is no doubt that sales would not have suffered in foreign countries, in the slightest, had the American flag been left where it belonged on these suits, and had been shown appropriately in other scenes. It accomplishes nothing positive for the film. What it does do is tell us what these Hollywood "artists" think of America.
So that there is no misunderstanding, I must add that neither my source nor I have as yet seen the entire film. It is still possible that these criticisms are unfair, and that the filmmakers might have shown the American flag appropriately in other scenes, and might even have shown it prominently.
Nonetheless, what we now know is that these filmmakers did made a conscious effort to rewrite history so that the United States no longer appeared as prominent in these events as it should have. Once again, it appears to me that these Hollywood filmmakers did this to express their disdain, almost hatred, of the United States and all that it stands for.
For this fact alone I think Americans should reconsider spending any of their hard-earned money on seeing this propaganda piece.
Readers!
My July fund-raiser for Behind the Black is now over. The support from my readers was unprecedented, making this July campaign the best ever, twice over. What a marvelous way to celebrate the website's tenth anniversary!

Thank you! The number of donations in July, and continuing now at the beginning of August, is too many for me to thank you all personally. Please forgive me by accepting my thank you here, in public, on the website.

If you did not donate or subscribe in July and still wish to, note that the tip jar remains available year round.
Regular readers can support Behind The Black with a contribution via paypal:
If Paypal doesn't work for you, you can support Behind The Black directly by sending your donation by check, payable to Robert Zimmerman, to

Behind The Black
c/o Robert Zimmerman
P.O.Box 1262
Cortaro, AZ 85652