More so-called tolerance from Islam, this time helped by the secular authorities in Deerborn, Michigan. Four men were arrested and charged with misdemeanor charges because they stood on a public street and offered the gospel of St. John to passersby. The news article states the following:
The behavior of these individuals drew and incited a large crowd to a point where they were in violation of city ordinances, including breach of peace and failure to obey the lawful order of a police officer, according to the city's public relations department. . . . Festival rules require religious groups to distribute information at paid booths or outside the event.
However, the video below paints a very different picture. It appears that at least two of the men were on public property, just outside the festival and no crowd appeared (except for a lot of cops). I find it especially disgusting how the cops force them to stop filming the event.
Update: In restrospective, it is very possible the video below was not shot at the same time the men were arrested. Even so, if the court documents do describe the events accurately, there is something disturbing about the response of the people at the Islamic festival. Why should they be so offended, almost to the point of violence, merely because others are passing out Christian literature? Moreover, the video below still shows a clear violation of the Christian activists' freedom of speech and assembly, since they were standing on public property and had not caused any disturbances when the police moved in to harass them.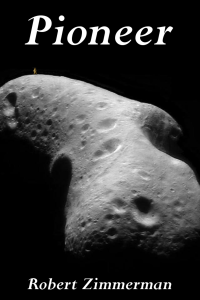 From the press release: From the moment he is handed a possibility of making the first alien contact, Saunders Maxwell decides he will do it, even if doing so takes him through hell and back.
Unfortunately, that is exactly where that journey takes him. The vision that Zimmerman paints of vibrant human colonies on the Moon, Mars, the asteroids, and beyond, indomitably fighting the harsh lifeless environment of space to build new societies, captures perfectly the emerging space race we see today. He also captures in Pioneer the heart of the human spirit, willing to push forward no matter the odds, no matter the cost. It is that spirit that will make the exploration of the heavens possible, forever, into the never-ending future. Available everywhere for $3.99 (before discount) at
amazon
,
Barnes & Noble
, all ebook vendors, or direct from the ebook publisher,
ebookit
. And if you buy it from
ebookit
you don't support the big tech companies and I get a bigger cut much sooner.