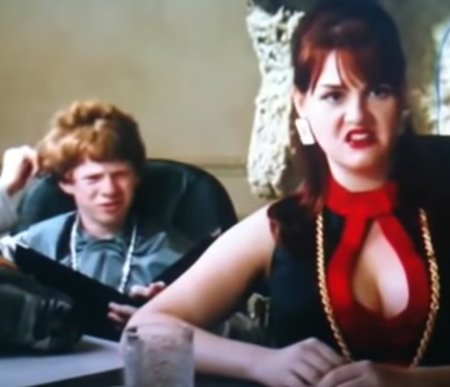 "But Brawndo's got what plants crave. It's got electrolytes!"
Two recent stories have clearly illustrated that the abandonment of the public school system, from kindergarten to college, is continuing unabated. It appears that the Wuhan lockdowns and mask and jab mandates helped to open the eyes of many parents and students as to the ineffectual and often harmful teaching going on in these institutions.
We begin with the precipitous drop in children attending K through 12 public schools.
Public school enrollment declined by 1.4 million students between fall 2019 and fall 2020, dipping to 49.4 million, a loss of nearly 3 percent, and remains at the lowest point in more than a decade. The decline could be closer to 2 million, according to a survey by Education Next showing that traditional public school enrollment as a percentage of all school enrollment declined sharply between 2020 and 2022.

Enrollment in traditional public schools fell from 81 percent to 76.5 percent of total enrollment during that period, while enrollment in public charter schools, private schools, and homeschooling grew by a combined 4.5 percent.

Those numbers suggest that nearly 2 million students left traditional public schools for other educational options between 2020 and 2022. The findings are based on the May 2022 survey of a national representative panel of more than 3,600 American adults commissioned by Education Next.
The abandonment in the last three years by so many parents of the public school system can be attributed to three things. First came the Wuhan panic lockdowns, with schools closing unnecessarily for years forcing little kids to learn remotely, something that simply doesn't work. Kids need facetime to learn. Otherwise they lose interest.
Next came the mask mandates. Even when many public schools reopened, they demanded that these little kids wear masks eight hours a day and social distance. Such inhumane treatment was unacceptable to many parents, who pulled their kids from the schools so that they wouldn't be treated as robots or vile carriers of disease.
These irrational actions by public school officials however do not explain the refusal of so many parents to bring their children back to the public schools now that the mandates have ended and the schools are open. Instead, it is what parents now know those public schools have been teaching that has driven them away.
During the epidemic, when public schools shut down and required learning remotely, parents for the first time could see in its entirety what public school teachers were telling their kids. Many parents were horrified. Not only was this remote education ineffective, it was filled with queer agenda and leftist indoctrination that was utterly inappropriate.
Like the present boycotts of Bud Light and Target, parents discovered that the public schools were working behind their backs to warp their children, and decided enough was enough. Under no condition could they let their kids back into the classroom and be faced with this agenda of perversion.
Nor has this abandonment of publicly-funding schooling been confined to only K through 12. Both parents and high school students have been abandoning colleges as well during the past three years.
Public four-year institutions saw a 0.8% enrollment decline as of spring 2023, a somewhat less severe decrease than the 1.2% decline recorded in 2022 but more pronounced than the 0.3% decline in 2021 and the 0.2% decline in 2020. Private four-year nonprofit institutions meanwhile witnessed a 1.0% decrease in 2023, compared to the 1.2% decrease in 2022, the 0.4% decrease in 2021, and the 0.6% decrease in 2020.

There are currently 7.1 million students enrolled in public four-year colleges and 3.9 million students enrolled in private four-year nonprofit colleges, marking drops from 7.3 million and 4.0 million enrolled students, respectively, from spring 2019, the last year which was not affected by the lockdowns.
Once again, much of this loss is the result of the widespread and oppressive Wuhan flu policies of colleges. For far longer than the rest of society these universities demanded students either wear masks and get jabbed. Like the public schools, many also remained closed far longer than the private sector.
College students go to college for two main reasons: First, they want to get a good education, and second, they want to experience a new social life away from home for the first time. The oppressive and restrictive COVID policies of these universities eliminated the second entirely. How can you meet other students and get involved in new social activities if the campus is closed and you are forced to attend all classes remotely? And even if you can go to class, being forced to wear a mask the entire time is certainly going to put a crimp on having an open and pleasant social atmosphere.
The blacklisting culture of many public colleges however has added another reason for abandoning college as an option after high school. If you and your family are conservative or religious, there simply aren't many colleges you can attend without feeling you are an outcast who at any moment might be subjected to Orwell's two minute hate. Why subject yourself to that?
Furthermore, the unwavering leftist agenda being pushed by these schools means that you also won't get an open-minded and well-rounded education. It will be queer politics, leftist economics, and Democratic Party advocacy from morning to night. This isn't a good education. It is a waste of time, and actually detrimental to developing the ability to think critically.
Will this decline in attendance at public schools and colleges continue? Based on all evidence it appears it will, since the education community seems unwilling to change its ways. The question remains however whether good alternatives will develop to replace these government education institutions. Many states, such as Arizona, have now passed laws allowing parents to apply all the money they pay in taxes for schools to any school or education program they desire. If they want to take their kids out of the public schools, they can use the tax dollars that would have gone those schools entirely for home-schooling or for a private school of any kind.
Such laws will certainly accelerate the abandonment of the government's K though 12 schools, and promote the development of competing private schools. With competition the former public school monopolies will be forced to face a choice: Reform their operations or die.
As for colleges, there as yet have not been many changes in their funding. Almost without fail public colleges continue to get their state funding, with no pressure to change their behavior. In addition few new alternative colleges have been established, mainly because the regulatory rules for establishing a college are so odious. The established university system has done a great job in the past century to cement its power over education, making it very difficult for new colleges to form.
The consequences here could be dire. Without alternatives in higher education, the young people who flee the college system will find themselves unable to get that education. Though it is entirely possible to self-educate yourself, the long term result will almost certainly be a less educated population. Society will begin more and more to resemble the society from the movie Idiocracy, where critical thought is impossible and all is collapsing. This classic scene from the movie encapsulates the future we face:
Sadly, daily events often makes it seem as if we are already living in an Idiotocracy world. Rather than prevent it, we might now actually be tasked with the far more difficult job of rebuilding civilization.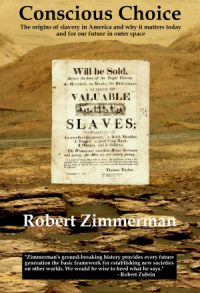 Now available in hardback and paperback as well as ebook!
From the press release: In this ground-breaking new history of early America, historian Robert Zimmerman not only exposes the lie behind The New York Times 1619 Project that falsely claims slavery is central to the history of the United States, he also provides profound lessons about the nature of human societies, lessons important for Americans today as well as for all future settlers on Mars and elsewhere in space.
Conscious Choice: The origins of slavery in America and why it matters today and for our future in outer space
, is a riveting page-turning story that documents how slavery slowly became pervasive in the southern British colonies of North America, colonies founded by a people and culture that not only did not allow slavery but in every way were hostile to the practice.
Conscious Choice
does more however. In telling the tragic history of the Virginia colony and the rise of slavery there, Zimmerman lays out the proper path for creating healthy societies in places like the Moon and Mars.
"Zimmerman's ground-breaking history provides every future generation the basic framework for establishing new societies on other worlds. We would be wise to heed what he says." —Robert Zubrin, founder of founder of the Mars Society.
All editions are available at Amazon, Barnes & Noble, and all book vendors, with the ebook priced at $5.99 before discount. The ebook can also be purchased direct from my ebook publisher, ebookit, in which case you don't support the big tech companies and I get a bigger cut much sooner.
Autographed printed copies are also available at discount directly from me (hardback $24.95; paperback $14.95; Shipping cost for either: $5.00). Just email me at zimmerman @ nasw dot org.