After two years of discussion among hundreds of astronomers, the committee for the 2010 Decadal Surveyn for Astronomy and Astrophysics announced its recommendations today. The two main recommendations were
The report also called for the federal government to become a partner in one of the two giant ground-based optical telescopes now in the planning stages. In addition, the report recommended that the government increase its participation in the Laser Interferometer Space Antenna (LISA), a space telescope designed to detect gravity waves, as well as commit monies to begin the design work for a new high resolution X-ray space telescope. Other recommendations including asking NASA to increase its support for medium-sized space telescopes.
The report did not recommend any replacement for the Hubble Space Telescope.
This report follows earlier decadal surveys, for the 1970s, 1980s, 1990s, and 2000s, all of which had enormous influence on what federal agencies and astronomers built over the following decade. For example, these decadal surveys recommended the construction of the VLA, the Chandra X-Ray Observatory, the Spitzer Space Telescope, and a host of other telescopes, all of which were built.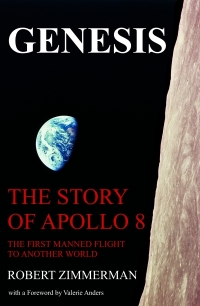 On Christmas Eve 1968 three Americans became the first humans to visit another world. What they did to celebrate was unexpected and profound, and will be remembered throughout all human history. Genesis: the Story of Apollo 8, Robert Zimmerman's classic history of humanity's first journey to another world, tells that story, and it is now available as both an ebook and an audiobook, both with a foreword by Valerie Anders and a new introduction by Robert Zimmerman.
The ebook is available everywhere for $5.99 (before discount) at
amazon
, or direct from my ebook publisher,
ebookit
. If you buy it from
ebookit
you don't support the big tech companies and the author gets a bigger cut much sooner.
The audiobook is also available at all these vendors, and is also
free with a 30-day trial membership to Audible.
"Not simply about one mission, [Genesis] is also the history of America's quest for the moon... Zimmerman has done a masterful job of tying disparate events together into a solid account of one of America's greatest human triumphs."--San Antonio Express-News