After two years of discussion among hundreds of astronomers, the committee for the 2010 Decadal Surveyn for Astronomy and Astrophysics announced its recommendations today. The two main recommendations were
The report also called for the federal government to become a partner in one of the two giant ground-based optical telescopes now in the planning stages. In addition, the report recommended that the government increase its participation in the Laser Interferometer Space Antenna (LISA), a space telescope designed to detect gravity waves, as well as commit monies to begin the design work for a new high resolution X-ray space telescope. Other recommendations including asking NASA to increase its support for medium-sized space telescopes.
The report did not recommend any replacement for the Hubble Space Telescope.
This report follows earlier decadal surveys, for the 1970s, 1980s, 1990s, and 2000s, all of which had enormous influence on what federal agencies and astronomers built over the following decade. For example, these decadal surveys recommended the construction of the VLA, the Chandra X-Ray Observatory, the Spitzer Space Telescope, and a host of other telescopes, all of which were built.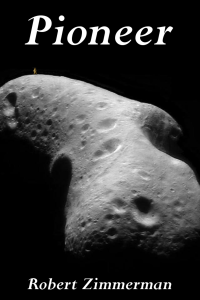 From the press release: From the moment he is handed a possibility of making the first alien contact, Saunders Maxwell decides he will do it, even if doing so takes him through hell and back.
Unfortunately, that is exactly where that journey takes him. The vision that Zimmerman paints of vibrant human colonies on the Moon, Mars, the asteroids, and beyond, indomitably fighting the harsh lifeless environment of space to build new societies, captures perfectly the emerging space race we see today. He also captures in Pioneer the heart of the human spirit, willing to push forward no matter the odds, no matter the cost. It is that spirit that will make the exploration of the heavens possible, forever, into the never-ending future. Available everywhere for $3.99 (before discount) at
amazon
,
Barnes & Noble
, all ebook vendors, or direct from the ebook publisher,
ebookit
. And if you buy it from
ebookit
you don't support the big tech companies and I get a bigger cut much sooner.