We have returned from inside the Grand Canyon. We hiked out on Tuesday, doing the climb up in what is for us record time, arriving at the rim at 12:30 pm after 7 hours of hiking. We were down at Phantom Ranch for two full days and three nights, doing some really spectacular day hikes each day. I will post some further details, with pictures, once I get home.
We are still touring about here in northern Arizona and will be until Sunday. Right now I am sitting in the patio of the motel at Grand Canyon Caverns, about two hours west of the national park. This morning we drove down to the Colorado on the Hualapai Reservation, using the only road on the south rim that reaches the river. This weekend I will be participating in a long term cave dig project here at this somewhat famous commercial cave. The dig has been going on for years in cooperation with the cave's owners. This will be the first time that I will contribute to the project.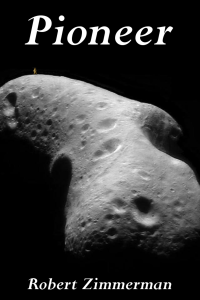 From the press release: From the moment he is handed a possibility of making the first alien contact, Saunders Maxwell decides he will do it, even if doing so takes him through hell and back.
Unfortunately, that is exactly where that journey takes him. The vision that Zimmerman paints of vibrant human colonies on the Moon, Mars, the asteroids, and beyond, indomitably fighting the harsh lifeless environment of space to build new societies, captures perfectly the emerging space race we see today. He also captures in Pioneer the heart of the human spirit, willing to push forward no matter the odds, no matter the cost. It is that spirit that will make the exploration of the heavens possible, forever, into the never-ending future. Available everywhere for $3.99 (before discount) at
amazon
,
Barnes & Noble
, all ebook vendors, or direct from the ebook publisher,
ebookit
. And if you buy it from
ebookit
you don't support the big tech companies and I get a bigger cut much sooner.