Please consider donating to Behind the Black, by giving either a one-time contribution or a regular subscription, as outlined in the tip jar to the right or below. Your support will allow me to continue covering science and culture as I have for the past twenty years, independent and free from any outside influence.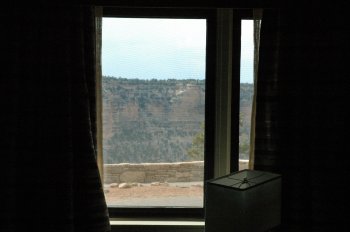 After a 5.5 hour drive we arrived at the south rim of the Grand Canyon and checked into our hotel. You can see the view from the window on the right. Not very spectacular, but then, you don't spend much time in a hotel room on trips like this.
Tomorrow we take the shuttle bus to the North Rim, where will spend another night in the lodge there. On Saturday, we hike down on North Bright Angel trail, and will stay in a cabin at Phantom Ranch for the next three nights, doing day hikes from the bottom of the canyon on Sunday and Monday. We will hike then up on Tuesday, coming up Bright Angel trail to the south rim, completing our first rim to rim hike. Once we check out of our hotel tomorrow, we will be out of contact with the internet until we return to the south rim. I hope the world doesn't fall apart in the interim.
This will be Diane's third trip to the bottom, and my fifth. I can't express how happy I am to be back. This is truly one of the grandest spots on Earth.