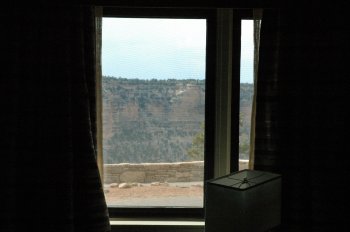 After a 5.5 hour drive we arrived at the south rim of the Grand Canyon and checked into our hotel. You can see the view from the window on the right. Not very spectacular, but then, you don't spend much time in a hotel room on trips like this.
Tomorrow we take the shuttle bus to the North Rim, where will spend another night in the lodge there. On Saturday, we hike down on North Bright Angel trail, and will stay in a cabin at Phantom Ranch for the next three nights, doing day hikes from the bottom of the canyon on Sunday and Monday. We will hike then up on Tuesday, coming up Bright Angel trail to the south rim, completing our first rim to rim hike. Once we check out of our hotel tomorrow, we will be out of contact with the internet until we return to the south rim. I hope the world doesn't fall apart in the interim.
This will be Diane's third trip to the bottom, and my fifth. I can't express how happy I am to be back. This is truly one of the grandest spots on Earth.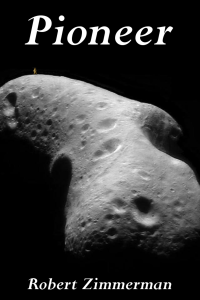 From the press release: From the moment he is handed a possibility of making the first alien contact, Saunders Maxwell decides he will do it, even if doing so takes him through hell and back.
Unfortunately, that is exactly where that journey takes him. The vision that Zimmerman paints of vibrant human colonies on the Moon, Mars, the asteroids, and beyond, indomitably fighting the harsh lifeless environment of space to build new societies, captures perfectly the emerging space race we see today. He also captures in Pioneer the heart of the human spirit, willing to push forward no matter the odds, no matter the cost. It is that spirit that will make the exploration of the heavens possible, forever, into the never-ending future. Available everywhere for $3.99 (before discount) at
amazon
,
Barnes & Noble
, all ebook vendors, or direct from the ebook publisher,
ebookit
. And if you buy it from
ebookit
you don't support the big tech companies and I get a bigger cut much sooner.