I am pleased to announce the release of the audiobook edition of Genesis: the story of Apollo 8. From the official press release:
This year marks the fiftieth anniversary of one of mankind's boldest adventures, the first manned flight to another world. To mark the occasion, an audio version of the first book about the mission of Apollo 8 has been released, narrated by Grover Gardner, a legend in the ears of fans of audiobooks all over the planet.

Says Valerie Anders, wife of Apollo 8 crew member Bill Anders, "When I first read this excellent account, published before the end of the space shuttle era, I was delighted."

Now, with the advent of high quality audio books and online merchants like iTunes and Audible, and the resonant and expressive voice of narrator Grover Garner, everyone can enjoy this recording of this pivotal moment in space history.

While more recent books have been published on the mission of Apollo 8 (most of which rely heavily on Zimmerman's work), none has captured the impact the Apollo program had on the families of the astronauts nearly so well as "Genesis – the story of Apollo 8." The new forward to "Genesis," by Valerie Anders, contains a moving tribute to those pilots who never returned from their missions – not as faraway as the moon, but just as dangerous and far more frequent.

This audio presentation also includes a preface and afterward recorded by the author, Robert Zimmerman, noted science journalist, a member of the National Association of Science Writers, and winner of numerous awards. Grover Gardner has been the narrator of more than 500 books, including many of the most popular audio books ever recorded, including the three part biography of Lyndon Johnson by Robert Caro and Ron Chernow's Alexander Hamilton. AudioFile magazine refers to him as "one of the best voices of the century."

"Genesis – the story of Apollo 8" was produced for audio distribution by space fan and Army Lt Colonel William Hartel, who spends his work days as a professor of dentistry at the University of Tennessee. It is available wherever audiobooks are sold and runs 9 hours and 33 minutes.

Contact info: William Hartel, whartel123@aol.com 314-402-5227
You can listen to Grover Gardner's reading of the foreword by Valerie Anders here.
The audiobook can be purchased directly from all the standard vendors. Or you can get it free with a 30-day trial membership in Audible for $19.99. This costs $2 more than buying the book direct, but this free trial deal will give me a much bigger cut per sale. If you support what I am doing, consider it.
And as always, for those who prefer to read, the ebook edition is also available.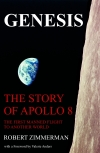 The ebook edition of Genesis: the Story of Apollo 8 includes a foreword by Valerie Anders and a new introduction by Robert Zimmerman.
Available everywhere for $5.99 (before discount) at amazon, or direct from the publisher, ebookit. If you buy from ebookit the author gets a bigger cut much sooner.

The audiobook is also available at all these vendors, and is also free with a 30-day trial membership to Audible.
"Not simply about one mission, [Genesis] is also the history of America's quest for the moon… Zimmerman has done a masterful job of tying disparate events together into a solid account of one of America's greatest human triumphs."
–San Antonio Express-News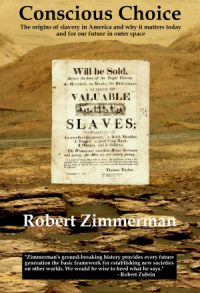 Now available in hardback and paperback as well as ebook!
From the press release: In this ground-breaking new history of early America, historian Robert Zimmerman not only exposes the lie behind The New York Times 1619 Project that falsely claims slavery is central to the history of the United States, he also provides profound lessons about the nature of human societies, lessons important for Americans today as well as for all future settlers on Mars and elsewhere in space.
Conscious Choice: The origins of slavery in America and why it matters today and for our future in outer space
, is a riveting page-turning story that documents how slavery slowly became pervasive in the southern British colonies of North America, colonies founded by a people and culture that not only did not allow slavery but in every way were hostile to the practice.
Conscious Choice
does more however. In telling the tragic history of the Virginia colony and the rise of slavery there, Zimmerman lays out the proper path for creating healthy societies in places like the Moon and Mars.
"Zimmerman's ground-breaking history provides every future generation the basic framework for establishing new societies on other worlds. We would be wise to heed what he says." —Robert Zubrin, founder of founder of the Mars Society.
All editions are available at Amazon, Barnes & Noble, and all book vendors, with the ebook priced at $5.99 before discount. The ebook can also be purchased direct from my ebook publisher, ebookit, in which case you don't support the big tech companies and I get a bigger cut much sooner.
Autographed printed copies are also available at discount directly from me (hardback $24.95; paperback $14.95; Shipping cost for either: $5.00). Just email me at zimmerman @ nasw dot org.