Readers!
My annual birthday-month fund-raising drive for Behind the Black
is now on-going. Not only do your donations help pay my bills, they give me the freedom to speak honestly about science and culture,
instead of being forced to write it as others demand.
Please consider donating by giving either a one-time contribution or a regular subscription, as outlined in the tip jar below.
Regular readers can support Behind The Black with a contribution via paypal:
If Paypal doesn't work for you, you can support Behind The Black directly by sending your donation by check, payable to Robert Zimmerman, to

Behind The Black
c/o Robert Zimmerman
P.O.Box 1262
Cortaro, AZ 85652

You can also support me by buying one of my books, as noted in the boxes interspersed throughout the webpage. And if you buy the books through the ebookit links, I get a larger cut and I get it sooner.
I am pleased to announce the release of the audiobook edition of Genesis: the story of Apollo 8. From the official press release:
This year marks the fiftieth anniversary of one of mankind's boldest adventures, the first manned flight to another world. To mark the occasion, an audio version of the first book about the mission of Apollo 8 has been released, narrated by Grover Gardner, a legend in the ears of fans of audiobooks all over the planet.

Says Valerie Anders, wife of Apollo 8 crew member Bill Anders, "When I first read this excellent account, published before the end of the space shuttle era, I was delighted."

Now, with the advent of high quality audio books and online merchants like iTunes and Audible, and the resonant and expressive voice of narrator Grover Garner, everyone can enjoy this recording of this pivotal moment in space history.

While more recent books have been published on the mission of Apollo 8 (most of which rely heavily on Zimmerman's work), none has captured the impact the Apollo program had on the families of the astronauts nearly so well as "Genesis – the story of Apollo 8." The new forward to "Genesis," by Valerie Anders, contains a moving tribute to those pilots who never returned from their missions – not as faraway as the moon, but just as dangerous and far more frequent.

This audio presentation also includes a preface and afterward recorded by the author, Robert Zimmerman, noted science journalist, a member of the National Association of Science Writers, and winner of numerous awards. Grover Gardner has been the narrator of more than 500 books, including many of the most popular audio books ever recorded, including the three part biography of Lyndon Johnson by Robert Caro and Ron Chernow's Alexander Hamilton. AudioFile magazine refers to him as "one of the best voices of the century."

"Genesis – the story of Apollo 8" was produced for audio distribution by space fan and Army Lt Colonel William Hartel, who spends his work days as a professor of dentistry at the University of Tennessee. It is available wherever audiobooks are sold and runs 9 hours and 33 minutes.

Contact info: William Hartel, whartel123@aol.com 314-402-5227
You can listen to Grover Gardner's reading of the foreword by Valerie Anders here.
The audiobook can be purchased directly from all the standard vendors. Or you can get it free with a 30-day trial membership in Audible for $19.99. This costs $2 more than buying the book direct, but this free trial deal will give me a much bigger cut per sale. If you support what I am doing, consider it.
And as always, for those who prefer to read, the ebook edition is also available.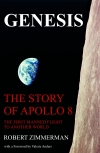 The ebook edition of Genesis: the Story of Apollo 8 includes a foreword by Valerie Anders and a new introduction by Robert Zimmerman.
Available everywhere for $5.99 (before discount) at amazon, or direct from the publisher, Mountain Lake Press.

The audiobook is also available at all these vendors, and is also free with a 30-day trial membership to Audible.
"Not simply about one mission, [Genesis] is also the history of America's quest for the moon… Zimmerman has done a masterful job of tying disparate events together into a solid account of one of America's greatest human triumphs."
–San Antonio Express-News