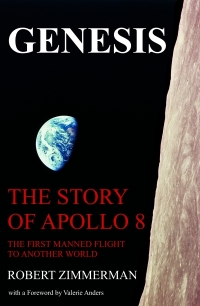 On Christmas Eve 1968 three Americans became the first humans to visit another world. What they did to celebrate was unexpected and profound, and will be remembered throughout all human history. Genesis: the Story of Apollo 8, Robert Zimmerman's classic history of humanity's first journey to another world, tells that story, and it is now available as both an ebook and an audiobook, both with a foreword by Valerie Anders and a new introduction by Robert Zimmerman.
The ebook is available everywhere for $5.99 (before discount) at
amazon
, or direct from my ebook publisher,
ebookit
.
The audiobook is also available at all these vendors, and is also
free with a 30-day trial membership to Audible.
"Not simply about one mission, [Genesis] is also the history of America's quest for the moon... Zimmerman has done a masterful job of tying disparate events together into a solid account of one of America's greatest human triumphs." --San Antonio Express-News
The coming dark age: It appears that the most fundamental concept of science, that all research is subject to skepticism, questioning, and doubt, is no longer followed by the world's leading science journal Science, in either the research or journalism it publishes.
In reporting today how the Trump administration is establishing a climate review panel that will include global warming skeptics, this so-called science journal describes this effort as follows:
The White House is recruiting researchers who reject the scientific consensus on climate change for its "adversarial" review of the issue.

The proposal to form a "Presidential Committee on Climate Security" at the National Security Council (NSC) has shifted, into an ad-hoc group that will review climate science out of the public eye. Those involved in the preliminary discussions said it is focused on recruiting academics to conduct a review of the science that shows climate change presents a national security risk.

William Happer, a senior director at the NSC and an emeritus Princeton University physics professor not trained in climate science, is leading the effort.

Among those who have been contacted are the relatively small number of researchers with legitimate academic credentials who question the notion that humans are warming the planet at a rapid pace through the burning of fossil fuels. A number of the names the White House is targeting are those frequently invited by Republicans to testify at congressional hearings on climate change where uncertainty is emphasized.

The stated goal of the committee, according to a leaked White House memo, is to conduct "adversarial scientific peer review" of climate science. [emphasis mine]
The article also stated that the panel "will also include scientists who agree with the vast majority in the field of climate science that humans are warming the planet at a pace unprecedented in the history of civilization."
First of all, it is not clear that "a vast majority in the field of climate science" agree with that global warming hypothesis. And even if it was, it would not matter. Science isn't determined by consensus or majority rule. It is determined by facts, and if the facts don't support the beliefs of 97% of all climate scientists, all 97% of those scientists are wrong. That this writer and the editors at Science don't understand this is shocking.

Second, all science work is supposed to go through "adversarial scientific peer review." That is in fact what the journal Science is supposed to be doing for all its research articles. Scientists from within the field of each submitted article are asked to review it. Ideally, the journal is supposed to pick scientists who both agree and disagree with the premises put forth by the research, to insure that it is rigorously challenged and that any weaknesses within it are revealed.
By its very definition this is what peer review is. That this writer and the editors at Science don't understand this is also shocking.
Third, this new panel is actually not "adversarial," as claimed by this article. It is apparently is going to include scientists from both sides of the argument, making it actually quite sane and balanced, and hardly adversarial.
Fourth, all peer review, including the kind that Science does, is always "out of the public eye." The reviewers are routinely not identified to protect them, and their reviews are never made public, including any changes they demand in the papers they review. That this new government panel will operate the same way is hardly a cause for concern, especially if it is going to include scientists from both sides of the debate.
What is really happening here is that for the first time in decades, a climate science panel in the government is going to be balanced and not limited only to those who advocate the theory that humans are causing the climate to warm. For the first time in decades, funding for climate research will be judged by a more objective panel of scientists.
The global warming activist scientists who have ruled all funding in government climate research for the past thirty or so years don't like this, at all. They are losing power, and are now doing whatever they can to stop it, including getting Science to publish this kind of biased and partisan reporting. Nor did they have to do much to convince Science to lobby for them. It has also been part of that gravy train, and doesn't like the idea that the free ride might be ending.
Or to put it in plain English, the journal Science is no longer in the business of science. Instead, it has become a mere trade lobbyist focused specifically in maintaining funding for pro-global warming climate researchers. All others need not apply.
Readers!
My July fund-raiser for Behind the Black is now over. The support from my readers was unprecedented, making this July campaign the best ever, twice over. What a marvelous way to celebrate the website's tenth anniversary!

Thank you! The number of donations in July, and continuing now at the beginning of August, is too many for me to thank you all personally. Please forgive me by accepting my thank you here, in public, on the website.

If you did not donate or subscribe in July and still wish to, note that the tip jar remains available year round.
Regular readers can support Behind The Black with a contribution via paypal:
If Paypal doesn't work for you, you can support Behind The Black directly by sending your donation by check, payable to Robert Zimmerman, to

Behind The Black
c/o Robert Zimmerman
P.O.Box 1262
Cortaro, AZ 85652