A new analysis of the orbits of Ceres and Vesta says that in a surprisingly short time those orbits become chaotic and therefore unpredictable. More significantly, those orbits interact with the Earth's and also make its long term orbit chaotic and unpredictable. From the abstract:
Although small, Ceres and Vesta gravitationally interact together and with the other planets of the Solar System. Because of these interactions, they are continuously pulled or pushed slightly out of their initial orbit. Calculations show that, after some time, these effects do not average out. Consequently, the bodies leave their initial orbits and, more importantly, their orbits are chaotic, meaning that we cannot predict their positions. The two bodies also have a significant probability of impacting each other, estimated at 0.2% per billion year. Last but not least, Ceres and Vesta gravitationally interact with the Earth, whose orbit also becomes unpredictable after only 60 million years. This means that the Earth's eccentricity, which affects the large climatic variations on its surface, cannot be traced back more than 60 million years ago. This is indeed bad news for Paleoclimate studies. [emphasis mine]
The scientists found that it became impossible to calculate the orbits of the two largest asteroids after only several ten thousand years. They also found that "numerous asteroids in the main belt will behave in the same way with . . . much more chaotic behavior than previously thought." Worse, the possibility of collisions was far higher than ever thought. Ceres and Vesta have a 1 in 500 chance of colliding with each other every billion years, while other asteroids have chances as low as 1 in 1000.
The importance of this discovery, which still needs to be confirmed by other researchers, cannot be understated.

If true, it means that no climate model can ever successfully track the subtle fluctuations of the Earth's orbit farther back than 60 million years. It had been believed from previous calculations that the ice ages before that time were caused by these orbital fluctuations. As the eccentricity and obliquity of the Earth's orbit shifted slowly over time, the changes either combined or neutralized each other to cause the Earth to get less or more sunlight, thus producing ice ages at certain times. This new analysis says that this theory, while possibly true, can never be proven by orbital calculation.
You can read the full paper here.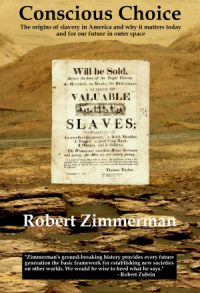 Now available in hardback and paperback as well as ebook!
From the press release: In this ground-breaking new history of early America, historian Robert Zimmerman not only exposes the lie behind The New York Times 1619 Project that falsely claims slavery is central to the history of the United States, he also provides profound lessons about the nature of human societies, lessons important for Americans today as well as for all future settlers on Mars and elsewhere in space.
Conscious Choice: The origins of slavery in America and why it matters today and for our future in outer space
, is a riveting page-turning story that documents how slavery slowly became pervasive in the southern British colonies of North America, colonies founded by a people and culture that not only did not allow slavery but in every way were hostile to the practice.
Conscious Choice
does more however. In telling the tragic history of the Virginia colony and the rise of slavery there, Zimmerman lays out the proper path for creating healthy societies in places like the Moon and Mars.
"Zimmerman's ground-breaking history provides every future generation the basic framework for establishing new societies on other worlds. We would be wise to heed what he says." —Robert Zubrin, founder of founder of the Mars Society.
All editions are available at Amazon, Barnes & Noble, and all book vendors, with the ebook priced at $5.99 before discount. The ebook can also be purchased direct from my ebook publisher, ebookit, in which case you don't support the big tech companies and I get a bigger cut much sooner.
Autographed printed copies are also available at discount directly from me (hardback $24.95; paperback $14.95; Shipping cost for either: $5.00). Just email me at zimmerman @ nasw dot org.