Earlier this week NASA submitted a report to Congress reviewing the design and construction status of the heavy-lift rocket and manned capsule that Congress has required them to build and launch by 2016. NASA's conclusion: the space agency doesn't think it can do the job in the schedule or budget that Congress has provided.
NASA does not believe this goal is achievable based on a combination of the current funding profile estimate, traditional approaches to acquisitions and currently considered vehicle architectures. . . . We will not commit to a date that has a low probability of being achieved.
NASA's conclusions here are not surprising. The agency had been having trouble building Constellation on the much bigger budget and longer schedule given to them by past Congresses. For them to build the-program-formerly-called-Constellation for less money and in less time is probably impossible.
Nonetheless, this was the response of the Senate Commerce committee:
The production of a heavy-lift rocket and capsule is not optional. It's the law.
This is why I have been saying that the money for this program is nothing more than pork. Congress knows that nothing can be built on this budget, but wants the money spent nonetheless, to keep people employed in their districts.
Meanwhile, in sharp contrast, Space Adventures yesterday announced a new deal with Russia, whereby the Russians have agreed to build and launch one extra Soyuz capsule per year, beginning in 2013, to fly 3 tourists to ISS. In addition, there is this report today about how SpaceX is successfully meeting all its milestones in building its cargo ferry for ISS. An earlier report last week also noted how Orbital Sciences is also moving forward with its cargo ferry, with a planned first test launch by the end of 2011.
All in all, this news is not good news for NASA. The space agency's manned spaceflight program appears to have two futures, neither of which will involve it continuing to build rockets or fly humans into space. In one option, the new Congress, when it finally sits down to write a budget, will decide that pork and happy constituents are more important than a balanced budget, and will appropriate the money for the-program-formerly-called-Constellation. NASA will struggle hard to build it, but will not succeed. Thus, no government-built manned space program.
In the second option, Congress will agree with me and decide that it just doesn't have money for pork, especially considering the terrible state of the federal budget. Moreover, seeing the success of the private efforts of SpaceX, Orbital Sciences, and Space Adventures, Congress will wonder why it needs to pour more billions into a vain effort by NASA to build something it can't, when there are other private companies that can do it, and do it for less. In this circumstance, it will be very easy for them to cut the-program-formerly-called-Constellation. Once again, no NASA manned program.
Neither scenario is actually a bad thing. What we are actually seeing play out here is the free competition of different companies attempting to provide a service to a customer, and the customer eventually picking the best company from which to buy the product. NASA, as a government agency, simply can't compete, and unless Congress decides to provide them welfare, will lose this competition hands down.
The U.S. will still have the capability of getting into space, but for far less money. And having multiple private companies competing to provide this service will also encourage innovation, something the rocket industry has sorely needed these past five decades.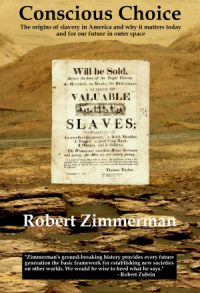 Now available in hardback and paperback as well as ebook!
From the press release: In this ground-breaking new history of early America, historian Robert Zimmerman not only exposes the lie behind The New York Times 1619 Project that falsely claims slavery is central to the history of the United States, he also provides profound lessons about the nature of human societies, lessons important for Americans today as well as for all future settlers on Mars and elsewhere in space.
Conscious Choice: The origins of slavery in America and why it matters today and for our future in outer space
, is a riveting page-turning story that documents how slavery slowly became pervasive in the southern British colonies of North America, colonies founded by a people and culture that not only did not allow slavery but in every way were hostile to the practice.
Conscious Choice
does more however. In telling the tragic history of the Virginia colony and the rise of slavery there, Zimmerman lays out the proper path for creating healthy societies in places like the Moon and Mars.
"Zimmerman's ground-breaking history provides every future generation the basic framework for establishing new societies on other worlds. We would be wise to heed what he says." —Robert Zubrin, founder of founder of the Mars Society.
All editions are available at Amazon, Barnes & Noble, and all book vendors, with the ebook priced at $5.99 before discount. All editions can also be purchased direct from the ebook publisher, ebookit, in which case you don't support the big tech companies and the author gets a bigger cut much sooner.
Autographed printed copies are also available at discount directly from me (hardback $24.95; paperback $14.95; Shipping cost for either: $5.00). Just email me at zimmerman @ nasw dot org.