It appears that Barack Obama has won another four years in office. Despite what many consider to be one of the weakest and most incompetent presidencies in history, the American people have decided to stick with this man. Even worse, the Democrats look like they will gain seats in the Senate, even though it was the Democratic majority in that Senate that has refused to pass a budget — as required by law — for the last three years. For that dereliction of duty, the American people have decided to reward them with more power.
Overall, it appears that the polls that favored Democrats in their sampling were actually capturing the tone of the country. The public wants big government and a restriction in freedom. 2010 was a fluke, not a trend. I was wrong.
We are stuck with Obamacare. We are stuck with trillion dollar deficits. We are stuck with bankruptcy. I have little hope now for the near future. It will probably take fifty years or more to fix the problems that the past four years and the next four years will create.
This is not even a conservative perspective. No policy can survive, even good leftwing policy, when the government is bankrupt. And with trillion dollar deficits the new normal, we are guaranteed that the government will go bankrupt. And it will take everything else down with it.
Even worse, this willingness of the American public and its intellectual class to ignore this reality, to make believe that trillion dollar deficits don't matter, suggests an intellectual bankruptcy that is even more appalling. For you can't fix a problem if you refuse to face it.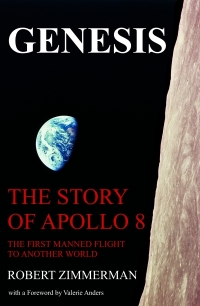 On Christmas Eve 1968 three Americans became the first humans to visit another world. What they did to celebrate was unexpected and profound, and will be remembered throughout all human history. Genesis: the Story of Apollo 8, Robert Zimmerman's classic history of humanity's first journey to another world, tells that story, and it is now available as both an ebook and an audiobook, both with a foreword by Valerie Anders and a new introduction by Robert Zimmerman.
The ebook is available everywhere for $5.99 (before discount) at
amazon
, or direct from my ebook publisher,
ebookit
. If you buy it from
ebookit
you don't support the big tech companies and the author gets a bigger cut much sooner.
The audiobook is also available at all these vendors, and is also
free with a 30-day trial membership to Audible.
"Not simply about one mission, [Genesis] is also the history of America's quest for the moon... Zimmerman has done a masterful job of tying disparate events together into a solid account of one of America's greatest human triumphs."--San Antonio Express-News