A quick holiday fund-raising campaign for Behind the Black!
Scroll down to read this post.
In past years I have managed to avoid asking for donations for Behind the Black during the holiday season. My finances however now compel me to do a short one-week fund-raiser, from November 11 to November 17.
I do not use Twitter for ethical reasons, which I have been told cuts down on traffic to the website. So be it. Furthermore, Facebook has clearly acted in the past two years to limit traffic to Behind the Black, almost certainly for political reasons. So be this as well. Finally, I do not post outside ads, as I have found them annoying to my readers and not that profitable to me.
Therefore, I need to ask for the direct support from my readers. If you like what I do here, please consider contributing, either by making a one-time donation or a monthly subscription, as indicated in the tip jar below.
Regular readers can support Behind The Black with a contribution via paypal:
If Paypal doesn't work for you, you can support Behind The Black directly by sending your donation by check, payable to Robert Zimmerman, to

Behind The Black
c/o Robert Zimmerman
P.O.Box 1262
Cortaro, AZ 85652

Or you could consider purchasing one of my books, as indicated in the boxes scattered throughout the website. My histories of space exploration are award-winning and are aimed for the general public. All are page-turners, and all not only tell the story of the beginning of the human exploration of space, they also help explain why we are where we are today. And I also have a science fiction book available,
Pioneer
, which tells its own exciting story while trying to predict what life in space will be like two hundred years in the future.
Note that for this week only I am also having a sale on the purchase of the last 20 hardbacks of
Leaving Earth
. (Click on the link for more information about the book, which was endorsed by Arthur C. Clarke himself!) This award-winning out-of-print book is now only available as an ebook, but I still have a handful of hardbacks available, normally for sale for $70 plus $5 shipping. For this week only you can buy them, personally autographed by me, for $50 plus $5 shipping! Just send me a check, payable to Robert Zimmerman, to the address above, with a note saying that the money is for the
Leaving Earth
hardback.
Please consider donating. Your help will make it possible for me to continue to be an independent reporter in the field of space, science, technology, and culture.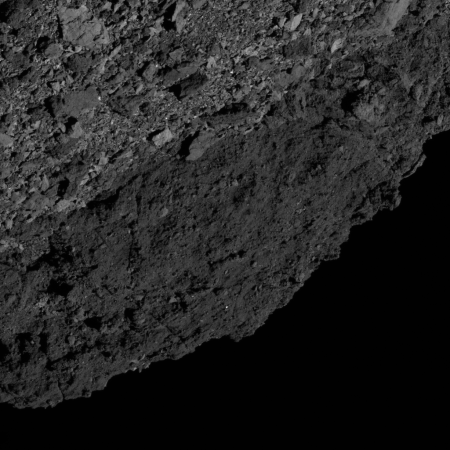 Bennu's equatorial ridge. Click for full image.
This week the science team operating the OSIRIS-REx spacecraft at the asteroid Bennu hosted a joint conference in Tucson, Arizona, with the scientists operating the Hayabusa-2 spacecraft at the asteroid Ryugu. Both gave up-to-date reports on the science so far obtained, as well as outlined upcoming events. I was fortunate enough to attend.
First an overview. Both Bennu and Ryugu are near earth asteroids, with Bennu having an orbit that might even have it hit the Earth in the last quarter of 2100s. Both are very dark, and are rubble piles. Both were thought to be of the carbonaceous chondrite family of asteroids, sometimes referred to as C-type asteroids. This family, making up about 75% of all asteroids, includes a bewildering collection of subtypes (B-types, F-types, G-types, CI, CM, CV, CH, CB, etc), all of which were initially thought to hold a lot of carbon. We now know that only a few of these categories, the CI and CM for example, are carbon rich.
Even so, we actually know very little about these types of asteroids. They are very fragile, so that any that reach the Earth's surface are not a good selection of what exists. About 90% of the material gets destroyed in the atmosphere, with the remnant generally coming from the innermost core or more robust nodules. We therefore have a biased and limited sample.
It is therefore not surprising that the scientists are finding that neither Bennu nor Ryugu resembles anything else they have ever seen. Both have aspects that resemble certain types of carbonaceous chondrite asteroids, but neither provides a very good fit for anything.

Moreover, the data from these two asteroids now suggests that none of the asteroids in space really fit well with the present existing carbonaceous chondrite asteroid categories that the scientists have created over the past century. Instead, it appears that there is much overlap and mixing. For example, on Bennu they have discovered large boulders scattered across the surface that almost certainly came from another body, possibly even Vesta. Similarly, on Ryugu they have found many bright spots that appear to be material that was likely put there during a catastrophic impact that disrupted the asteroid's original parent body, long ago destroyed.
Other results from Bennu add weight to this conclusion. Detailed spectroscopy by the spacecraft found evidence of unusual (for this type of asteroid) carbon-bearing compounds, possibly similar to calcite and dolomite. "To me this is one of the most exciting results from the conference," says Dante Lauretta, OSIRIS-REx principal investigator. "While Bennu seems to resemble a CI or CM type of carbonaceous chondrite, these results also suggest it might be something entirely new."
Recent new ground data from meteorites appears to support this finding. For example, one report at the conference was a description of Asteroid 2008 TC3, which was the first asteroid spotted and studied in space prior to its impact on Earth in 2008. Scientists were then able to quickly recover several hundred meteorites from that asteroid, two hundred of which have been carefully studied. Only 10% of this fragile carbonaceous chondrite asteroid likely reached the ground, but what they have found is unprecedented. The material doesn't fit any one asteroid or meteorite type. Instead it appears to fit almost all types, with each piece appearing to belong to another class.
In other words, 2008 TC3 was actually an agglomeration of many carbonaceous chondrite asteroids, and in fact what survived to landfall possibly comes from the regolith or surface layer of an earlier asteroid where that agglomeration had gathered, before being ejected into space in some disruption event.
That different types of asteroids can mix and separate and remix and separate, over and over again, is further confirmed from other data at the conference. For example, since OSIRIS-REx's arrival at Bennu scientists have tracked almost 400 objects that were ejected from its surface to eventually fall back to the surface or were instead flung away into space. What caused these ejections is not yet known, though the scientists suspect they could be cause by either minor impacts (some objects returning to the surface) or the flaking of rock surfaces due to day-night temperature changes that throw material off the surface.
Furthermore, in the past few decades astronomers have used the Hubble Space Telescope to document the existence of at least 20 active asteroids acting somewhat like comets, with about a quarter only becoming active when they are closest to the Sun. A few have broken up, their material scattering through the main asteroid belt with the ability to eventually resettle on other asteroids.
In other words, these carbonaceous chondrite asteroids, ancient and from the beginnings of our solar system, still exhibit all the behavior from that time when the planets were coalescing from them. They are loosely assembled, easily fall apart and reassemble. Only with time did some eventually get big enough to hold together and become planets. The ones that remain however are showing us a hint of what it was like during the solar system's birth pangs.
Some additional miscellaneous findings:
1. While no dust has been found on the surface of either Bennu or Ryugu, there is evidence on both asteroids that there might be a shallow layer of small fine-grained particles several meters below the surface. The scientists think the dust and sand shifts downward out of sight to settle just below the rough boulder top layer.
2. While Bennu appears to have many hydrogen molecules, what scientists call "hydrated," Ryugu in turn shows little hydration on the surface, something that has surprised the scientists since Ryugu was expected to be hydrated like Bennu. One theory suggests that Ryugu in the past had experienced some significant disruption event that boiled that hydrogen away. The asteroid's material then reassembled itself into a rubble pile.
3. There was much discussion on the formation processes that create the top-like appearance of both asteroids, with their high equatorial ridge. The proposed explanations all seemed to focus on the asteroids' rotation and light gravity, causing material to gather at the equator.
4. Finally, while analysis of the return samples from both spacecraft will answer many questions about the nature of carbonaceous chondrite asteroids, that data might also help explain why the amino acids of all life on Earth is left-handed. Right now chemical experiments on Earth routinely find no reason to explain this bias, that amino acids can form equally with a right- or left-handed configuration. In meteorites however scientists have found that the non-terrestrial amino acids tend to favor left-handedness, as much as 10% to 15%. Finding this bias in both Bennu and Ryugu would bolster theories that the reason Earth life is left-handed is because the solar system formed near some O- and B- stars. Polarized light from those stars could have caused this bias.
The future:
The Hayabusa-2 science team will likely announce its precise departure schedule from Ryugu in about a week. Actual departure will take place sometime in December, beginning with a five to six day slow ascent until it exits the asteroid's sphere of gravitational influence at about 40 miles. They will then begin their return cruise phase, during which they plan to take global images of Ryugu twice a day.
OSIRIS-REx is now studying its four candidate touch-and-go sample grab sites. They will pick their primary site in December. In January they will descent to a 500 meter orbit for more observations. In March they will drop to 300 meters. In April they will do rehearsals of the touch-and-go, without actually touching down. And in July-August 2020 they will do the sample grab, with August 25 their present target date.
Their departure window for return to Earth is March 2021.