For me, the last eight months have been very interesting when it comes to medical treatment. I have had my left hand rebuilt to eliminate chronic pain, I had my heart inspected to make sure it was working properly, and this week I had the retina in my right eye re-attached using some very clever engineering.
For once, this essay will not be about the politics of medicine and the disaster of Obamacare, which is still ongoing. Instead, I will outline how freedom and human creativity has now made possible a whole range of modern medical techniques that are either improving the quality of life for patients or literally saving their lives.

The heart was pretty straight forward. If your heart doctor suspects you might have a blockage, they now have a range of techniques for inspecting its interior, including the insides of the arteries that lead to it. And they can do it as a simple outpatient treatment. They make a small incision in a major artery, insert a camera/tools attached to the end of a long fiber optic tube, and use this to travel to the heart where they can inspect everything in great detail. If they find something they need to fix, they can do it then, using the tools at the end of the tube. And even if they don't need to do anything, when they are done they can give you a very accurate appraisal of the state of your cardio-vascular system, allowing you to take whatever actions are necessary to keep it in tip-top shape.
Most amazing of all, this kind of medical examination has become an entirely routine procedure in the past few decades. Heart doctors do it on almost a daily basis, like clockwork.
I went through this in June, and the result was that I was able to have a great time hiking in the Grand Canyon in July.
The wrist treatment was equally amazing. For the past seven years I had had increasing chronic pain in my left wrist. By last year, it had gotten so bad that I was having trouble doing ordinary tasks. Worse, my ability to compete in bullseye pistol competitions had declined so much that I literally couldn't do it.
By April 2013 I finally decided to do something. Fortunately, one of the top doctors in this field, Joel Thompson, happens to live in Tucson. He immediately made a diagnosis, explaining that of the many bones in the hand two were now in contact and rubbing against each other. It was this contact that was causing my pain.
Thompson explained that the solution was a procedure called suspension plasty., developed in the early 1980s by surgeon James S. Thompson (no relation). In this procedure, the surgeon literally removes one of the small bones that is in contact with the others and then rewires the ligaments to the remaining bones so that the thumb and hand can continue to function as before.
I had this operation in May, and have been astonished at the result. The pain is entirely gone, and I have only lost a tiny amount of inconsequential range in my left thumb. Who wudda thunk it?
Finally, there was my eye problem this week. When you reach the hallowed age of sixty-plus, the eye begins to change. The viscous gel that fills the eyeball and keeps the retina in place shrinks and then separates from the retina. When this happens you will suddenly see a lot of floaters as well as light flashes, which should immediately be a warning to see an eye doctor at once. If the retina tears when this happens, fluid can leak through the tear and push the retina out, causing it to detach and thus resulting in blindness in that eye.
For me, the vicious gel separated from the retina in both eyes in February and August of 2013 respectively, and both times I immediately saw my eye specialist. Fortunately there were no tears and I got a clean bill of health. After a few weeks the floaters disappeared and I was back to normal.
On Saturday, however, I suddenly noticed a new bunch of floaters as well as what looked like a small black blob blocking my vision on the left edge of my right eye. I shrugged, and said, "Why does this always happen on the weekend?" In February the first floaters had appeared on Friday night, and when I called the doctor he said it was acceptable to come in on Monday. Then, however, I had not noticed any blockages in my vision.
I decided there was no point calling over the weekend, as they would probably not do anything until Monday anyway. By Sunday afternoon, however, the blockage had grown. It was like a giant black disk that was slowly moving from the left to the right, increasingly blocking my view of the world. By 6 pm on Sunday I decided I better call the doctor anyway. When I described these symptoms to my doctor, Leonard Joffe, he said to meet him in his office within an hour, on Sunday night, so that he could figure out what to do. (As it turns out, he was attending a basketball game with friends and family at the time, and left that event to meet me.) He explained later that he knew immediately from my symptoms that I had a detached retina, but he needed to make a close examination to figure out the best course of treatment.
This is what he did. On Monday morning he used cryotherapy to freeze seal the tear that had occurred in the retina. This would prevent any more fluid from leaking in behind it. He then injected into the eyeball a special gas. This gas, lighter than the fluid in the eye, would rise to the top to form a bubble that would press against the retina. My job would be to keep my head in the right position so that the gas bubble would always press against the part of the retina that had detached.
Thus, I spent almost all of Monday and Tuesday lying on my side so that the bubble would rise to the right spot inside my eye. By Tuesday morning Joffe looked at the eye and declared the retina had completely reattached, "the best possible outcome he could expect after only one day." I had also noticed that the blockage had faded, leaving behind a cloudy vision which I think is steadily clearing.
I have still had to keep my head positioned all day Tuesday, but today and later this week the amount of time I need to do it is less each day.
This amazing technique, called pnematic retinopexy, where a simple bubble acts to press the retina into place, replaces other surgical techniques, such as scleral buckling, that while successful were far more invasive and complicated. Had it not worked, I could always have had the option for the scleral buckle surgery, but I am glad that was not necessary. The technique itself was developed originally in the early 1900s, but did not become acceptable until the late 1980s, after several California eye surgeons teamed up to do their own improvised clinical trial. As one of those doctors described,
Dr. Hilton decided that the only way this new procedure would be accepted in the retinal community would be with a prospective, randomized, controlled clinical trial. He invited seven groups of fellowship-trained retina surgeons from across the country who had experience with pneumatic retinopexy and scleral buckling to participate in the trial. He outlined how pneumatic retinopexy would be performed, but told the participants to perform whatever scleral buckling operation they normally used. This trial could not be done today. We did not have IRB approval (I don't think there was an IRB at that time); we used a gas that was not approved for intraocular use (the cost of the gas and lecture bottle was $14); and we funded the project internally, paying for the biostatistician who provided randomization envelopes. We did not charge the patient for the pneumatic operation. It was a very exciting time. Then, one day Dr. Hilton called me. He was a bishop in the Mormon Church and told me he had been called for a mission to Tahiti. He asked if I would take over the trial and, in a moment of weakness and complete ignorance what that meant, I said yes. [emphasis mine]
These doctors had spotted a treatment that could benefit patients by its simplicity and moved to prove it could work, quickly and freely. No one was supervising them. They, as experts in their field, had the freedom to function as experts and do it. The result was a gain in knowledge and experience that can hardly be measured.
As the doctor noted above, "this trial could not be done today." Too many rules, regulations, and supervisory agencies looking over everyone's shoulders. Very sad and unfortunate.
Nonetheless, we must note the amazing innovations that all these procedures illustrate. Technology, science, engineering, and human creativity all melded together to produce some clever techniques for helping the body to heal itself.
These facts should be remembered the next time someone announces ponderously that something can't be done. History tells us bluntly that they are wrong.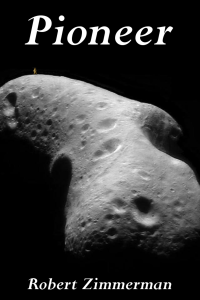 From the press release: From the moment he is handed a possibility of making the first alien contact, Saunders Maxwell decides he will do it, even if doing so takes him through hell and back.
Unfortunately, that is exactly where that journey takes him. The vision that Zimmerman paints of vibrant human colonies on the Moon, Mars, the asteroids, and beyond, indomitably fighting the harsh lifeless environment of space to build new societies, captures perfectly the emerging space race we see today. He also captures in Pioneer the heart of the human spirit, willing to push forward no matter the odds, no matter the cost. It is that spirit that will make the exploration of the heavens possible, forever, into the never-ending future. Available everywhere for $3.99 (before discount) at
amazon
,
Barnes & Noble
, all ebook vendors, or direct from the ebook publisher,
ebookit
. And if you buy it from
ebookit
you don't support the big tech companies and I get a bigger cut much sooner.