The newly named "associate dean for equity and inclusion" at the College of Engineering at the University of California, Berkeley, is promising "disruptive progress" in his effort to increase minorities at the school.
The plan [pdf] includes more money for staffing and facilities for the "equity and inclusion" department, plus more money and power for student organizations. Sadly, this is money and facilities that will no longer be available for actual education or research.

The plan also requires pro-minority propaganda in the college's publications, promoting the brilliance and needs of minority students, chosen not on any actual accomplishment but on their race or ethnicity. In addition, a number of financial and training programs will be created to help minority students only.
Obviously, giving favorable treatment to someone merely because they have a particular skin color or ethnicity is legally questionable and certainly morally wrong. However, put that aside for the moment. If I wanted to go to an engineering school, Berkeley's focus on skin color over education makes me think it a poor choice. Moreover, if I was hiring an engineer, I would consider a degree from this school be be of less value because of the school's bigoted focus on race and ethnicity.
Above all, the school certainly doesn't appear interested in silly stuff like engineering, math, and physics.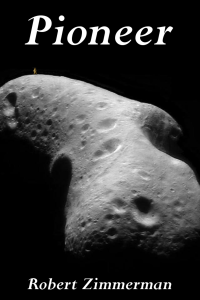 From the press release: From the moment he is handed a possibility of making the first alien contact, Saunders Maxwell decides he will do it, even if doing so takes him through hell and back.
Unfortunately, that is exactly where that journey takes him. The vision that Zimmerman paints of vibrant human colonies on the Moon, Mars, the asteroids, and beyond, indomitably fighting the harsh lifeless environment of space to build new societies, captures perfectly the emerging space race we see today. He also captures in Pioneer the heart of the human spirit, willing to push forward no matter the odds, no matter the cost. It is that spirit that will make the exploration of the heavens possible, forever, into the never-ending future. Available everywhere for $3.99 (before discount) at
amazon
,
Barnes & Noble
, all ebook vendors, or direct from the ebook publisher,
ebookit
. And if you buy it from
ebookit
you don't support the big tech companies and I get a bigger cut much sooner.