At separate interviews given during a media conference held this week in California, Elon Musk and Jeff Bezos each expressed their thoughts about what they hope to accomplish in space over the next few decades.
First, Jeff Bezos outlined his belief that, in order to protect the Earth, humanity is going to have to eventually move its heavy manufacturing off the planet and into space. He thought colonizing the planets was a cool idea, but his focus remained with Earth, and using space as a way to protect it.
Musk meanwhile revealed his company's long range plans for Mars, including their firm intention to send a Dragon capsule to the red planet during every future launch opportunity, beginning with 2018. Each mission will provide information needed to improve and develop their engineering so that they can hopefully send humans there by 2024.
A realistic appraisal of both men's proposals will quickly recognize that they are probably overly optimistic. Bezos might be right that we should move our heavy industries into space, but he is not realistic to think this can happen soon, or is even possible. Musk's company SpaceX might be laying the groundwork for the eventual colonization of Mars, but to think it will begin happening by 2024 is unrealistic.
Still, what both men are proposing are things that they are personally helping to make happen. Neither man has to get anyone else's permission or approval to push these dreams. All they need to do is make sure the products they are building for accomplishing these tasks can also make money by providing services to others. Since this is exactly what both men are doing, they will likely achieve far more than anyone can imagine, even if the specific proposals they are putting forth now do not happen in their lifetimes.
This bright and very possible future is far different than the powerpoint proposals that NASA and big government have offered to us over and over again for the past four decades. Those ideas, while also ambitious, could never happen because they were dependent on the approval of too many other players, Congress, the public, the press, the bureaucracy. They were not founded on profits, so they became a drain on the economy instead of a source of wealth. The result was that we have gone nowhere and developed little new space technology in the years since the last Apollo landing.
Only now, with our renewed reliance on capitalism and profits, are we finally beginning to see the dreams expressed in those NASA powerpoint proposals coming to life. And it isn't the government that is making them happen, but free individuals, with big dreams and the will to pursue them.
Expect there to be privately funded manned missions to Mars in the next decade. And expect there to be factories in orbit, far sooner than anyone expects.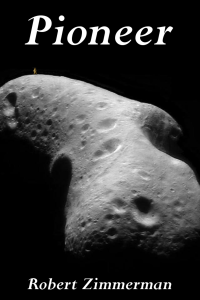 From the press release: From the moment he is handed a possibility of making the first alien contact, Saunders Maxwell decides he will do it, even if doing so takes him through hell and back.
Unfortunately, that is exactly where that journey takes him.
The vision that Zimmerman paints of vibrant human colonies on the Moon, Mars, the asteroids, and beyond, indomitably fighting the harsh lifeless environment of space to build new societies, captures perfectly the emerging space race we see today.
He also captures in Pioneer the heart of the human spirit, willing to push forward no matter the odds, no matter the cost. It is that spirit that will make the exploration of the heavens possible, forever, into the never-ending future.
Available everywhere for $3.99 (before discount) at
amazon
,
Barnes & Noble
, all ebook vendors, or direct from the ebook publisher,
ebookit
. And if you buy it from
ebookit
you don't support the big tech companies and I get a bigger cut much sooner.