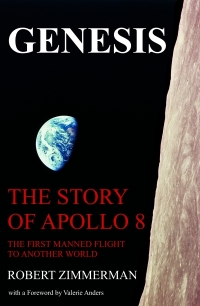 On Christmas Eve 1968 three Americans became the first humans to visit another world. What they did to celebrate was unexpected and profound, and will be remembered throughout all human history. Genesis: the Story of Apollo 8, Robert Zimmerman's classic history of humanity's first journey to another world, tells that story, and it is now available as both an ebook and an audiobook, both with a foreword by Valerie Anders and a new introduction by Robert Zimmerman.
The ebook is available everywhere for $5.99 (before discount) at
amazon
, or direct from my ebook publisher,
ebookit
.
The audiobook is also available at all these vendors, and is also
free with a 30-day trial membership to Audible.
"Not simply about one mission, [Genesis] is also the history of America's quest for the moon... Zimmerman has done a masterful job of tying disparate events together into a solid account of one of America's greatest human triumphs." --San Antonio Express-News
Behind the Black officially premiered July 1, 2010, and has been up and running now for twenty months. I make it a point to post often and regularly on issues of space, science, technology, politics, and history, subjects that interest me personally. Except for one short period a year ago when family matters kept me away from the computer for several days, I have managed to update the webpage frequently every day during that entire time.
Because of this, traffic to the site has steadily grown. For this I thank you, my readers, especially those who love to add their own two cents to the webpage in the comments. While I certainly do not agree with all those who comment, I very much appreciate the open and intelligent nature of the discussion.
During that time I have resisted begging for contributions. Though I added a tip jar link to the webpage about three months ago (located in the right column below the search box), I have made very little note of it because shilling for dollars seems crass, and I feel that if I am doing a good job people will naturally look for it in order to donate to the webpage to keep it going.
However, today is my birthday, so I feel I have the right to do some self-promotion. Moreover, for the past fifteen years I have made my living as a freelance science writer. The business, however, is changing, and I am finding that I am becoming increasingly reliant on the income I make from at my own website over that earned by selling articles to magazines.
Thus, if you are a regular reader of Behind the Black, please consider giving the website a donation, no matter how small. Not only would I appreciate it greatly, it will help make it possible for this website to continue and grow.
Readers!
My July fund-raiser for Behind the Black is now over. The support from my readers was unprecedented, making this July campaign the best ever, twice over. What a marvelous way to celebrate the website's tenth anniversary!

Thank you! The number of donations in July, and continuing now at the beginning of August, is too many for me to thank you all personally. Please forgive me by accepting my thank you here, in public, on the website.

If you did not donate or subscribe in July and still wish to, note that the tip jar remains available year round.
Regular readers can support Behind The Black with a contribution via paypal:
If Paypal doesn't work for you, you can support Behind The Black directly by sending your donation by check, payable to Robert Zimmerman, to

Behind The Black
c/o Robert Zimmerman
P.O.Box 1262
Cortaro, AZ 85652