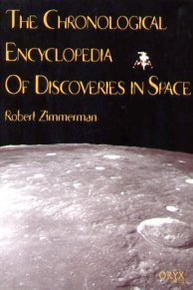 After being in print for twenty years, the Chronological Encyclopedia of Discoveries in Space, covering everything that was learned on every single space mission in the 20th century, has finally gone out of print.
I presently have my last four hardback copies available for sale. The book sold new for about $90. To get your own autographed copy of this now rare collector's item, please send a $120 check (which includes shipping) payable to Robert Zimmerman to
Behind The Black, c/o Robert Zimmerman
P.O.Box 1262
Cortaro, AZ 85652

"Useful to space buffs and generalists, comprehensive but readable, Bob Zimmerman's Encyclopedia belongs front and center on everyone's bookshelf." -- Mike Collins, Apollo 11 astronaut
"The Chronological Encylopedia of Discoveries in Space is no passionless compendium of information. Robert Zimmerman's fact-filled reports, which cover virtually every spacecraft or probe to have ventured into the heavens, relate the scientific and technical adventure of space exploration enthusiastically and with authority." -- American Scientist
As I do every year during my February birthday month, I ask my readers to please consider donating to Behind the Black.
I admit that I really find it distasteful begging like this, but I really have no choice if I am to continue doing what I love. Moreover, it seems that your direct contribution is sorely needed. In the past year I have discovered that Facebook apparently does not want its users to plug my writing. Every time the number of hits from Facebook begins to rise to a large number, they are suddenly cut off, dropping instantly to zero.
If the drop was smooth and gradual, it could be argued that it is natural, the result of a short decline of interest until I post something new that sparks another wave of hits. This is not what happens. The hits rise steadily, for months, and then suddenly, they vanish, as if someone at Facebook has blocked any reference to past posts at Behind the Black. As new posts appear, however, and ordinary Facebook readers begin to see and pass them along, the hits slowly begin to rise again, until after several months they are once again suddenly cut off.
This pattern could be entirely innocent, but the track record of large corporate and liberally-dominated sites like Facebook suggests otherwise.
So, I am compelled to ask again for your help and support, either by giving either a one-time contribution or a regular subscription, as outlined in the tip jar above and to the right. Or you could consider buying one of my books, something I heartily recommend. All deal with the first half century of the history of space exploration, and all provide a clear window into why we are where we are today in this epic story.
In either case, your continuing support will make it possible for me to continue to do what I have done for the past twenty-five years, freely writing about science and culture, uninfluenced by outside pressure and able to say exactly what I think must be said, at the exact moment such words are most necessary.