Three stories today illustrate the growing hate, violence, and bigotry within the modern black power movement:
These are only a sample of the numerous similar stories in the past few years, most of which revolve around the generally racist Black Lives Matter movement, which only cares about black lives and gets very offended if you note that all lives matter. Consider for example the words of Babu Omowale, the "national minister of defense for the People's New Black Panther Party" in the third link above:
We know that we are owed land, we are owed monies, we are owed restitutions and we are owed reparations.
In other words, blacks today must be rewarded and everyone else who is not black punished because of something that was done to someone else by someone else, a hundred years or more in the past. And the only reason blacks are owed reparations is because they are black, with everyone else who is not black guilty and therefore to be punished, even though no one today had anything to do with the past injustice of slavery.
While most blacks in America are ordinary people who don't hate anyone and want to live their lives peaceably, the culture they live within is increasingly focused, like the New Black Panthers, on race and hate. That culture is also increasingly abandoning the ideals that made the civil rights movement a success and led to election of a black man as President of the United States, even though blacks comprise less than 15% of the American population.
The consequences of this will be exactly the opposite of what the Black Lives Matter movement and the New Black Panthers claim they want, a greater respect for blacks. Instead, these movements will isolate blacks and make them a target, an enemy to everyone else in the country. I can't emphasize how mistaken and foolish this is. Unless the good people in the black community reject it soon and loudly, they — as well as everyone else — are going to suffer badly in future years because of it.
It never pays to view people by their race, ethnicity, or gender. What matters is what each person does. We are not races, ethnicities, or genders. We are each a human being, each with a soul and a potential to do good or evil. We should thus be judged as an individual. Everything else is irrelevant, and if you try to include it you are revealing yourself to be racist and a hate-monger.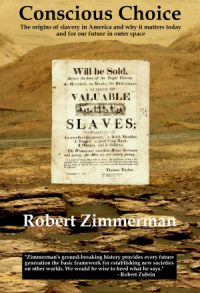 Now available in hardback and paperback as well as ebook!
From the press release: In this ground-breaking new history of early America, historian Robert Zimmerman not only exposes the lie behind The New York Times 1619 Project that falsely claims slavery is central to the history of the United States, he also provides profound lessons about the nature of human societies, lessons important for Americans today as well as for all future settlers on Mars and elsewhere in space.
Conscious Choice: The origins of slavery in America and why it matters today and for our future in outer space
, is a riveting page-turning story that documents how slavery slowly became pervasive in the southern British colonies of North America, colonies founded by a people and culture that not only did not allow slavery but in every way were hostile to the practice.
Conscious Choice
does more however. In telling the tragic history of the Virginia colony and the rise of slavery there, Zimmerman lays out the proper path for creating healthy societies in places like the Moon and Mars.
"Zimmerman's ground-breaking history provides every future generation the basic framework for establishing new societies on other worlds. We would be wise to heed what he says." —Robert Zubrin, founder of founder of the Mars Society.
All editions available at Amazon, Barnes & Noble, and all book vendors. The ebook can be purchased direct from my ebook publisher, ebookit, in which case you don't support the big tech companies and I get a bigger cut much sooner. Note that the price for the ebook, $3.99, goes up to $5.99 on September 1, 2022.
Autographed printed copies are also available at discount directly from me (hardback $24.95; paperback $14.95). Just email me at zimmerman @ nasw dot org.