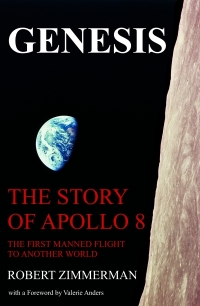 On Christmas Eve 1968 three Americans became the first humans to visit another world. What they did to celebrate was unexpected and profound, and will be remembered throughout all human history. Genesis: the Story of Apollo 8, Robert Zimmerman's classic history of humanity's first journey to another world, tells that story, and it is now available as both an ebook and an audiobook, both with a foreword by Valerie Anders and a new introduction by Robert Zimmerman.
The ebook is available everywhere for $5.99 (before discount) at
amazon
, or direct from my ebook publisher,
ebookit
.
The audiobook is also available at all these vendors, and is also
free with a 30-day trial membership to Audible.
"Not simply about one mission, [Genesis] is also the history of America's quest for the moon... Zimmerman has done a masterful job of tying disparate events together into a solid account of one of America's greatest human triumphs." --San Antonio Express-News
Boeing has indicated that it might shelve its CST-100 manned capsule, despite their recent almost half a billion dollar contract award from NASA.
This possibility illustrates why Boeing is losing market share, not only in space, but in the aviation industry. The article suggests that the NASA contract might not be enough to pay for CST-100, and that Boeing is unsure there is enough private market to make up the difference.
"That's just for the ISS. That's kind of the basement," adds Elbon. More flights than those to the ISS are required he says, and Boeing is cautious about over-committing itself while future revenue streams are unclear.
I say bull hockey.

The NASA subsidy is designed to help them develop the capsule, It will also provide them some financial cushion while they market to others. That they already have an agreement with Bigelow suggests that there are private customers who will buy this manned launch capability. Boeing just has to want to compete to get their business.
Unfortunately, Boeing, like Lockheed Martin and the other old time big aerospace companies, has not had much interest in competing for market share for the past thirty years. Instead, they have been happy to feed off the easy government trough. It doesn't require much innovation or cost cutting, and it gets them lots of cash for very little work.
Thus, this story, which I suspect was pushed to the media in the time-honored tradition of both government contractors and agencies, to use the press to convince Congress and NASA to pony up more cash for their capsule.
Boeing however is going to find out very soon that there isn't any more cash available and the government trough is about to run dry. If they don't compete, they are going to die, because others are going to compete for that business, and leave them in the dust.
One more thing: If I was the NASA administrator and heard these threats from Boeing — after I have just awarded them this contract — I would be on the phone with Boeing's CEO in an instant, telling him that if he doesn't deny this story immediately I am going to cancel their contract and offer it to the next competitor on the list. Why should NASA waste one dime on Boeing's proposal if they are going to abandon it before completion? NASA needs access to space. It doesn't need companies that aren't serious about providing it.
Readers!
My July fund-raiser for Behind the Black is now over. The support from my readers was unprecedented, making this July campaign the best ever, twice over. What a marvelous way to celebrate the website's tenth anniversary!

Thank you! The number of donations in July, and continuing now at the beginning of August, is too many for me to thank you all personally. Please forgive me by accepting my thank you here, in public, on the website.

If you did not donate or subscribe in July and still wish to, note that the tip jar remains available year round.
Regular readers can support Behind The Black with a contribution via paypal:
If Paypal doesn't work for you, you can support Behind The Black directly by sending your donation by check, payable to Robert Zimmerman, to

Behind The Black
c/o Robert Zimmerman
P.O.Box 1262
Cortaro, AZ 85652