Two book items which I think my readers will be interested in:
First, my publisher of the ebook edition of Genesis: the Story of Apollo 8 has asked me to ask my readers to please post book reviews of the book on amazon.com. Presently the book has 47 reviews. If it gets three more, we will be eligible for a number of additional Kindle promotions.
So, whether you liked the book or not, please go to its webpage on amazon and give it a review. Your support will be very much appreciated.
Note also that the sale on amazon continues until the end of December. Until then, you can get the ebook edition of Genesis the Story of Apollo 8 for only $2.99!
Second, I have just published a new book, though on a topic that has nothing to do with space. Circuit Hikes of Southern Arizona was written during my spare time during the past two years while Diane and I explored the many beautiful trails out here in Tucson. Though there are many good Arizona hiking guidebooks, I noticed a lack of guidebooks describing loop trails. Since that is what we were doing anyway, I figured why not assemble my knowledge into a new guidebook and use the opportunity to learn about the modern world of both ebook and print self-publishing.
The print edition of Circuit Hikes is available directly from me here for $15, including shipping. The ebook can be purchased here (directly from me) or from amazon, barnes & noble, and all your normal ebook venders for $10.
This post will remain at the top of the webpage for the next twenty-four hours.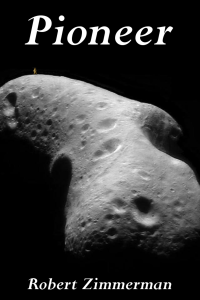 From the press release: From the moment he is handed a possibility of making the first alien contact, Saunders Maxwell decides he will do it, even if doing so takes him through hell and back.
Unfortunately, that is exactly where that journey takes him. The vision that Zimmerman paints of vibrant human colonies on the Moon, Mars, the asteroids, and beyond, indomitably fighting the harsh lifeless environment of space to build new societies, captures perfectly the emerging space race we see today. He also captures in Pioneer the heart of the human spirit, willing to push forward no matter the odds, no matter the cost. It is that spirit that will make the exploration of the heavens possible, forever, into the never-ending future. Available everywhere for $3.99 (before discount) at
amazon
,
Barnes & Noble
, all ebook vendors, or direct from the ebook publisher,
ebookit
. And if you buy it from
ebookit
you don't support the big tech companies and I get a bigger cut much sooner.