At just after midnight tonight AP named the Republican, Bob Turner, the winner of the special Congressional election in Brooklyn/Queens. At that time Turner was winning 53% to 47%, with 73% of the precinct reporting.
In looking at the results as well as the district map itself, I find myself more than astonished. The Republican Bob Turner got seventy percent of the Brooklyn vote (as of 12:05 am).

The Brooklyn section of this district is the very neighborhood where I grew up and where my parents lived until the 1980s. I myself visited this area frequently until the late 1990s when I finally moved out of New York to Maryland. It is very white, very Jewish, very middle-class, and has always been very very knee-jerk Democratic. To even suggest voting for a Republican in this district would have garnered looks of contempt and horror when I lived there. (I know. I tried it. I got the looks.) And though in recent years there has been demographic shift in the Brooklyn section of this district from liberal secular to the more conservative Orthodox Jews, I would not consider the Orthodox to as yet dominate the area by any means.
Yet, let me repeat: Republican Bob Turner has taken seventy percent of the Brooklyn vote. If this doesn't indicate that a significant sea change is happening in American politics, I don't know what does. Not only does this result confirm once again that the election of 2010 was no fluke, it suggests that all traditional methods of political analysis are probably unreliable. The electorate has apparently decided that they are will to try new things, and to hell with the risks.
Considering the disastrous state of the federal government, this to my mind can only be a good thing.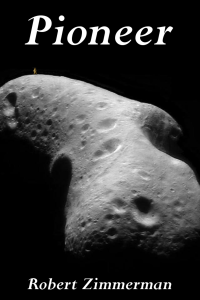 From the press release: From the moment he is handed a possibility of making the first alien contact, Saunders Maxwell decides he will do it, even if doing so takes him through hell and back.
Unfortunately, that is exactly where that journey takes him.
The vision that Zimmerman paints of vibrant human colonies on the Moon, Mars, the asteroids, and beyond, indomitably fighting the harsh lifeless environment of space to build new societies, captures perfectly the emerging space race we see today.
He also captures in Pioneer the heart of the human spirit, willing to push forward no matter the odds, no matter the cost. It is that spirit that will make the exploration of the heavens possible, forever, into the never-ending future.
Available everywhere for $3.99 (before discount) at
amazon
,
Barnes & Noble
, all ebook vendors, or direct from the ebook publisher,
ebookit
. And if you buy it from
ebookit
you don't support the big tech companies and I get a bigger cut much sooner.