Readers!
My annual birthday-month fund-raising drive for Behind the Black
is now on-going. Not only do your donations help pay my bills, they give me the freedom to speak honestly about science and culture,
instead of being forced to write it as others demand.
Please consider donating by giving either a one-time contribution or a regular subscription, as outlined in the tip jar below.
Regular readers can support Behind The Black with a contribution via paypal:
If Paypal doesn't work for you, you can support Behind The Black directly by sending your donation by check, payable to Robert Zimmerman, to

Behind The Black
c/o Robert Zimmerman
P.O.Box 1262
Cortaro, AZ 85652

You can also support me by buying one of my books, as noted in the boxes interspersed throughout the webpage. And if you buy the books through the ebookit links, I get a larger cut and I get it sooner.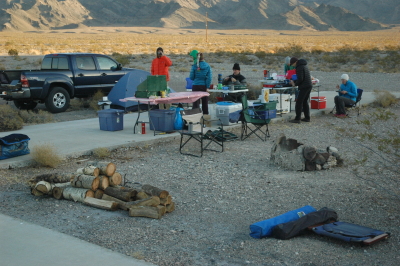 This past Thanksgiving weekend I joined some caving and canyoneering friends in Death Valley to celebrate the holiday in the great outdoors as well as explore some of the park's more inaccessible canyons. We did not camp in the park, since campfires are not allowed and the park has a size limit for groups. Instead, we camped on BLM land just outside the park, in what appeared to be an abandoned RV trailer park that canyoneerers call Slabby Acres.
First a primer. Regular readers will know that I have been doing cave exploration and mapping now for about thirty years. This recreational activity not only involves knowing how to use survey instruments in a cave, you need also to be trained in the vertical rope techniques required to reach some remote places underground, sometimes dropping multiple pits on the way in and climbing those same domes on the way out.
Canyoneering is somewhat similar to caving. Just like caving you need to know how to travel over boulders and rough terrain and also know how to rappel and climb ropes. Unlike caving the canyons are open to the sky, and you rarely climb the ropes to travel up the canyon. In canyoneering the goal is to find the head of the canyon and travel down its many drops to come out at the bottom safely, all the while getting to see some wild, majestic, and rarely seen places. In addition, modern canyoneering rarely involves virgin exploration. Most canyoneerers visit already explored canyons whose details are well documented so that they know what ropes to bring as well as how to find the canyons.
This was our goal this past weekend. Some of the western cavers who have joined my survey projects and learned how to cave survey are also active canyoneerers. While none of us had ever visited the canyons on our trip list, several were very experienced with finding and traversing places they had never been before. My plan was to follow them and enjoy the experience. Below are my pictures during one of this weekend's canyoneering trips. The canyon is Scorpion Canyon. It was the first we visited and was relatively easy to do, only 4.6 miles long with only six rappels and only an 1,800 foot elevation drop. It would take us over one of the mountain ranges that form the eastern wall of Death Valley. In fact, this was how I was going to enter Death Valley for the first time. Rather than drive in, like most tourists, I would rappel in.


First we needed to set up the car shuttle. We dropped everyone off at the trail head, shown in the image above, while three people drove to the nearest parking area at the bottom of the canyon. There they would leave several cars and drive back. I and John SeJerman meanwhile would begin hiking up into the hills, since I was generally the slowest hiker. (Most of the people on this trip were 20 to 35 years younger than I was, so there was no way I could keep up with their pace, especially uphill. To save time, I generally would try to head out before them so that they would not have to wait for me.)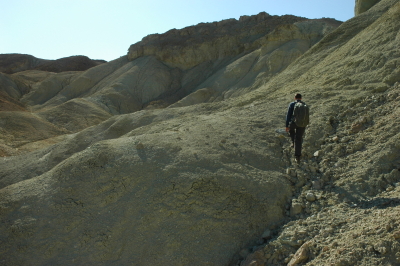 John led the way, as he had a GPS unit with the hiking track that would take us to the canyon head. Though most of canyoneering is downhill, you often have to travel quite a distance uphill to get to the top of the canyon. In this case we only needed to gain about 800 feet elevation on what was relatively easy though very barren and strange terrain. In fact, it was astonishing how little vegetation existed on this hike and in this particular canyon. For most of the trip the ground was devoid of plant and insect life. I could have almost been exploring Gale Crater with Curiosity, except that the gravity was too high and the geology was in many ways fundamentally different.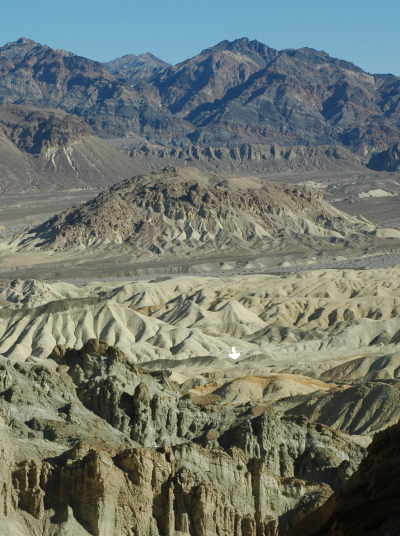 On the left is the view looking back once we reached the top of the mountain range. The white arrow indicates a vehicle driving on the road. John and I then topped the range and headed downhill to the west toward Death Valley, walking in a wide and open wash which steadily got narrower and narrower until it ended at 45 foot drop. Here we sat down, rigged the rope to a cairn anchor that someone had built previously, ate lunch, and waited for the others to catch up. It didn't take them long, and soon we were on our way.
I should say a little about the rigging. Do not try this if you have not been trained by knowledgeable people. In Death Valley you are not allowed to drill holes to install bolts. Since the water that washes through these canyons tends to smooth the walls and eliminate any natural anchors, what canyoneerers do is create what they call cairn anchors. They tie a loop of webbing to a large rock and then literally pile bigger rocks on top of this to hold everything down.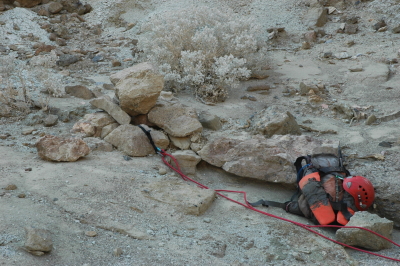 On the right is the cairn anchor for our first drop. It had been built by other canyoneerers on previous trips. All we had to do was check the webbing (which was still good), and rig our rope to it.
Let me repeat this: Do not do this on your own. Cairn anchors are safe, but only if they are built properly. Before we left on this particular trip we all had gotten together in a canyon near Tucson and practiced building cairn anchors and testing them. We had not known if we would find any already-built cairns in any of the canyons we planned to visit, and if not we knew we needed to know how to build them safely. This knowledge would then allow us to judge the safety of any cairns we might find once there.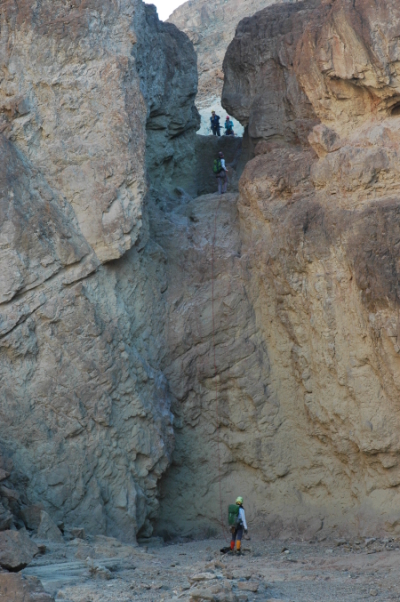 Anyway, this cairn anchor was safe, as were all the anchors we found during this trip. Only a few times did we need to make any improvements, and those changes usually involved replacing old webbing or the screwlink.
Once we had descended the first drop the nature of the canyon changed. Beforehand it had been a wide wash, open to the sky, with a scattering of scrub bushes. Below this first drop, shown on the right, the canyon became a narrow winding slot with absolutely no plant life.The high canyon walls meant that we were rarely in sunlight. It was mid-day by this time, and the temperature had warmed to the low seventies, but in the shaded canyon I would guess that the temperature never rose above 65 degrees. To keep warm I never removed my flannel shirt.
The walking was however easy, with relatively little boulder hopping. Interestingly, of the four canyons we visited during our three days in Death Valley, all were similar in this way. While their overall sizes varied — from the smallest, Scorpion, to the most monumental, Bad Canyon — they each had long stretches of flat, cobble washed floors where the walking was easy. This contrasted starkly with the canyons I have visited in the Tucson area, all of which had been filled with many giant cobble boulders that required you to scramble over, under, and between them.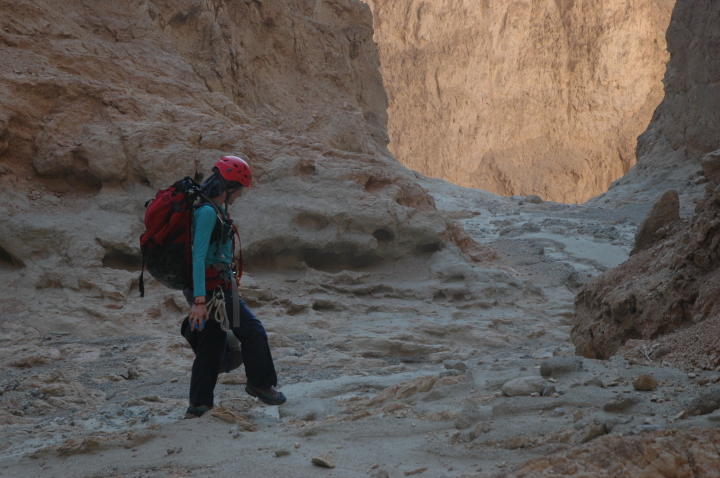 The image above, of Belinda Norby in Scorpion Canyon, will give you a sense of what it was like to walk down this canyon.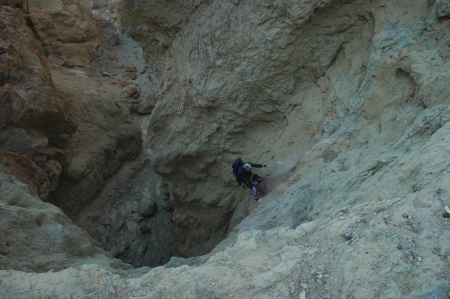 To the left is an image of Kevin Franke rappeling into one of the later drops. For this canyon I think the longest drop was 150 feet. Generally they were much less. Because Belinda and Kevin and the others were very experienced canyoneerers, we moved quickly from drop to drop, rigging quickly, rappeling, pulling our rope down, stuffing it in a rope bag, and moving on to the next drop.
I will admit that age has its privileges. Though I am a very experienced vertical caver and understood all the rigging that they were doing, I am also a relatively inexperienced canyoneerer. And because I couldn't hike as fast as everyone else, they were glad to do the rigging and let me move on to enjoy the view while saving time. Thus, I had the pleasure of doing the canyon while all these "youngsters" did the work. For that I thank them.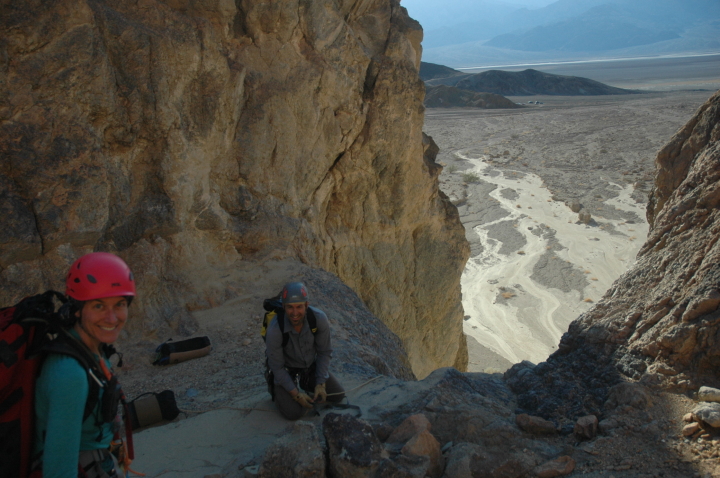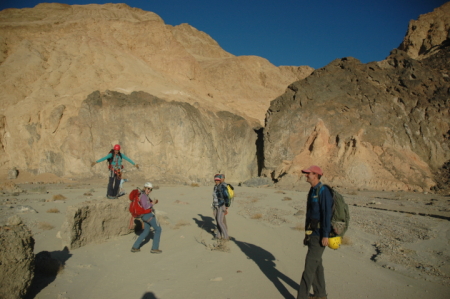 Above is an image of Belinda Norby and Pete London at the top of the last drop, rigging the rope to the cairn anchor there. Beyond them you can see Death Valley and the parking lot where we had staged two vehicles for the ride back to camp. This was actually the first good view I had ever had of Death Valley, and I must say that you really can't beat this as a first approach.
To the right is some of our gang, with the vertical crack from which Scorpion Canyon exits behind us. At this point we had dropped a little more than 1,700 feet in elevation, and were still about 80 feet above sea level. The image below shows us hiking down to the cars, which were parked at approximately -200 feet elevation. We ourselves would drop below sea level after another 300 feet of hiking downhill.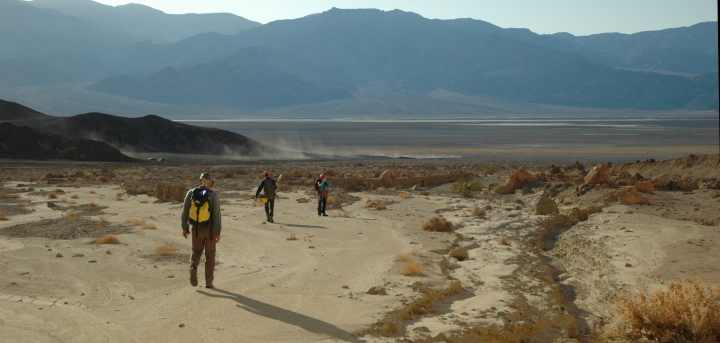 The other canyons were equally as interesting. For example, Bad Canyon, which we did the next day, started at about 5,500 feet elevation and took us down about 6,000 feet to Badwater, the lowest point in North America. This canyon was big in every way, though the walking was once again quite pleasant and the drops were all easy. I did not take my camera because the description of the bushwhack to get to the canyon from the top of the mountain made it seem like a difficult hike. I did not want to trash my camera doing it. In the end it was easier than expected.
Overall the weekend was spectacular and a lot of fun. I'd do it again in an instant, though I must admit that I still prefer the bigger sense of exploration I get when I go caving.