The image below was taken on January 11, 2011 by the space probe Cassini, in orbit around Saturn. First we see the southern polar regions of the moon Rhea, 949 miles in diameter. Beyond is the moon Dione, 698 miles across, appearing to sit on the rings of Saturn.
As far as I am concerned, this image, as well as almost every other image from Cassini, proves that any hotel built in orbit around Saturn is unquestionably going to be one of the hottest tourist spots in the solar system.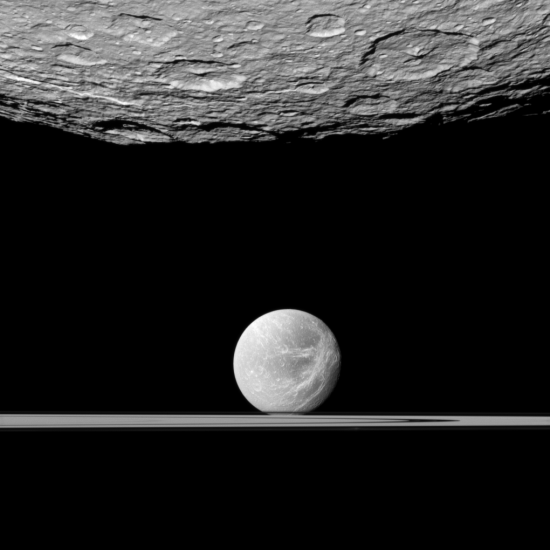 Readers!
Please consider donating to Behind the Black, by giving either a one-time contribution or a regular subscription, as outlined in the tip jar below. Your support will allow me to continue covering science and culture as I have for the past twenty years, independent and free from any outside influence.
Your support is even more essential to me because I keep this site free from advertisements and do not participate in corrupt social media companies like Google, Twitter, and Facebook. I depend wholly on the direct support of my readers.
You can provide that support to Behind The Black with a contribution via Patreon or PayPal. To use Patreon, go to my website there and pick one of five monthly subscription amounts, or by making a one-time donation. For PayPal click one of the following buttons:

If Patreon or Paypal don't work for you, you can support Behind The Black directly by sending your donation by check, payable to Robert Zimmerman, to


Behind The Black
c/o Robert Zimmerman
P.O.Box 1262
Cortaro, AZ 85652