The Mars Reconnaissance Orbiter team today released this really cool image from Mars, showing an avalanche near the North Pole, in progress. The image looks directly down the cliff face from above. At the base of the cliff we can see the dust cloud from the crash of material billowing out away from the scarp.
What impresses me most about this image is that it was taken by an orbiting spacecraft approximately 200 miles above the planet's surface, moving at thousands of miles an hour. Yet, the camera not only had the resolution to see the cloud of dust, it could snap the image fast enough to capture the actual fall of material (the white wisps down the side of the cliff that are reminiscent of a waterfall).
Also intriguing is the visible steep face of the cliff face itself. I know a lot of rock climbers who would love to literally get their hands (and chocks) on that rock face. And in Mars's one-third gravity, rock climbing would surely be different.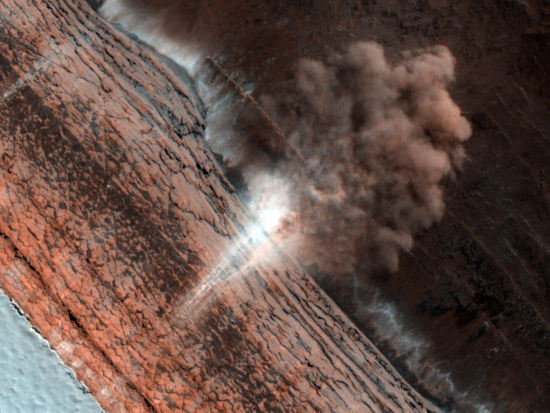 Readers!
I must unfortunately ask you for your financial support because I do not depend on ads and rely entirely on the generosity of readers to keep Behind the Black running. You can either make a one time donation for whatever amount you wish, or you sign up for a monthly subscription ranging from $2 to $15 through Paypal or $3 to $50 through Patreon.
Your support will allow me to continue covering science and culture as I have for the past twenty years, independent and free from any outside influence.
Your support is even more essential to me because I not only keep this site free from advertisements, I do not use the corrupt social media companies like Google, Twitter, and Facebook to promote my work. I depend wholly on the direct support of my readers.
You can provide that support to Behind The Black with a contribution via Patreon or PayPal. To use Patreon, go to my website there and pick one of five monthly subscription amounts, or by making a one-time donation. For PayPal click one of the following buttons:

If Patreon or Paypal don't work for you, you can support Behind The Black directly by sending your donation by check, payable to Robert Zimmerman, to


Behind The Black
c/o Robert Zimmerman
P.O.Box 1262
Cortaro, AZ 85652


Or you can donate by using Zelle through your bank. You will need to give my name and email address (found at the bottom of the "About" page). The best part of this electronic option is that no fees will be deducted! What you donate will be what I receive.