As I have been traveling for the past week, I have fallen behind in posting stories of interest. Two occurred in the past week that are of importance. Rather than give a long list of multiple links, here is a quick summary:
First, NASA administrator Charles Bolden yesterday announced the museum locations that will receive the retired shuttles. I find it very interesting that the Obama administration decided to snub Houston and flyover country for a California museum. In fact, all the shuttles seem to be going to strong Democratic strongholds. Does this suggest a bit of partisanship on this administration's part? I don't know. What I do know is that it illustrates again the politically tone-deaf nature of this administration, especially in choosing the fiftieth anniversary of Yuri Gagarin's spaceflight to make this sad announcement.
Second, the new budget deal (still pending) included NASA's budget, with cuts. While requiring NASA to build a super-duper heavy-lift rocket (the program-formerly-called-Constellation) for less money and in less time than was previously allocated to Constellation, the budget also frees NASA from the rules requiring them to continue building Constellation. Since the Obama administration has no interest in building the super-duper heavy-lift rocket and has said it can't be done, I expect they will use the elimination of this rule to slowdown work on the heavy-lift rocket. I expect that later budget negotiations will find this heavy-lift rocket an easy target for elimination, especially when it becomes obvious it is not going to get built.

The budget also included money for the commercial space subsidizes that the Obama administration wanted, though less than requested. I also expect that later budget negotiations will kill these funds, as they do not yet have a strong constituency to lobby for them, and Congress will be looking for ways to save money, faced as they are with horrible budget deficits.
The result, I think, will be exactly what Obama said he wanted during in the 2008 campaign, the end of funding for manned space exploration by the government.
Whether the private space industry can pick up the slack is the big question. I have faith that it can, as I also believe that freedom and competition always works better than centralized government-controlled operations. Unfortunately, even if I am completely right we are still faced with at least three to five years where the United States as a nation will be unable to launch anyone into space.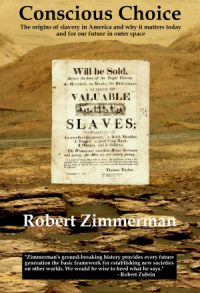 Now available in hardback and paperback as well as ebook!
From the press release: In this ground-breaking new history of early America, historian Robert Zimmerman not only exposes the lie behind The New York Times 1619 Project that falsely claims slavery is central to the history of the United States, he also provides profound lessons about the nature of human societies, lessons important for Americans today as well as for all future settlers on Mars and elsewhere in space.
Conscious Choice: The origins of slavery in America and why it matters today and for our future in outer space
, is a riveting page-turning story that documents how slavery slowly became pervasive in the southern British colonies of North America, colonies founded by a people and culture that not only did not allow slavery but in every way were hostile to the practice.
Conscious Choice
does more however. In telling the tragic history of the Virginia colony and the rise of slavery there, Zimmerman lays out the proper path for creating healthy societies in places like the Moon and Mars.
"Zimmerman's ground-breaking history provides every future generation the basic framework for establishing new societies on other worlds. We would be wise to heed what he says." —Robert Zubrin, founder of founder of the Mars Society.
All editions available at Amazon, Barnes & Noble, and all book vendors. The ebook can be purchased direct from my ebook publisher, ebookit, in which case you don't support the big tech companies and I get a bigger cut much sooner. Note that the price for the ebook, $3.99, goes up to $5.99 on September 1, 2022.
Autographed printed copies are also available at discount directly from me (hardback $24.95; paperback $14.95). Just email me at zimmerman @ nasw dot org.