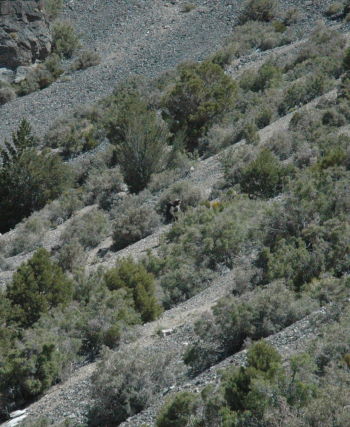 Anthony Smith struggling up a scree mountain slope.
I have only visited Nevada twice before, and those visits had been limited to the area around Las Vegas. Thus, my impression of the state had been similar to what most other people assume: a big ostentatious urban city surrounded by boring flat deserts.
Instead what I found is that Nevada is probably one of the most beautiful states in the nation. It has many mountain ranges, interspersed with wide flat valleys, a number of which have lakes or swampy areas because the water is trapped there, draining neither to the Pacific or Atlantic.
Yet, it is desert country. The limited amount of water means that the state is lightly populated, and the few farms or ranches that you pass actually act to amplify the feeling of emptiness. This is further enhanced by the frequent mountain ranges. Every time you cross over a range, you find yourself high in the air with a spectacular view of the vast valleys below.
The Forest Service job that I was part of this past week was focused on inventorying and surveying a number of known caves covering a large area in northeastern Nevada. The work had actually started several years earlier, so that this particular week was the final wrap up, mapping the last few known caves on the list while also ridge-walking several different canyons in an effort to find some new discoveries.

None of this work was easy to reach. Unlike the east, where you can usually park relatively close to the cave and spend most of your trip exploring the cave itself, in the west the caves are smaller and the country is vaster and more remote, so that most of the experience involves a great deal of hiking just to get to the cave entrance.
Moreover, the methods of finding new caves is very different. In the east new cave passages are usually found by digging either inside a known cave or following the surface water drainages and digging either where water sinks into limestone bedrock or reappears at a spring. And you generally have to dig, because most of the easy-to-find entrances have long-ago been discovered.
In the west, there rarely is enough water to produce a flowing stream. Caves are formed differently. Moreover, there is rarely a need to dig into a cave, as the majority of easy-to-enter caves have simply not yet been found.
Instead, you literally need to walk the entire mountainside, looking continuously for holes that might be a cave entrance. And because of the vastness of the land as well as its remoteness, there are giant swathes of territory that have never been checked. To check them out, however, requires a determination and single-mindedness that most people do not have.
For example, when we weren't surveying a known cave this past week, we were tramping up the sides of mountains — with elevation gains of anywhere between 300 and 1,800 feet — and poking our heads into the various holes that we had spotted by binoculars from below.
Discovery is never easy. For every hundred small holes you look at, you might find one new cave of note or significance — and only if you are lucky. For example, on Monday I and three other cavers, Anthony Smith, Jim Rolf, and Bruce Lynn, worked our way along the base of a cliff high on a mountainside, surveying a string of spectacular holes that had been identified during a previous work week. As you can see from the picture below, all the holes seemed very tempting, any one of which might have been the entrance to a significant cave.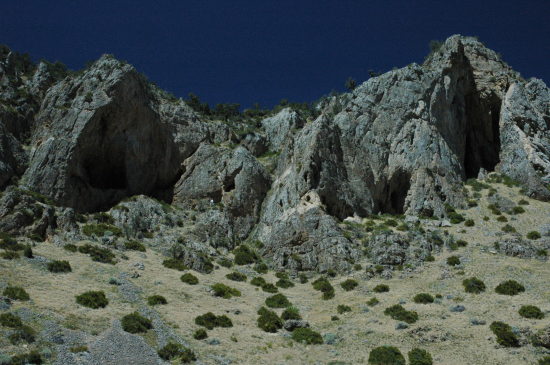 Bruce is the white speck in front of one of the smaller holes a bit left of center.
Unfortunately, none were. All ended up to be shelters, the deepest extending into the mountainside only about seventy feet. And instead of beautiful cave formations, we found a lot of animal bones and pack rat poop. (This poop is interesting, however. The rats will urinate repeatedly in the same spots, and when the urine dries it leaves behind a thin deposit. Over time these deposits will pile up and form something called amber rat, a dark reddish material that will often flow down the sides of walls and produce formations resembling cave flowstone and stalactites.)
This is the reality of exploration. Most of the work will produce nothing. The one discovery I mentioned earlier in the week turned out to be far less interesting when we went back to survey it. Oh well.
You keep pushing, however, because eventually there will be a pay-off, and when it happens, you will have the joy of seeing something no human has ever seen before.
And in the case of Nevada, as well as much of the west, the potential is gigantic. There is just so much unexplored territory, and too few people to check it all out. Hidden in those mountains are certainly many undiscovered caves, waiting only for the person with the determination and patience to do the work to find them.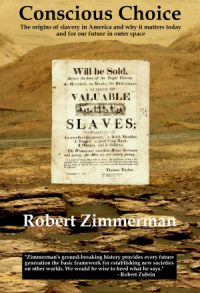 Now available in hardback and paperback as well as ebook!
From the press release: In this ground-breaking new history of early America, historian Robert Zimmerman not only exposes the lie behind The New York Times 1619 Project that falsely claims slavery is central to the history of the United States, he also provides profound lessons about the nature of human societies, lessons important for Americans today as well as for all future settlers on Mars and elsewhere in space.
Conscious Choice: The origins of slavery in America and why it matters today and for our future in outer space
, is a riveting page-turning story that documents how slavery slowly became pervasive in the southern British colonies of North America, colonies founded by a people and culture that not only did not allow slavery but in every way were hostile to the practice.
Conscious Choice
does more however. In telling the tragic history of the Virginia colony and the rise of slavery there, Zimmerman lays out the proper path for creating healthy societies in places like the Moon and Mars.
"Zimmerman's ground-breaking history provides every future generation the basic framework for establishing new societies on other worlds. We would be wise to heed what he says." —Robert Zubrin, founder of founder of the Mars Society.
All editions available at Amazon, Barnes & Noble, and all book vendors. The ebook can be purchased direct from my ebook publisher, ebookit, in which case you don't support the big tech companies and I get a bigger cut much sooner. Note that the price for the ebook, $3.99, goes up to $5.99 on September 1, 2022.
Autographed printed copies are also available at discount directly from me (hardback $24.95; paperback $14.95). Just email me at zimmerman @ nasw dot org.