Cool image time! Below the fold are two images taken by Rosetta of the smooth boulder-strewn area on Comet 67P/C-G called Imhotep, which has been featured many times by the Rosetta science team. The image on the left was taken October 26, 2014 soon after the spacecraft's arrival at the comet. The image on the right was taken August 17, 2016, almost two years later after it had completed its close approach to the Sun. With both images I have cropped them and reduced their resolution to fit here. With the more recent image I have also stretched it horizontally to better match it to the older image.
The point? The giant boulders on this smooth region act as markers so that we can more easily compare the region and see how it has changed with time. The newer image clearly shows a loss of material from the surface, with the depressions in the smooth areas having grown much larger and in some areas much deeper. At the same time, there has been a softening in some of the edges between the lower and higher areas, especially in the middle of the smooth region.
What will happen here in the future? It appears that the smooth area is actually pond of dust that is slowly evaporating away with each close approach to the Sun, leaving behind the solid bedrock pinnacles within it that only appear as boulders because they are mostly buried. Eventually, when the dust is gone, some of those pinnacles will break away as well.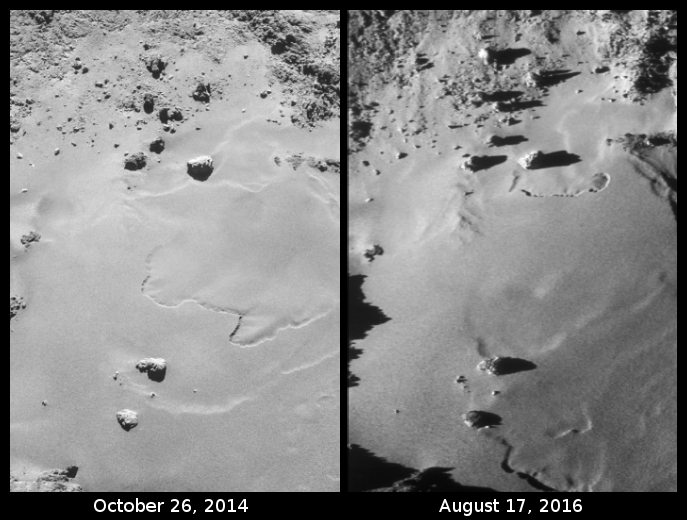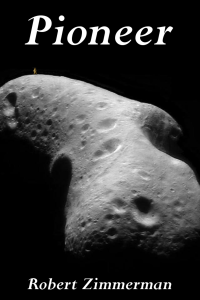 From the press release: From the moment he is handed a possibility of making the first alien contact, Saunders Maxwell decides he will do it, even if doing so takes him through hell and back.
Unfortunately, that is exactly where that journey takes him.
The vision that Zimmerman paints of vibrant human colonies on the Moon, Mars, the asteroids, and beyond, indomitably fighting the harsh lifeless environment of space to build new societies, captures perfectly the emerging space race we see today.
He also captures in Pioneer the heart of the human spirit, willing to push forward no matter the odds, no matter the cost. It is that spirit that will make the exploration of the heavens possible, forever, into the never-ending future.
Available everywhere for $3.99 (before discount) at
amazon
,
Barnes & Noble
, all ebook vendors, or direct from the ebook publisher,
ebookit
. And if you buy it from
ebookit
you don't support the big tech companies and I get a bigger cut much sooner.