Readers!
Scroll down to read this post.
For many reasons,
mostly political but partly ethical
, I do not use Google, Facebook, Twitter. They practice corrupt business policies, while targeting conservative websites for censoring, facts repeatedly
confirmed
by news stories and by my sense that Facebook has taken action to prevent my readers from recommending Behind the Black to their friends.
Thus, I must have your direct support to keep this webpage alive. Not only does the money pay the bills, it gives me the freedom to speak honestly about science and culture,
instead of being forced to write it as others demand.
Please consider donating by giving either a one-time contribution or a regular subscription, as outlined in the tip jar below.
Regular readers can support Behind The Black with a contribution via paypal:
If Paypal doesn't work for you, you can support Behind The Black directly by sending your donation by check, payable to Robert Zimmerman, to

Behind The Black
c/o Robert Zimmerman
P.O.Box 1262
Cortaro, AZ 85652

You can also support me by buying one of my books, as noted in the boxes interspersed throughout the webpage. And if you buy the books through the ebookit links, I get a larger cut and I get it sooner.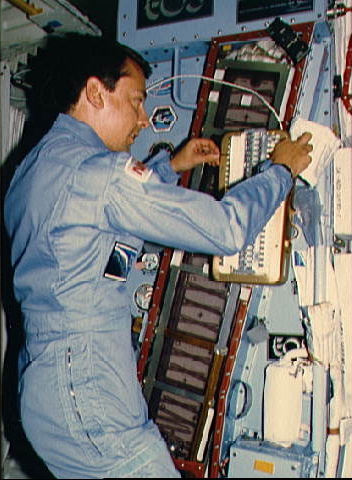 Last night I attended another one of the monthly Arizona Space Business Roundtable events held here in Tucson to bring together the business-oriented space community of this city.
The speaker was Charles Walker, who had flown three shuttle missions in 1984 and 1985, but not as a NASA-employed astronaut but as an employee of McDonnell-Douglas, making him the first astronaut to fly in space under the employ of a private commercial company.
Walker's job then was to monitor and maintain a drug-processing unit designed to produce large quantities of pure biological hormones that on Earth were simply not possible. Gravity polluted the process, while weightlessness acted to purify things. If successful the hormone produced could be sold to fight anemia, especially in individuals taking radiation treatments. The image on the right shows him on his third and last shuttle mission, launched November 26, 1985. He is working with a handheld protein crystal growth experiment, with the larger hormone purifying experiment on the wall behind this.
According to Walker's presentation yesterday, this third flight in November 1985 demonstrated the process worked and could produce as much as one liter of hormone, enough to easily make back the cost of the project and leave room for an acceptable profit. They were thus ready for fullscale production on future shuttle flights, only to have the entire project die when the Challenger shuttle was lost on January 28, 1986. With that failure President Reagan declared that the shuttle would no longer be used for commercial flights.
Their business plan had been dependent on the artificially low launch prices NASA had been charging them for shuttle flights. Without the shuttle there was then no affordable alternative for getting into orbit.
The process is still viable, and the need for these drugs still exists. Whether they could now be flown on the new cheaper private rockets, on board future private space stations like Bigelow's B330, remains unknown. A new company would have to pick up the pieces, as McDonnell-Douglas no longer exists, having been absorbed into Boeing.
I personally suspect there is real money to be made here, should someone decide to go for it.
What struck me most while watching Walker speak was the same thing that has struck me whenever I have seen or interviewed any astronaut: He appeared to be such an ordinary down-to-earth human being. He could have been anyone you meet anywhere.
What made him stand out, as he described his upbringing and how he became an astronaut, was not his intelligence or any physical attribute, but his clear willingness to stay focused on his goals, to work has hard as possible to make them come true. What made him succeed was an unwavering commitment. He wanted to get to space, and by gum he was going to do it!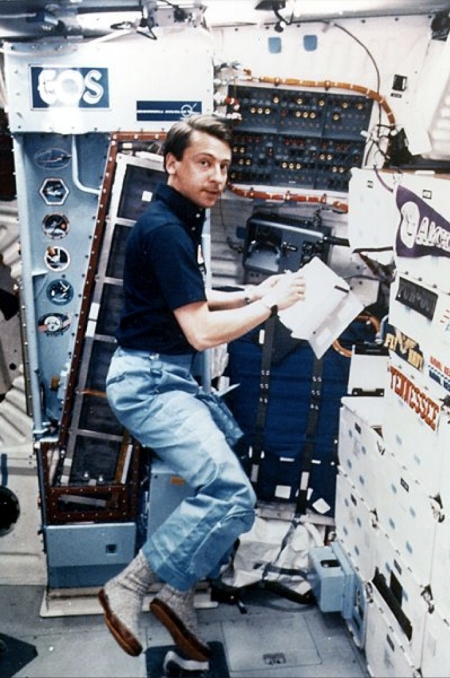 Walker on his first flight in 1984.
For example, he was too young to fly in the initial space race in the 1960s. When he finally was old enough and ready in the 1970s, NASA's space program was being shut down. That option seemed dead. So instead, he began looking for another route into space, and found it with private industry and possibility of making money by using weightlessness to produce medicines in space that could not be produced on Earth.
Obviously, luck is always a factor. Had his project been a little delayed, only a year, it would have never flown, and he would never have gone into space. Similarly, he needed to be in the right place at the right time to get this particularly job in the first place.
At the same time, "Luck is a residue of design," as said by Branch Rickey, general manager of the Brooklyn Dodges in the 1950s. Walker didn't give up when the Apollo program died in the 1970s, and thus he put himself in the right place at McDonnell-Douglas when this opportunity arose.
We should all pay close attention. If you have a dream, you need to follow it, with a fearless wholehearted commitment. If you do, you still might not get it as you dreamed, but you will increase your chances, and regardless, you will end up doing far better for yourself and everyone around you.
And you still might end up like Walker, bouncing around in weightlessness out in the vast reaches of outer space.