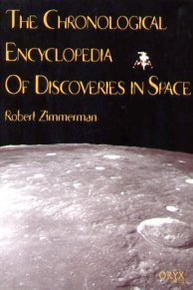 After being in print for twenty years, the Chronological Encyclopedia of Discoveries in Space, covering everything that was learned on every single space mission in the 20th century, has finally gone out of print.
I presently have my last four hardback copies available for sale. The book sold new for about $90. To get your own autographed copy of this now rare collector's item, please send a $120 check (which includes shipping) payable to Robert Zimmerman to
Behind The Black, c/o Robert Zimmerman
P.O.Box 1262
Cortaro, AZ 85652

"Useful to space buffs and generalists, comprehensive but readable, Bob Zimmerman's Encyclopedia belongs front and center on everyone's bookshelf." -- Mike Collins, Apollo 11 astronaut
"The Chronological Encylopedia of Discoveries in Space is no passionless compendium of information. Robert Zimmerman's fact-filled reports, which cover virtually every spacecraft or probe to have ventured into the heavens, relate the scientific and technical adventure of space exploration enthusiastically and with authority." -- American Scientist
Two stories in the past week illustrate the routine failure of the urban political policies in cities nationwide that have been traditionally controlled by Democrats:
The first story proves the absurdity of gun control laws. Chicago, like most cities and states controlled by Democrats, has some of the strictest gun control laws in the nation. And Chicago, like most cities and states controlled by Democrats, is also home to one of the highest crime rates, using guns, in the nation. Routinely there are more people shot per week with in Chicago then in any hot spot in the Middle East.
This particular story further demonstrates how pointless those laws are in keeping guns from both criminals and even ordinary citizens. It not only describes the premeditated use of guns by young adults against each other, it documents two examples where children accidently shot a playmate because they were playing with guns that happened to be in their homes.
If those gun control laws had done what the Democrats had promised, those children would not have had those guns available to them. But they did, because first, criminals did not obey the laws and are thus very well armed in Chicago, and second, to defend themselves against these armed criminals Chicago citizens are forced to get guns illegally themselves. Instead of reducing access to guns, the gun control laws appear to have increased it. Worse, because those guns are illegal, proper training in gun use and safety is inaccessible. The result are stories like this.
The second story describes the consequences of these bad Democratic Party policies. Chicago's population has now shrunk four years in a row, with many of those fleeing coming from the very black community that the Democrats supposedly care so much about. The reasons?
They have been driven out of the city by segregation, gun violence, discriminatory policing, racial disparities in employment, the uneven quality of public schools and frustration at life in neighborhoods whose once-humming commercial districts have gone quiet, as well as more universal urban complaints like rising rents and taxes.
Note that the blame for most of these failures (gun control, corrupt police, bad schools, rising taxes) can be traced directly to the polices of the Democratic Party that has run Chicago unopposed for almost a century, the same party that for decades these same blacks have voted for repeatedly.
As they say, you get the government you deserve. I just hope the blacks remaining in Chicago as well as the blacks who have fled will reconsider their blind loyalty to the Democratic Party. As Donald Trump told them directly during the 2016 campaign, "What have you got to lose?".
So far, less than nothing, based on the disasters that the Democrats have brought upon them. I pray they will finally realize this.