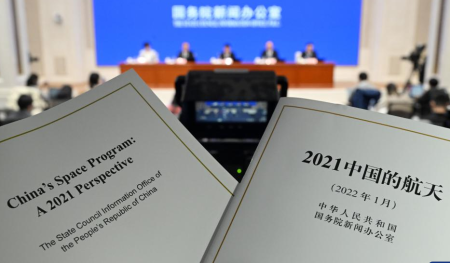 The new colonial movement: The Chinese government today released a white paper summarizing in broad terms what it has accomplished in space over the past five years and what it intends to do in the next five years.
If this white paper is ignored by western governments, the ramifications to human freedom and civilization in space will be profound, and quite likely tragic.
You can read the English text of the white paper here.
The paper makes clear China's considerable successes and advancements in the aerospace sector since 2016. It ramped up its manned program with the launch of two prototype space modules followed by the on-going assembly of its fullsize station. It has successfully landed probes on the Moon and Mars, and brought back samples from the former. It is presently upgrading or replacing its older rockets. It has launched a full constellation of Landsat-type Earth-resource satellites. It has expanded its satellite communications and broadcasting capabilities. It has completed its 30-satellite GPS-type constellation.
And that's only a short summary.
The white paper then outlines China's ambitious plans for the next five years. Three areas are of greatest importance.

First, it plans to continue and accelerate its manned and planetary programs. The space station will be completed, including the launch of an optical space telescope comparable to Hubble that will be maintained and repaired by space station astronauts. Missions to the Moon and Mars will continue. Sample missions to Mars and the asteroids are also being developed.
Second, China will continue its attempt to create an independent commercial aerospace industry while still maintaining full control over it, as indicated by this quote:
China adopts a holistic approach in building its space industry. It mobilizes and guides different sectors to take part in and contribute to this key industry, and coordinates all relevant activities under an overall plan. It ensures that technology plays a greater role in promoting and guiding space science and applications, and it facilitates the growth of new forms and models of business for the industry. These measures aim to raise the quality and overall performance of China's space industry.
This contradictory policy illustrates the difference between China's communist rulers and the Soviet Union's last communist leader, Mikhail Gorbachev. Gorbachev wanted to allow for free elections, but also assumed the communists would automatically win. He discovered to his shock that if you allow people freedom, they might not choose as you expect. The Soviet Union fell.
China's leaders have never made that foolish assumption. While they have encouraged private companies to get investment capital and build new rockets and satellites, they have never given those companies any real freedom or ownership over what they build. The government decides that, and then these pseudo-private companies scramble for investment capital to build it. And woe to any company that decides to branch out in a direction not approved by the communists, as indicated by this most intriguing sentence in the white paper's section on the commercialization of its space industry:
It will establish a negative list for market access to space activities, to ensure fair competition and the orderly entry and exit of participating enterprises.
In other words, if you don't do what they say they will blackball you.
Under this government-run system, China hopes to expand its presence in near-Earth space, including in-space satellite servicing, the removal of space junk, and the continuing expansion of its orbital communications, broadcasting, and technical capabilities.
Third, the white paper outlines China's desire to influence international law to limit private enterprise and private property. Its number one international goal is:
Safeguarding the central role of the United Nations in managing outer space affairs; abiding by the Treaty on Principles Governing the Activities of States in the Exploration and Use of Outer Space, Including the Moon and Other Celestial Bodies [the Moon Treaty]; upholding the guiding role of relevant UN principles, declarations and resolutions; actively participating in the formulation of international rules regarding outer space; and promoting greater sustainability of space activities;
The Moon Treaty in not the 1967 Outer Space Treaty. The latter has been signed by 111 countries, including all the space-faring nations. The 1979 Moon Treaty in turn has only been signed by five nations, with eighteen others either favoring it or still considering it. Most western nations however have rejected it, because it would essentially outlaw any private commercial ownership on the Moon, putting it instead under the jurisdiction of an "international regime."
Ironically, China itself has not signed the Moon Treaty as yet, and has probably not done so because it believes its provisions are not strong enough in favor of governments. The white paper suggests China intends to use its influence in the next five years to get nations to agree to a new treaty that is even more hostile to private property and individual rights in space.
The main take-away from this white paper is that China's government is continuing its very rational and carefully thought out program in space, and that it will be a very powerful force to reckon with in the coming decade. Increasingly sophisticated Chinese satellites and robots will be launched. Chinese astronauts are going to land on the Moon. They are heading to Mars. And they will be in Earth orbit in their space station.
And above all, China strongly intends to be in control wherever it lands.
To ignore these facts will be very foolish, and will likely allow China to control the heavens for decades, if not centuries, to come.
But then, the western nations now appear more and more foolish with each passing day, far more interested in silly things — such as the clothing that the Disney cartoon character Minnie Mouse wears or the skin color and sex of its future Supreme Court justices — then the certain threats of domination from world powers like China.
Readers!
In order to remain completely independent and honest in my writing, I accept no sponsorships from big space companies or any political organizations. Nor do I depend on ads.
Instead, I rely entirely on the generosity of readers to keep Behind the Black running. You can either make a one time donation for whatever amount you wish, or you sign up for a monthly subscription ranging from $2 to $15 through Paypal, or $3 to $50 through Patreon, or any amount through Zelle.
The best method to donate or subscribe is by using Zelle through your internet bank account, since it charges no fees to you or I. You will need to give my name and email address (found at the bottom of the "About" page). What you donate is what I get.
To use Patreon, go to my website there and pick one of five monthly subscription amounts, or by making a one-time donation.

For PayPal click one of the following buttons:

If these electronic payment methods don't work for you, you can support Behind The Black directly by sending your donation by check, payable to Robert Zimmerman, to


Behind The Black
c/o Robert Zimmerman
P.O.Box 1262
Cortaro, AZ 85652