Despite the repeated news in recent weeks that the evidence for global warming is slim, or at least confused, today we have two elected officials and one appointed official screaming that the sky will fall if we don't do something, including spending billions of dollars of other people's money.
First we have our friend Al Gore, who was in Washington, DC to speak at an environmental event put on by Senator Sheldon Whitehouse (D-Rhode Island). Whitehouse you might remember was the senator who, even before the injured and dead had been counted from the terrible Moore, Oklahoma tornado, started blaming Republicans for the tornado because they weren't doing more to stop global warming.

During an online chat this week Gore demanded that Obama stop talking and get serious about doing something about global warming.
"I hope that he'll get moving on to follow up on the wonderful pledges he made in his inaugural speech earlier this year and then soon after in his State of the Union," Gore said. "Great words. We need great actions now."
Then, in a speech at Whitehouse's event, Gore complained that scientists "won't let us yet" link tornadoes to climate change.
The first demand is hardly surprising, as Gore is a politician who wants politicians to run the show. That he makes it now however illustrates his close-mindedness. To Gore, it is completely irrelevant that the climate stopped warming fifteen years ago, something that even the New York Times has finally admitted. It is also irrelevant to Gore that this fact suggests that his entire theory — that increased CO2 in the atmosphere will cause the global climate to warm — appears wrong. In fact, I wouldn't be surprised if Gore would deny these facts, if asked.
Gore's second comment is informative, as it proves that Gore was never guided by the science. In the case of extreme weather events, scientists have found no evidence at all that a warming climate causes more extreme weather. In fact, the data doesn't even show an increase in extreme weather events, something that supposedly was happening with the global rise in temperatures during the 20th century.
This isn't good enough for Al. He, like Senator Whitehouse, religiously believes that global warming is going to cause weather disasters and big tornadoes, and to hell with the data!
Next we have New York Mayor Michael Bloomberg who today proposed that New York spend $20 billion to protect New York City from big storms and the threat of sea level rise due to global warming.
The plan – which would also include the building of marshes and the flood-proofing of homes and hospitals – is one of the biggest, most ambitious projects ever proposed for defending a major U.S. city from the rising seas and severe weather that climate change is expected to bring.
Bloomberg proposed this expensive plan based on the following:
The recommendations draw from updated predictions from the New York City Panel on Climate Change, a scientists' group convened by the city. The average day could be 4 degrees to nearly 7 degrees hotter by mid-century, the panel estimates. A once-in-a-century storm would probably spur a surge 5 or more feet higher than did Sandy, which sent a record 14-foot storm tide gushing into lower Manhattan. And with local waters a foot to 2 1/2 feet higher than they are today, 8 percent of the city's coastline could see flooding just from high tides, the group estimates.
That this prediction is utter hogwash seems irrelevant to Bloomberg. There is no evidence that temperatures will rise this much. And the rate of sea level rise has been steady at about 3 millimeter per year for the past two decades. In fifty years that rate would translate into a sea level rise of only 6 inches, not 2.5 feet.
Finally, we have NASA administrator Charles Bolden, who today spoke at NOAA's annual propaganda event, the Space Weather Enterprise Forum. Every year in June NOAA holds this event for reporters, and every year we are subsequently inundated with news reports about how we are all gonna die from solar flares if we don't do something. (See my essay on Behind the Black from June 2011 to see how nothing has changed since then.)
Bolden however somehow outdid all other doomsayers by linking the threat of extreme weather and tornadoes with the dangers from solar flares.
"This conference shines a spotlight on another naturally occurring phenomenon that can be just as punishing as a tornado — space weather," Bolden said in his written remarks for the event, after mentioning his grief at the lives lost during the deadly outbreak of tornadoes in the Midwest in recent weeks.
To equate the tragedy of those tornadoes, which actually killed people, with the threat of a solar flare, which at worse will simply cause a power outage, seems a bit over the top. Moreover, the lack of solar activity during this solar maximum suggests again that the threat from space weather is very overstated.
But who cares? Bolden, like Gore, Bloomberg, and Whitehouse, has an agenda. We need to spend money to save the world. More important, we need your money to do it!
All these stories illustrate again why we should not rely on politicians to solve any of our problems. Even if the climate was warming and even if the Sun was going to fry us, asking politicians and the political world to deal with the problem is likely not going to do you much good. Politicians aren't really interested in facts. They are interested in power. And that interest means they will not focus on doing the proper thing but will instead do the thing that gives them more power, even if it might actually make the problem worse.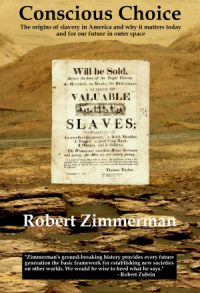 From the press release: In this ground-breaking new history of early America, historian Robert Zimmerman not only exposes the lie behind The New York Times 1619 Project that falsely claims slavery is central to the history of the United States, he also provides profound lessons about the nature of human societies, lessons important for Americans today as well as for all future settlers on Mars and elsewhere in space.
Conscious Choice: The origins of slavery in America and why it matters today and for our future in outer space
, is a riveting page-turning story that documents how slavery slowly became pervasive in the southern British colonies of North America, colonies founded by a people and culture that not only did not allow slavery but in every way were hostile to the practice.
Conscious Choice
does more however. In telling the tragic history of the Virginia colony and the rise of slavery there, Zimmerman lays out the proper path for creating healthy societies in places like the Moon and Mars.
"Zimmerman's ground-breaking history provides every future generation the basic framework for establishing new societies on other worlds. We would be wise to heed what he says." —Robert Zubrin, founder of founder of the Mars Society.
Available everywhere for $3.99 (before discount) at Amazon, Barnes & Noble, and all ebook vendors, or direct from the ebook publisher, ebookit. And if you buy it from ebookit you don't support the big tech companies and I get a bigger cut much sooner.