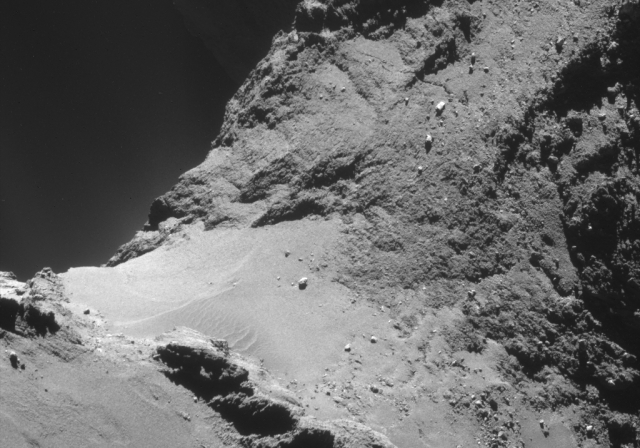 Taken at less than five miles from the surface, Rosetta's newest images of Comet 67P/C-G are close enough to resolve objects as small as two feet across.
The image is of the comet's narrow neck, and shows two very interesting features.

First the dunes. In the sandy smooth area you can see dune-like ripples, almost as if a wind had been blowing across the sand. Though the comet has no permanent planetary atmosphere (it is too small), it does have a temporary atmosphere produced as material vents away when the comet approaches the Sun and heats up. This temporary atmosphere apparently can blow across the sand and create dunes.
Next is the fracture-like features in the darker material to the top of the image. The biggest fracture line appears to be a meandering line that is traveling from the image's top center to its mid-right. There also appear to be parallel lines below it. As we are looking at the nucleus's neck, these lines suggest that the connection between the two large lobes is somewhat strained, and that it is not unlikely that these two sections will break apart at some time in the future. Though there is no way to predict at this time when that will happen, it will be truly exciting if it happens when Rosetta is in the neighborhood.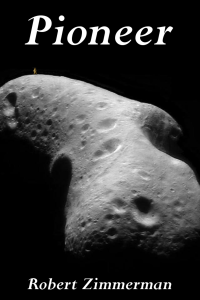 From the press release: From the moment he is handed a possibility of making the first alien contact, Saunders Maxwell decides he will do it, even if doing so takes him through hell and back.
Unfortunately, that is exactly where that journey takes him.
The vision that Zimmerman paints of vibrant human colonies on the Moon, Mars, the asteroids, and beyond, indomitably fighting the harsh lifeless environment of space to build new societies, captures perfectly the emerging space race we see today.
He also captures in Pioneer the heart of the human spirit, willing to push forward no matter the odds, no matter the cost. It is that spirit that will make the exploration of the heavens possible, forever, into the never-ending future.
Available everywhere for $3.99 (before discount) at
amazon
,
Barnes & Noble
, all ebook vendors, or direct from the ebook publisher,
ebookit
. And if you buy it from
ebookit
you don't support the big tech companies and I get a bigger cut much sooner.