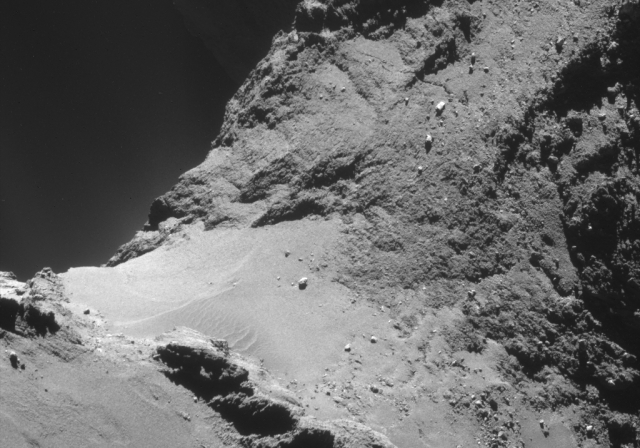 Taken at less than five miles from the surface, Rosetta's newest images of Comet 67P/C-G are close enough to resolve objects as small as two feet across.
The image is of the comet's narrow neck, and shows two very interesting features.

First the dunes. In the sandy smooth area you can see dune-like ripples, almost as if a wind had been blowing across the sand. Though the comet has no permanent planetary atmosphere (it is too small), it does have a temporary atmosphere produced as material vents away when the comet approaches the Sun and heats up. This temporary atmosphere apparently can blow across the sand and create dunes.
Next is the fracture-like features in the darker material to the top of the image. The biggest fracture line appears to be a meandering line that is traveling from the image's top center to its mid-right. There also appear to be parallel lines below it. As we are looking at the nucleus's neck, these lines suggest that the connection between the two large lobes is somewhat strained, and that it is not unlikely that these two sections will break apart at some time in the future. Though there is no way to predict at this time when that will happen, it will be truly exciting if it happens when Rosetta is in the neighborhood.
Readers!
In order to remain completely independent and honest in my writing, I accept no sponsorships from big space companies or any political organizations. Nor do I depend on ads.
Instead, I rely entirely on the generosity of readers to keep Behind the Black running. You can either make a one time donation for whatever amount you wish, or you sign up for a monthly subscription ranging from $2 to $15 through Paypal, or $3 to $50 through Patreon, or any amount through Zelle.
The best method to donate or subscribe is by using Zelle through your internet bank account, since it charges no fees to you or I. You will need to give my name and email address (found at the bottom of the "About" page). What you donate is what I get.
To use Patreon, go to my website there and pick one of five monthly subscription amounts, or by making a one-time donation.

For PayPal click one of the following buttons:

If these electronic payment methods don't work for you, you can support Behind The Black directly by sending your donation by check, payable to Robert Zimmerman, to


Behind The Black
c/o Robert Zimmerman
P.O.Box 1262
Cortaro, AZ 85652