There are really only two important stories today concerning space exploration. The story that is getting the most coverage is the big news that the space shuttle Discovery is making its last flight, flying over Washington, DC, as it is delivered to the Smithsonian for permanent display.
Of these stories, only Irene Klotz of Discovery News seems to really get it. This is not an event to celebrate or get excited about. It is the end of an American achievement, brought to a close probably three to five years prematurely so that the United States now cannot even send its own astronauts to its own space station.
The other news, actually far more important, has gotten far less coverage, and includes three different stories all really about the same thing.

Commercial space is moving forward. It will not be a monolithic government operation, but made up of competing companies building different spaceships with different capabilities. The competition will force costs down, while encouraging creative innovation.
It is just a shame that the people we elected to office in the past decade didn't have the simple common sense to extend the shuttle program just a few short years so that our country would have always had the ability to put humans into space.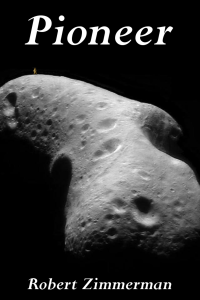 From the press release: From the moment he is handed a possibility of making the first alien contact, Saunders Maxwell decides he will do it, even if doing so takes him through hell and back.
Unfortunately, that is exactly where that journey takes him. The vision that Zimmerman paints of vibrant human colonies on the Moon, Mars, the asteroids, and beyond, indomitably fighting the harsh lifeless environment of space to build new societies, captures perfectly the emerging space race we see today. He also captures in Pioneer the heart of the human spirit, willing to push forward no matter the odds, no matter the cost. It is that spirit that will make the exploration of the heavens possible, forever, into the never-ending future. Available everywhere for $3.99 (before discount) at
amazon
,
Barnes & Noble
, all ebook vendors, or direct from the ebook publisher,
ebookit
. And if you buy it from
ebookit
you don't support the big tech companies and I get a bigger cut much sooner.