Yesterday I got a bit of frustrating and disappointing news. The 51st Lunar and Planetary Science Conference (LPSC-51) to be held in the Houston suburbs beginning on March 15 (to which I was planning to attend) had been canceled due to coronavirus/COVID-19 fears. From the organizers' email:
We regret to inform you that LPSC 51 will be cancelled due to concerns about COVID-19. This difficult decision has been made after a careful assessment of the risks as determined by the CDC and WHO; consultation with NASA PSD leadership; and consideration of community feedback. We are fully committed to ensuring that our conference attendees remain safe and well.
The organizers had earlier in the week sent out an email stating that they were considering their options because of the epidemic, and would announce a decision on March 6. That they pushed forward the cancellation decision by two days was almost certainly prompted by the revelation yesterday that a case of coronavirus had been confirmed in Houston.
To say this is a disappointment is an understatement. I was very much looking forward to meeting face-to-face many of the planetary scientists I have been corresponding with during the past few years. I was also eagerly anticipating getting an up-front look at the most recent discoveries in the exploration of the solar system, and to pass those discoveries on to my readers.
My disappointment however must pale in comparison to the disappointment of the scientists involved, especially the younger ones trying to establish themselves in the field. They need conferences like this to not only promote their work, but to network and to learn for themselves what others in their field are doing.
What makes this decision more appalling to me is how completely pointless and fear-driven it is. While it makes sense to try to slow the spread of the disease while scientists scramble to understand it and possibly develop a vaccine, it also makes no sense to stop living and to cease all effort out of mindless fear and ignorant panic.
And what we have today is the latter. This planetary conference was not the only one cancelled this week. On March 2 the American Physical Society panicked and cancelled its only annual convention, only 36 hours before it was about to begin, out of a fear that a gathering of 11,000 scientists from all over the world would help spread the disease.
This decision was absurd, however, as a large bulk of the conference's attendees had already arrived. The cancellation thus accomplished practically nothing to stop coronavirus, while succeeding ably in stymying the spread of knowledge.
The simple fact is that though COVID-19 is a concern and must not be ignored, it is hardly the worldwide crisis being touted by our mindless press, odious politicians, and largely politically correct intellectual community.
A rational look at the facts give a bit of context that deflates the balloon of this madness. Several facts, both good and bad:

For reasons not yet understood, COVID-19 does not appear to infect children at the same rate as adults. Either their young immune systems are able to quickly clear them of the virus, or the virus simply doesn't easily infect them. More significantly, when children have become infected, almost all have mild cases, and none so far have died.
Moreover, COVID-19 has infected slight less than a 100,000 people worldwide, killing just over 3,200. Meanwhile, in 2019 alone the flu infected about one billion people worldwide, killing between 291,000 to 646,000, depending on who you ask.
When compared with the flu, which no one seems to worry that much about, coronavirus does not seem so bad.
Of course, this conclusion is somewhat superficial. Coronavirus has a much higher death rate, especially among older populations (1% for the flu, as much as 14.8% for COVID-19).
Yet, even here, it is foolish to be fearful. Except for populations over 60 years old, the death rate differences are relatively small (see the graph here). Essentially, the only people who should be really worried about coronavirus is that older population.
These numbers are also probably over-estimates, as we do not yet have good numbers on everyone who has been infected. China has been somewhat opaque releasing information. It could be that many many more people, both young and old, have been hit with the virus, experienced relatively mild symptons, and did not therefore report their illness. Thus, the percentage of deaths-to-infections could be much much smaller, and might even align with that of the flu.
Even assuming many more have been infected than reported, COVID-19 up to now has still affected a relatively tiny percentage of the populations of any nation where it has appeared. And that includes China. In fact, when compared with the flu, coronavirus is at this point nothing more than a pinprick.
Moreover, after only three months the spread of the disease in China appears to be easing.
Wuhan, the epicenter of China's coronavirus epidemic, will likely see new infections drop to zero by the end of this month, an expert with the country's top panel on battling the illness said on Thursday, even as the city reported a quicker rise in new confirmed cases.

…The number of new confirmed cases in Hubei, excluding Wuhan, has remained in single digits for seven consecutive days, with three new infections recorded on Wednesday.

In the rest of mainland China, outside Hubei, there were only five new confirmed cases, the health commission said.
Some will claim that the harsh travel restrictions China imposed on its population caused this decline. I have my doubts, as do many scientists. COVID-19 appears very easily disseminated, so much so that I don't think any actions by governments can stop it, merely slow it. This is why the disease is beginning to spread quickly across the rest of the globe, despite many attempts early on to restrict travel to and from the infected areas in China.
The recent drop in infections in China however indicates that coronavirus is much like the flu, and after a short period its spread begins to ease, no matter what you do, and thus is also likely not going to affect entire populations worldwide.
There is also the fact that the travel bans, while accomplishing little, are very counterproductive.
[M]any epidemiologists have claimed that travel bans buy little extra time, and WHO doesn't endorse them. The received wisdom is that bans can backfire, for example, by hampering the flow of necessary medical supplies and eroding public trust. And as the list of affected countries grows, the bans will become harder to enforce and will make less sense: There is little point in spending huge amounts of resources to keep out the occasional infected person if you already have thousands in your own country. The restrictions also come at a steep price. China's economy has already taken an enormous hit from COVID-19, as has the airline industry. China also exports many products, from pharmaceuticals to cellphones, and manufacturing disruptions are causing massive supply chain problems.
In a sense, travel bans are merely a "feel-good" response to the problem, allowing people who impose them to make believe they are doing something, while achieving little. They are also a method for the power-hungry to increase their power, using a crisis to gain the right to tell more people what to do.
Does all this mean we should not do anything? Of course not. The advise of all experts so far is to simply follow the same procedures used to avoid getting the flu. Cover your mouth when you cough or sneeze, throw out the tissue, wash your hands often, and be careful where you put them.
And be aware that face masks are a waste of money and effort:
Only medical professionals or those working directly with sick people require the protective masks, or those who are reasonably anticipated to potentially infect others with the virus (to protect others). The masks, N95, require fit-testing and training to be used effectively. Any other kind of mask won't protect against aerosols and is ultimately nothing more than decoration.
All of this means that it is likely foolish to cancel conferences like the Lunar and Planetary Conference. Better to provide better facilities for the washing of hands, ask participants to refrain from shaking hands and hugging, and spend a little extra money doing additional disinfection work on handrails, in elevators, and other places where people routinely touch things.
Sadly, however, the people in charge of the Lunar & Planetary Science Conference did not follow this well-documented scientific strategy. Instead, they panicked, and shut everything down, to the detriment of all.
I will still make an effort to report on the results of the conference. The program has been published. I will go through it carefully over the next few weeks, interviewing the scientists involved, and will periodically write up stories based on the results I find most interesting, much as I did last year.
It is just a shame that we are becoming a society run by fear, not rational and cool-headed thought. Even worse, this fear continues to be marshalled by the power-hungry to restrict our freedom and prevent us from living our lives sensibily, as we wish. Instead, we must be under the thumb of someone else who likes smashing his boot into our face.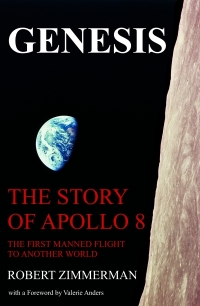 On Christmas Eve 1968 three Americans became the first humans to visit another world. What they did to celebrate was unexpected and profound, and will be remembered throughout all human history. Genesis: the Story of Apollo 8, Robert Zimmerman's classic history of humanity's first journey to another world, tells that story, and it is now available as both an ebook and an audiobook, both with a foreword by Valerie Anders and a new introduction by Robert Zimmerman.
The ebook is available everywhere for $5.99 (before discount) at
amazon
, or direct from my ebook publisher,
ebookit
. If you buy it from
ebookit
you don't support the big tech companies and the author gets a bigger cut much sooner.
The audiobook is also available at all these vendors, and is also
free with a 30-day trial membership to Audible.
"Not simply about one mission, [Genesis] is also the history of America's quest for the moon... Zimmerman has done a masterful job of tying disparate events together into a solid account of one of America's greatest human triumphs."--San Antonio Express-News