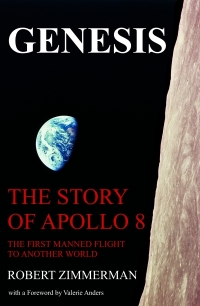 On Christmas Eve 1968 three Americans became the first humans to visit another world. What they did to celebrate was unexpected and profound, and will be remembered throughout all human history. Genesis: the Story of Apollo 8, Robert Zimmerman's classic history of humanity's first journey to another world, tells that story, and it is now available as both an ebook and an audiobook, both with a foreword by Valerie Anders and a new introduction by Robert Zimmerman.
The ebook is available everywhere for $5.99 (before discount) at
amazon
, or direct from my ebook publisher,
ebookit
.
The audiobook is also available at all these vendors, and is also
free with a 30-day trial membership to Audible.
"Not simply about one mission, [Genesis] is also the history of America's quest for the moon... Zimmerman has done a masterful job of tying disparate events together into a solid account of one of America's greatest human triumphs." --San Antonio Express-News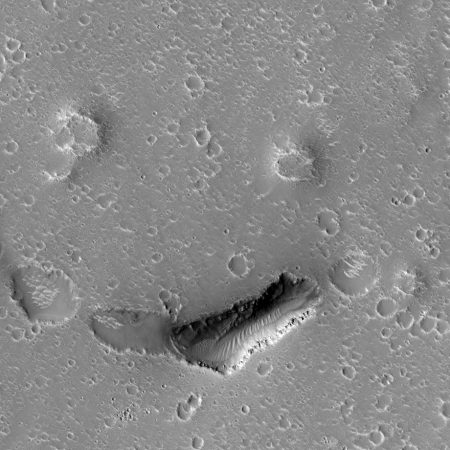 Cool image time! Buried in the catalog of recent high resolution images from Mars Reconnaissance Orbiter are places on Mars that are inexplicable and fascinating, while also indicative of its vastness. The image on the right, reduced in resolution and cropped to post here, shows us one such place. If you click on the image you can see the full image at high resolution.
The archive posting of this image is titled "Cones near Pits." As you can see, to the north and east of the pits are some mesas (why they call them cones I do not know).
The pits are unusual, and appear to be some form of collapse. In the larger image several additional mesas can be seen at farther distances, but most of the overall terrain is remarkably flat and featureless, except for numerous small craters that appear either partly buried by dust or significantly eroded.
I am not going to guess at the geology that caused the pits and mesas. What I do want to focus on is the vastness of Mars. This location is on the southern edge of Utopia Basin, the second deepest basin on Mars. It is part of the planet's endless northern plains, an immense region covering almost half the planet that tends to be at a lower elevation, is relatively smooth, and is thought by some scientists to be evidence of what was once an intermittent ocean. The global map of Mars below indicates the location of the above image with a black cross.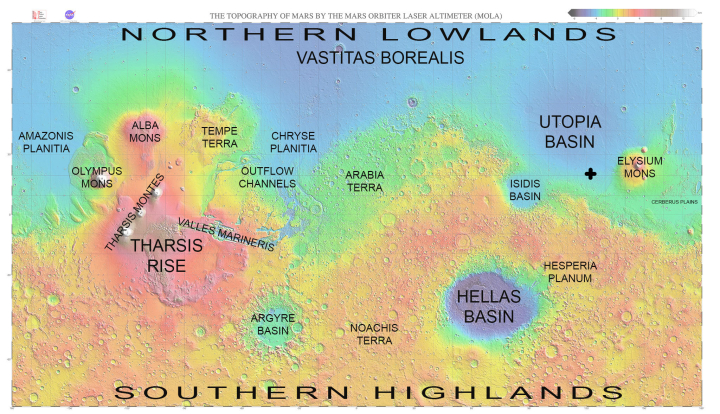 What is important is that the image was not inside Utopia Basin, but on its southern edge. The basin goes on and on for thousands of miles, and across its depth are scattered larger craters and similar mesas, as well as relatively featureless areas with little to recommend them, at first glance.
Most of the northern plains have not been imaged at high resolution. Its apparent featureless terrain does not attract interest, even though its geology might be as significant, especially because the lower elevation means the atmosphere is thicker and thus might be advantageous for future colony building.
Moreover, though it appears featureless, the image above shows that there can be hidden there strange geology and terrain as interesting as anything else on Mars. If you go to the archive for MRO's high resolution camera, you can randomly explore the images that have been taken, and in doing so you will find a range of geology, all of which might have once been on the seafloor of an shallow Martian ocean, but all of which reflects geology below the ground, some of which might be very valuable to future settlers.
The universe is vast. There are spectacular things to see that are easy to spot. There are also many hidden spectacular things in places like Utopia Basin, that will take gumption, determination, and an explorer's obsession to find.
I am envious of the future generations who will have the chance to make those discoveries, once we have the technology to make travel to these places practical.
Readers!
My July fund-raiser for Behind the Black is now over. The support from my readers was unprecedented, making this July campaign the best ever, twice over. What a marvelous way to celebrate the website's tenth anniversary!

Thank you! The number of donations in July, and continuing now at the beginning of August, is too many for me to thank you all personally. Please forgive me by accepting my thank you here, in public, on the website.

If you did not donate or subscribe in July and still wish to, note that the tip jar remains available year round.
Regular readers can support Behind The Black with a contribution via paypal:
If Paypal doesn't work for you, you can support Behind The Black directly by sending your donation by check, payable to Robert Zimmerman, to

Behind The Black
c/o Robert Zimmerman
P.O.Box 1262
Cortaro, AZ 85652