After several days of drilling, the Curiosity science team is preparing to move forward. As one member of the team notes,
After a short drive we'll acquire images for context and targeting. Overnight, Curiosity will complete a SAM electrical baseline test to monitor instrument health. Based on some of the recent Mastcam images that we've acquired…, the view ahead should be quite scenic as we drive through the Murray Buttes!
The image above is a close-up of those Buttes, showing Balanced Rock on the left, taken from one of three raw left navigation images. The image below is a panorama I have created from those navigation images, with an inset box to show the location of the above picture.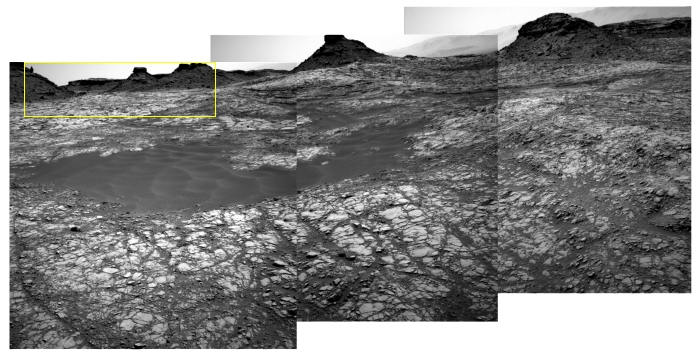 It appears, based on all of the images they have taken in the past day, Sol 1427, that they are trying to decide how to get around that small patch of dark sand directly ahead, and whether they can drive Curiosity through the gap in which the balanced rock is located.
Below is part of a Mars Reconnaissance Orbiter image, showing Curiosity's most recent position and annotated by me to highlight the view from the panorama above as well as the location of the balanced rock (marked by the "X"). I have also indicated with a dotted line two possible routes. I suspect, unfortunately, that they are leaning towards the route to the west in order to avoid being forced to cross that dark sand in the eastern gap.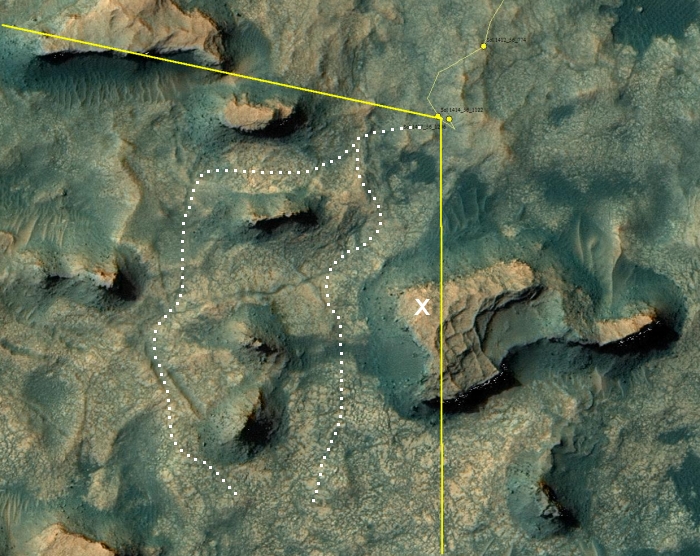 I also suspect that they are doing the short drive today in order to get a better idea of which way to go thereafter. Either way, the view will be quite interesting in the days ahead. Below is another section of the same Mars Reconnaissance Orbiter image, this time showing the rough terrain ahead to the south, surrounded by sharp buttes on all sides. Beyond this the ground appears to get even rougher. Picking Curiosity's way through this terrain is going to become increasingly interesting in the coming days.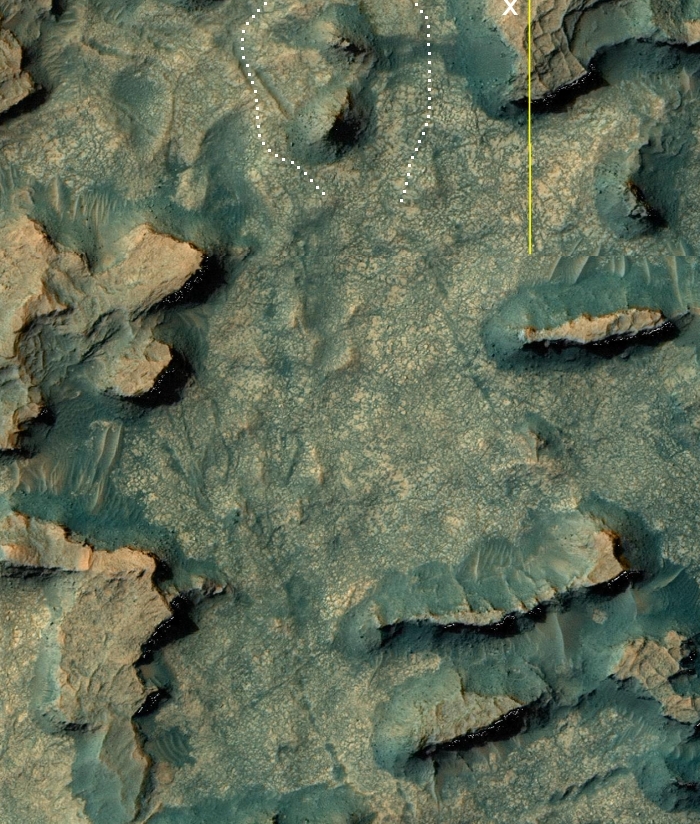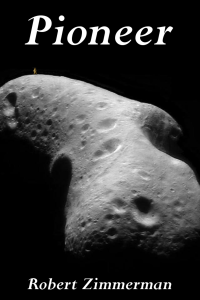 From the press release: From the moment he is handed a possibility of making the first alien contact, Saunders Maxwell decides he will do it, even if doing so takes him through hell and back.
Unfortunately, that is exactly where that journey takes him.
The vision that Zimmerman paints of vibrant human colonies on the Moon, Mars, the asteroids, and beyond, indomitably fighting the harsh lifeless environment of space to build new societies, captures perfectly the emerging space race we see today.
He also captures in Pioneer the heart of the human spirit, willing to push forward no matter the odds, no matter the cost. It is that spirit that will make the exploration of the heavens possible, forever, into the never-ending future.
Available everywhere for $3.99 (before discount) at
amazon
,
Barnes & Noble
, all ebook vendors, or direct from the ebook publisher,
ebookit
.