After several days of drilling, the Curiosity science team is preparing to move forward. As one member of the team notes,
After a short drive we'll acquire images for context and targeting. Overnight, Curiosity will complete a SAM electrical baseline test to monitor instrument health. Based on some of the recent Mastcam images that we've acquired…, the view ahead should be quite scenic as we drive through the Murray Buttes!
The image above is a close-up of those Buttes, showing Balanced Rock on the left, taken from one of three raw left navigation images. The image below is a panorama I have created from those navigation images, with an inset box to show the location of the above picture.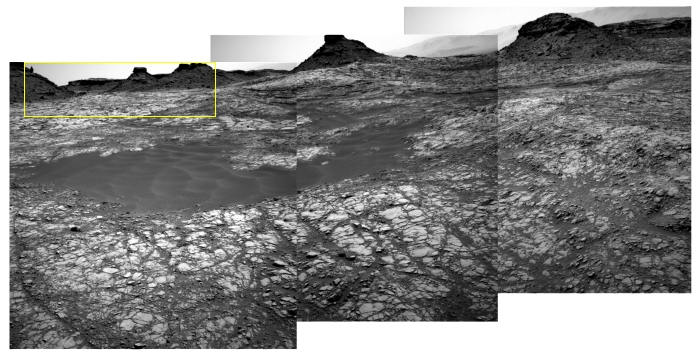 It appears, based on all of the images they have taken in the past day, Sol 1427, that they are trying to decide how to get around that small patch of dark sand directly ahead, and whether they can drive Curiosity through the gap in which the balanced rock is located.
Below is part of a Mars Reconnaissance Orbiter image, showing Curiosity's most recent position and annotated by me to highlight the view from the panorama above as well as the location of the balanced rock (marked by the "X"). I have also indicated with a dotted line two possible routes. I suspect, unfortunately, that they are leaning towards the route to the west in order to avoid being forced to cross that dark sand in the eastern gap.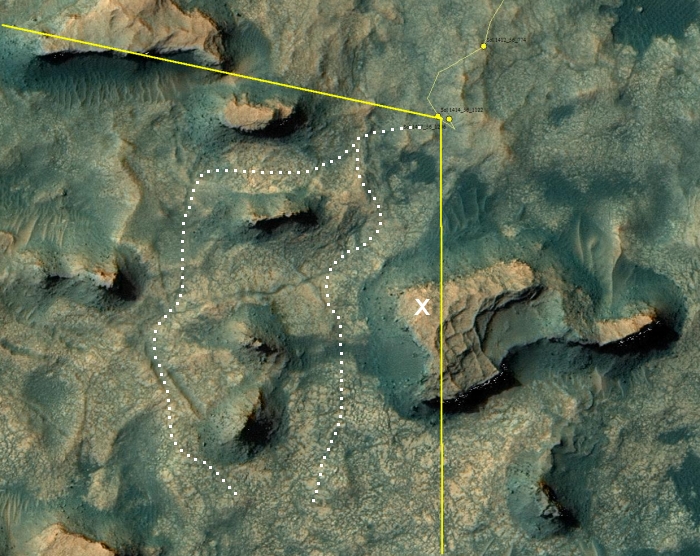 I also suspect that they are doing the short drive today in order to get a better idea of which way to go thereafter. Either way, the view will be quite interesting in the days ahead. Below is another section of the same Mars Reconnaissance Orbiter image, this time showing the rough terrain ahead to the south, surrounded by sharp buttes on all sides. Beyond this the ground appears to get even rougher. Picking Curiosity's way through this terrain is going to become increasingly interesting in the coming days.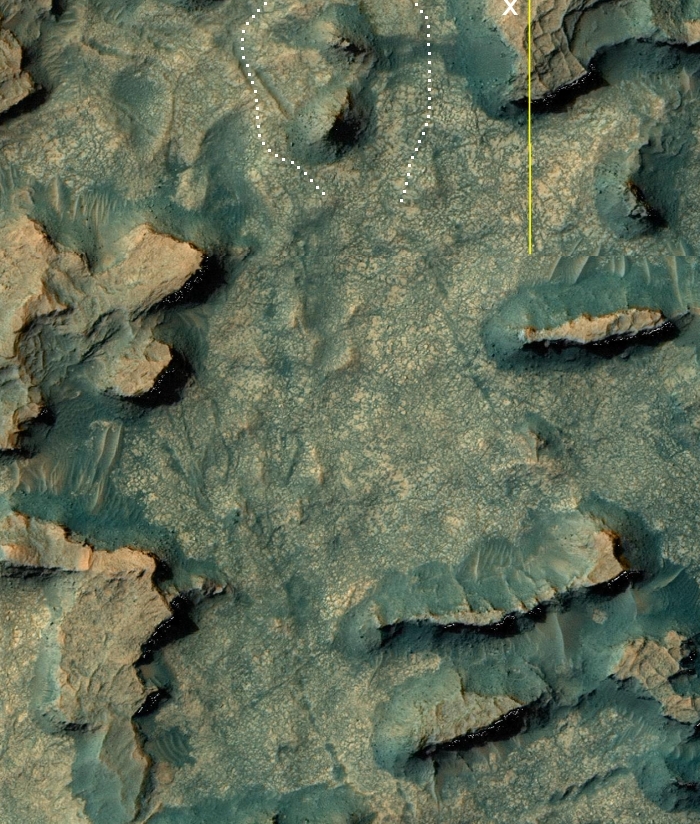 Readers!
My July fund-raising campaign for 2021 has now ended. Thank you all for your donations and subscriptions. While this year's campaign was not as spectacular as last year's, it was the second best July campaign since I began this website.
And if you have not yet donated or subscribed, and you think what I write here is worth your support, you can still do so. I depend on this support to remain independent and free to write what I believe, without any pressure from others. Nor do I accept advertisements, or use oppressive social media companies like Google, Twitter, and Facebook. I depend wholly on the direct support of my readers.
If you choose to help, you can contribute via Patreon or PayPal. To use Patreon, go to my website there and pick one of five monthly subscription amounts, or by making a one-time donation. For PayPal click one of the following buttons:

If Patreon or Paypal don't work for you, you can support Behind The Black directly by sending your donation by check, payable to Robert Zimmerman, to


Behind The Black
c/o Robert Zimmerman
P.O.Box 1262
Cortaro, AZ 85652