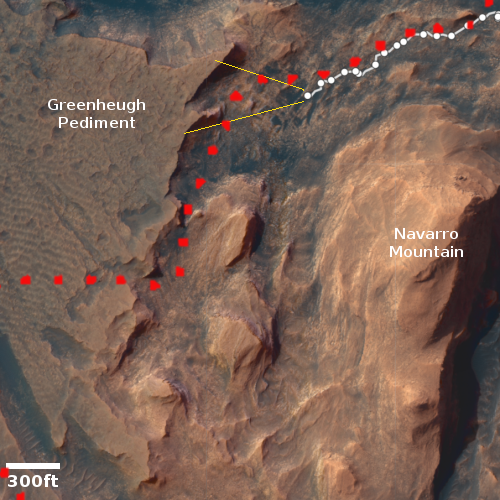 Click for interactive map.
Cool image time! The photo above, taken on August 22, 2021 by Curiosity's left navigation camera and reduced to post here, looks ahead at the rover's upcoming mountainous goals. The overview map to the right shows the area covered by this image by the yellow lines. The dotted red line indicates the rover's original planned route, with the white dotted line its actual path of travel.
The cliff ahead is about 400-500 feet away. The top of this cliff is the Greenheugh Pediment, its blocky top geological layer visible as the dark cap at the top of the cliff face. Back in March 2020 Curiosity had climbed up to view across this pediment, from a point to the northwest and off the overview map to the left. (Go to this link to see what the view was like from there.) Since then the science team has had the rover travel quite a distance, to circle around to now approach the pediment from the east.
The white box marks the area covered by a close-up high resolution mast camera image, shown below.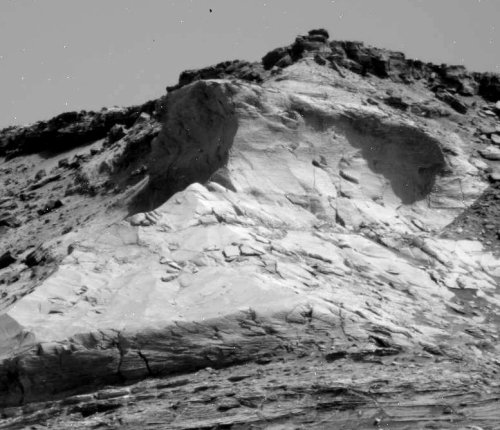 Click for full image.
The photo has been cropped, reduced, and enhanced by me. This cliff face, which I estimate is about 100 feet high, is without doubt to my mind the most spectacular single rock outcrop yet seen on any world that humans have yet visited. If all goes as planned, the rover will work its way along the base, probably getting as close as it can safely.
The cliff face looks like sometime in the past a giant used a hammer and chisel to chop off a big piece. Did an impact cause this? The overview map shows no craterlike impact features at the base of this cliff, making this explanation unlikely. Either the original crater occurred so long ago later geological and climate activity has wiped away all obvious evidence of it, or this cliff face was carved by other processes.
Ice flows? Running water? I am sure the rover's science team is quite eager to find out.
What also makes this particular outcrop especially different is its massiveness. So far all other cliffs that Curiosity has gotten close to have been made up of many thin layers. This outcrop seems from this distance one massive piece, suggesting it represents a single event layer. Only a closer look will tell us whether it, like everything else Curiosity has so far seen, has many sub-layers within the major structure.
Readers!
In order to remain completely independent and honest in my writing, I accept no sponsorships from big space companies or any political organizations. Nor do I depend on ads.
Instead, I rely entirely on the generosity of readers to keep Behind the Black running. You can either make a one time donation for whatever amount you wish, or you sign up for a monthly subscription ranging from $2 to $15 through Paypal, or $3 to $50 through Patreon, or any amount through Zelle.
The best method to donate or subscribe is by using Zelle through your internet bank account, since it charges no fees to you or I. You will need to give my name and email address (found at the bottom of the "About" page). What you donate is what I get.
To use Patreon, go to my website there and pick one of five monthly subscription amounts, or by making a one-time donation.

For PayPal click one of the following buttons:

If these electronic payment methods don't work for you, you can support Behind The Black directly by sending your donation by check, payable to Robert Zimmerman, to


Behind The Black
c/o Robert Zimmerman
P.O.Box 1262
Cortaro, AZ 85652