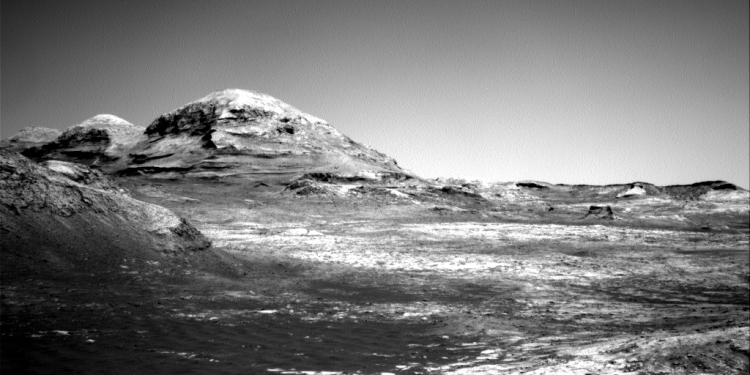 Click for full image.
Cool image time! In the coming weeks and months the view from Curiosity is going to give us the most spectacular views of another world since the Apollo astronauts walked on the Moon.
In today's download of new images from the Mars rover Curiosity was the photo above, reduced to post here. Taken by rover's right navigation camera, it looks west directly in line with Curiosity's future travels, and shows that it is now finally entering mountain country.
The overview map below provides the context.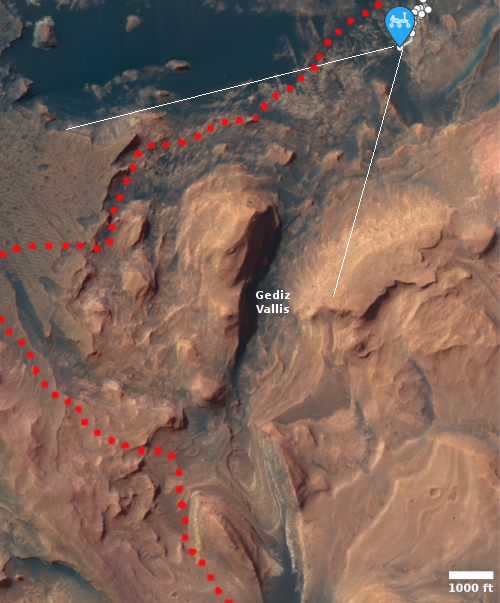 The blue teardrop indicates Curiosity's present position. The white lines indicate the approximate area seen in the image above. The red dotted line shows Curiosity's planned route. The white dots show the rover's actual recent path.
As you can see, the science team has diverged considerably from their planned route. They appear to be skirted much closer to the mountains than originally planned so that if they hold generally to their original plans they will circle around the biggest ridge much closer to it.
There is even the possibility, suggested by this navigation image, that they are considering changing their plans and heading directly into Gediz Vallis. Should they do so we will be treated to breath-taking mountainous views that will actually exceed anything ever seen on another world, including the best pictures taken by the Apollo astronauts.
What I expect is really happening is that the scientists do not wish to retreat downhill, because to do so will mean they will be seeing geology already studied. Higher ground allows them to go where no geologist as ever gone. They will likely stay as high as they can as they go around the big mountain. They might even poke into Gediz Valles a short distance before heading west around that mountain.
Time is essential however. First, the Curiosity team now has to share download time with the Perseverance team, meaning they cannot get as many images or data as they used to. This means it will take longer to accomplish anything they try to do.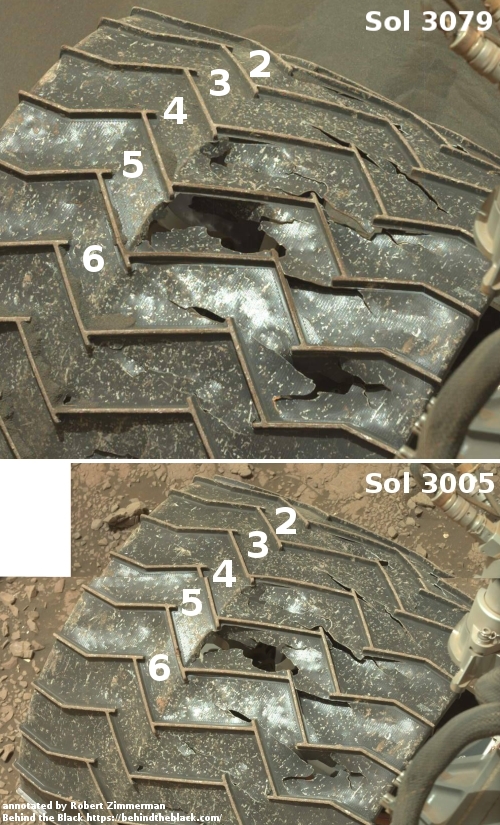 Click here for top image and here and here for the bottom image.
Second, and far more important, the condition of Curiosity could become a factor. For more than a full week at the end of May they were unable to drive at all because of several niggling problems. The cover of one of the rover's camera did not close as planned, and there was another issue with the rover's tall mast which holds its high resolution camera. Both problems have been solved and the rover has resumed travel, but both point to a future of many new technical problems.
And of course, there is the problematic condition of Curiosity's wheels, which they discovered early in the mission were not as robust as planned. Since then the engineers have done good work in protecting those wheels and reducing further damage by carefully picking their way around rough ground. However, their future path into the mountains is far rougher than anything so far experienced. They will be hard put to prevent further wheel damage.
The two images to the right illustrate the seriousness of this issue. The top photo was taken about two months after the bottom, covering a period earlier this year when the rover was traversing some of this rough terrain. For comparison, the numbers indicate the same tread sections.
As you can see, it appears the breakages have increased. And this change is significant, because for years the rover's engineers worked to protect the wheels, resulting in relatively little new damage. The rocky nature of the mountainous terrain the rover is now traversing seems to unfortunately be overwhelming their efforts.
And if this stops Curiosity's travels in the near future it will be a great tragedy, especially because the rover is finally moving into terrain that is both breath-taking and also significant geologically. To not reach that ground would be a terrible loss.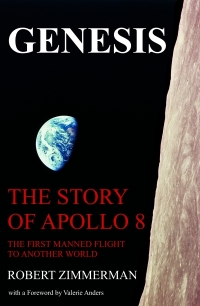 On Christmas Eve 1968 three Americans became the first humans to visit another world. What they did to celebrate was unexpected and profound, and will be remembered throughout all human history. Genesis: the Story of Apollo 8, Robert Zimmerman's classic history of humanity's first journey to another world, tells that story, and it is now available as both an ebook and an audiobook, both with a foreword by Valerie Anders and a new introduction by Robert Zimmerman.
The ebook is available everywhere for $5.99 (before discount) at
amazon
, or direct from my ebook publisher,
ebookit
. If you buy it from
ebookit
you don't support the big tech companies and the author gets a bigger cut much sooner.
The audiobook is also available at all these vendors, and is also
free with a 30-day trial membership to Audible.
"Not simply about one mission, [Genesis] is also the history of America's quest for the moon... Zimmerman has done a masterful job of tying disparate events together into a solid account of one of America's greatest human triumphs."--San Antonio Express-News