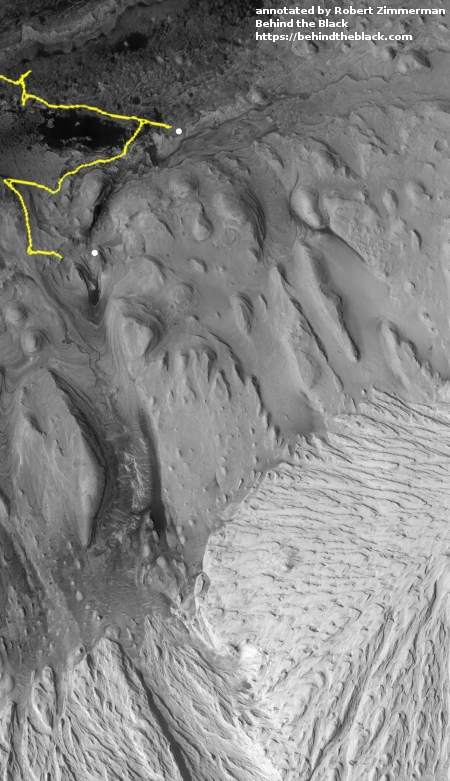 In the December release of images from the high resolution camera on Mars Reconnaissance Orbiter (MRO), there was one image entitled "Monitor Region Near Curiosity Rover." To the right is a reduced, cropped, and rotated section of that image, annotated by me to show Curiosity's future planned route (indicated by the yellow line). If you click on the image you can see the untouched full resolution version.
Curiosity's journey has not yet brought it onto the terrain shown in this image. (For the overall context of Curiosity's travels, see Pinpointing Curiosity's location in Gale Crater.) The rover is right now just off the left edge of the photograph, on the white ridge dubbed Vera Rubin Ridge visible in the uppermost left. This week it completed the last planned drill sampling on that ridge, and it will soon descend off the ridge and begin heading along the yellow route up the mountain. The white dots along its future route are the locations of recurring slope lines, believed to be seasonal seeps of brine coming from below and causing gentle landslides that darken the surface. As you can see, they hope to get very close to the first seep, and will observe the second from across the canyon from a distance of about 1,200 feet.
The peak of Mount Sharp is quite a distance to the south, far beyond the bottom of the photograph. Even in these proposed travels the rover will remain in the mountain's lowest foothills, though the terrain will be getting considerably more dramatic.
Below is a full resolution section of the image showing the spectacular canyon to the south of that second seep. This is where Curiosity will be going, a deep canyon about 1,500 feet across and probably as deep, its floor a smooth series of curved layers, reminiscent of The Wave in northern Arizona. The canyon appears to show evidence of water flow down its slopes, but that is unproven.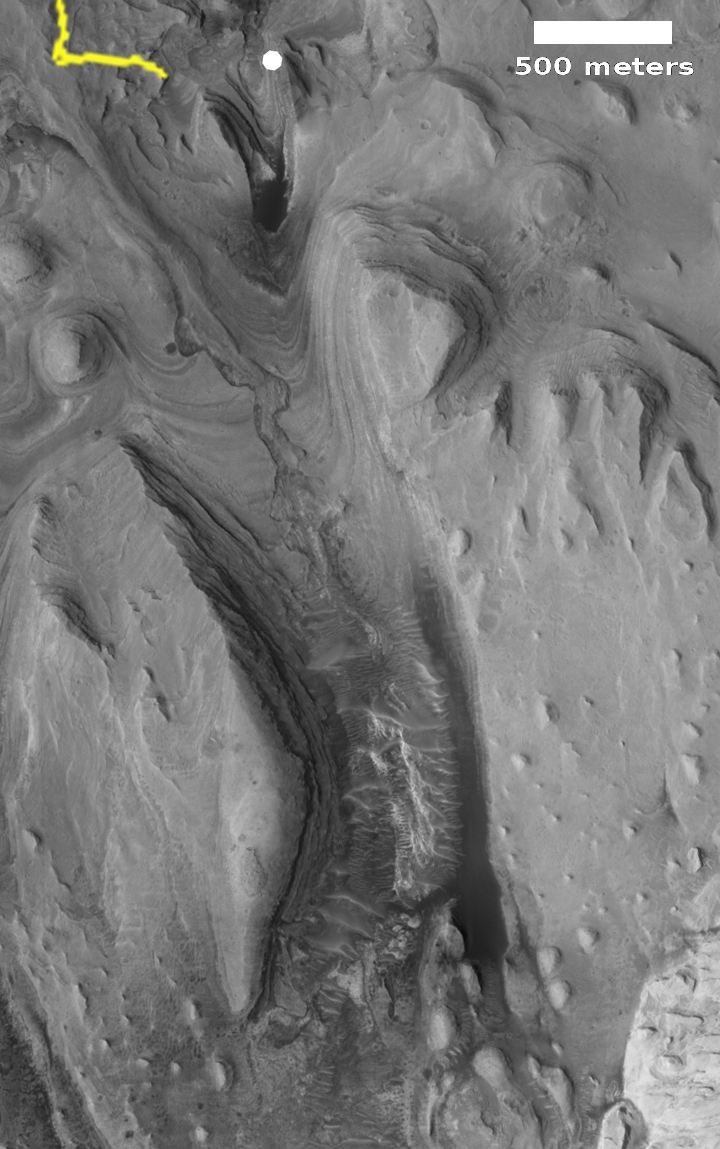 What route they will follow once they get to this second seep remains unclear. It is likely that this MRO image was taken precisely to help mission scientists figure this out. They might go into the canyon, but it does not look like a good route to get higher up the mountain. Too rough. More likely they will have to work their way up on the canyon's slopes. They might also contour across and head to the east, working their way up the mountain on the smoother slopes that are found there.
Obviously, a lot can happen to prevent Curiosity from reaching this dramatic scenery. Keep your fingers crossed. The real exploration of Mars is just beginning.
Readers!
I must unfortunately ask you for your financial support because I do not depend on ads and rely entirely on the generosity of readers to keep Behind the Black running. You can either make a one time donation for whatever amount you wish, or you sign up for a monthly subscription ranging from $2 to $15 through Paypal or $3 to $50 through Patreon.
Your support will allow me to continue covering science and culture as I have for the past twenty years, independent and free from any outside influence.
Your support is even more essential to me because I not only keep this site free from advertisements, I do not use the corrupt social media companies like Google, Twitter, and Facebook to promote my work. I depend wholly on the direct support of my readers.
You can provide that support to Behind The Black with a contribution via Patreon or PayPal. To use Patreon, go to my website there and pick one of five monthly subscription amounts, or by making a one-time donation. For PayPal click one of the following buttons:

If Patreon or Paypal don't work for you, you can support Behind The Black directly by sending your donation by check, payable to Robert Zimmerman, to


Behind The Black
c/o Robert Zimmerman
P.O.Box 1262
Cortaro, AZ 85652


Or you can donate by using Zelle through your bank. You will need to give my name and email address (found at the bottom of the "About" page). The best part of this electronic option is that no fees will be deducted! What you donate will be what I receive.