Week Three: Ninth Anniversary Fund-Raising Drive for Behind the Black
It is now the third week in my annual anniversary fund-raising campaign for Behind the Black.
Please consider donating. I am trying to avoid advertising on this website, but will be forced to add it if I do not get enough support from my readers. You can give a one-time contribution, from $5 to $100, or a regular subscription for as little as $2 per month. Your support will be deeply appreciated, and will allow me to continue to report on science and culture freely.
Regular readers can support Behind The Black with a contribution via paypal:
If Paypal doesn't work for you, you can support Behind The Black directly by sending your donation by check, payable to Robert Zimmerman, to

Behind The Black
c/o Robert Zimmerman
P.O.Box 1262
Cortaro, AZ 85652


As Curiosity moves up into the foothills of Mount Sharp the terrain is getting increasingly interesting. The image above is a panorama I have created from three Left Navigation Camera images posted here on Sunday evening. It shows what I think will be the general direction mission scientists wish to send Curiosity. (Note that the top of the leftmost mesa is not as flat as shown, as its top was cut off in the original image.)
Below is a Mars Reconnaissance Orbiter image showing Curiosity's present position from above. I have annotated it to show the general view as shown in the above image. I have also marked on both the location of the balanced rock first photographed on July 7.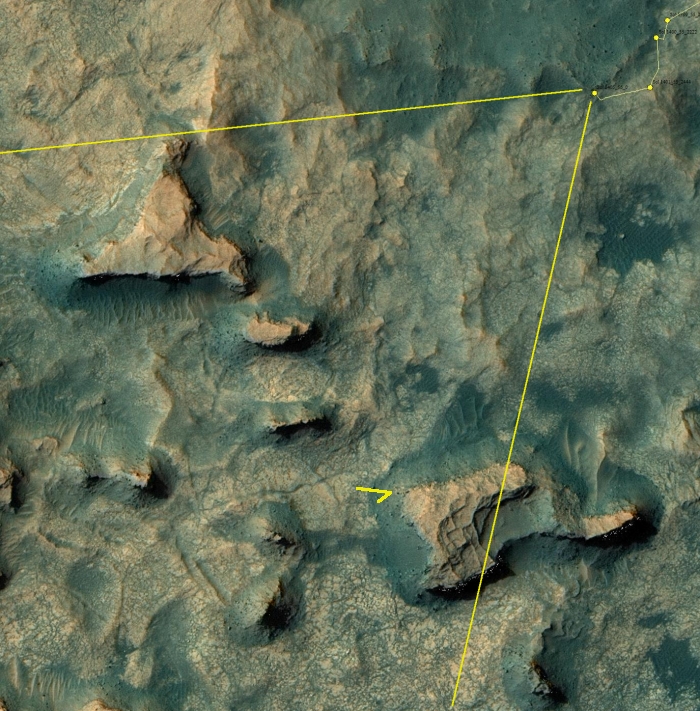 To get a sense of scale, note that the approximate distances of Curiosity's last two drives, indicated by the yellow dots, is approximately 80 feet.
It appears to me that they are searching for the best route through and between the mesas that can be seen in the distance to the southwest. The peak of Mount Sharp is to the south, so heading in that direction makes some sense. From what I can tell looking at the orbital image, the best route in that direction seems to take them through the gap that contains the balanced rock. though they may decide that all of this terrain is too rough, forcing them to send Curiosity around to the north and west. Heading to the east of the mesas appears to be a less appealing choice because it puts them too close to some sand dunes that they have been skirting.
If they do go through one of those gaps, however, the journey should get very very interesting, with some very cool images along the way.