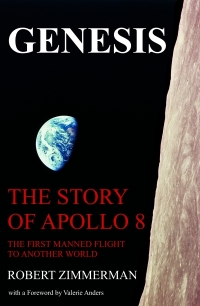 On Christmas Eve 1968 three Americans became the first humans to visit another world. What they did to celebrate was unexpected and profound, and will be remembered throughout all human history. Genesis: the Story of Apollo 8, Robert Zimmerman's classic history of humanity's first journey to another world, tells that story, and it is now available as both an ebook and an audiobook, both with a foreword by Valerie Anders and a new introduction by Robert Zimmerman.
The ebook is available everywhere for $5.99 (before discount) at
amazon
, or direct from my ebook publisher,
ebookit
.
The audiobook is also available at all these vendors, and is also
free with a 30-day trial membership to Audible.
"Not simply about one mission, [Genesis] is also the history of America's quest for the moon... Zimmerman has done a masterful job of tying disparate events together into a solid account of one of America's greatest human triumphs." --San Antonio Express-News
The heat of competition: Industry rumors now suggest that Orbital Sciences's first choice for launching its next ISS freighter Cygnus is SpaceX's Falcon 9.
The articles offers this explanation for why Orbital is favoring its chief competitor:
While flying on a competitor's launch vehicle might be viewed as awkward, the decision could boil down to one simple determining factor – cost. It has been estimated that a flight on a F9 would set a customer back $62 million. By comparison, United Launch Alliance's (ULA ) Atlas V 401 launch vehicle, a booster with similar capabilities to the F9, costs an estimated $100 million per mission. Moreover, SpaceX has a proven track record with the Falcon 9.
All true, but I can think of two more reasons SpaceX is the top choice.

For one, getting a launch rocket scheduled is not as simple as writing a check and then scheduling the launch on a date of your convenience. Schedules are tight, and right now rocket availability is even tighter. SpaceX has a very packed backlog of scheduled commercial launches already on its manifest. Most of these customers have been waiting years to get their payloads in orbit. Many signed contracts with SpaceX before its Falcon 9 had even achieved its first big delivery to ISS, thereby showing great faith in the company and helping it establish its bonifides.
Thus, SpaceX has little commercial incentive to allow its chief competitor to cut in the line and hurt its loyal customers.
However, SpaceX's biggest customer is NASA, which wants Cygnus to fly on schedule, and thus the agency has a lot of leverage with SpaceX. I suspect that Orbital has asked NASA officials to apply pressure to NASA to apply pressure to SpaceX, and those officials have willingly done so
Second, there is SpaceX's own reasons for agreeing to launch Cygnus. Not only do they get a lot of good publicity, the launch gives them another opportunity to test the return capability of Falcon 9's first stage. Many of their commercial launches are to geosynchronous orbit, requiring more fuel from the first stage and thus leaving less for the test vertical landinhg in the ocean. In addition, because of the added risk of these tests many of their commercial customers are reluctant to allow them during their launches.
In this case, SpaceX has the leverage over Orbital to insist on a first stage landing test. More important, imagine the public relations coup for SpaceX if their first successful vertical landing takes place during this launch?
To conclude, though everyone is being tight-lipped at this point, I think there is almost no doubt that SpaceX is going to do it, and that the next Cygnus launch will be on a Falcon 9 rocket.
Readers!
My July fund-raiser for Behind the Black is now over. The support from my readers was unprecedented, making this July campaign the best ever, twice over. What a marvelous way to celebrate the website's tenth anniversary!

Thank you! The number of donations in July, and continuing now at the beginning of August, is too many for me to thank you all personally. Please forgive me by accepting my thank you here, in public, on the website.

If you did not donate or subscribe in July and still wish to, note that the tip jar remains available year round.
Regular readers can support Behind The Black with a contribution via paypal:
If Paypal doesn't work for you, you can support Behind The Black directly by sending your donation by check, payable to Robert Zimmerman, to

Behind The Black
c/o Robert Zimmerman
P.O.Box 1262
Cortaro, AZ 85652