Please consider donating to Behind the Black, by giving either a one-time contribution or a regular subscription, as outlined in the tip jar below. Your support will allow me to continue covering science and culture as I have for the past twenty years, independent and free from any outside influence.
Regular readers can support Behind The Black with a contribution via paypal:
If Paypal doesn't work for you, you can support Behind The Black directly by sending your donation by check, payable to Robert Zimmerman, to

Behind The Black
c/o Robert Zimmerman
P.O.Box 1262
Cortaro, AZ 85652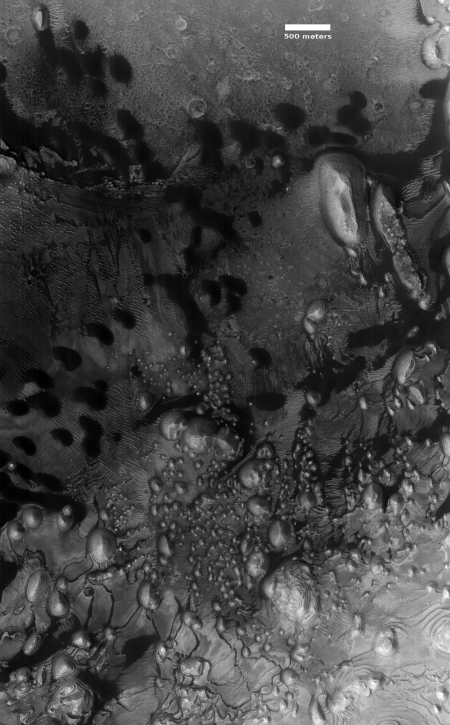 Cool image time! The photo on the right, reduced, rotated, and cropped slightly to post here, was taken by the high resolution camera on Mars Reconnaissance Orbiter (MRO) and issued by the spacecraft science team in its December image release.
They didn't give this image a caption. The release title, "Arabia Terra with Stair-Stepped Hills and Dark Dunes," significantly understates the wild variety of strange features throughout this terrain. Normally I crop out one section of the photographs I highlight to focus on the most interesting feature, but I couldn't do it this time. Click on the image to see the full resolution version. Take a look at the complex wedding cake mesas in the lower left. Look also at the streaks of dust that I think are filling the gullies between these hills. In the image's upper left are those dark dunes, scattered between dust ripples and small indistinct rises and what appears to be a drainage pattern descending to the north. Interspersed with these dunes near the center of the image are several perched crater floors, indicating that the crater impacts happened so long ago that the surrounding terrain had time to erode away, leaving the crater floor hanging like a small plateau.
On the right the two largest mesas rise in even stair-stepped layers that would do the mesas in the Grand Canyon proud.
This could very well be the coolest image I have ever posted. Everywhere you look you see something different, intriguing, and entirely baffling.
Arabia Terra covers the largest section of the transition zone between Mars's high cratered south and its low flat northern plains, where some scientists believe an intermittent ocean might have once existed. It lies to the east of Valles Marineris, and is crater-filled with numerous intriguing geology, as this image most decidedly illustrates. In this particular case it shows the floor of one of the region's mid-sized craters.