The Dawn science team today released what they are calling "the first full-frame image" of Vesta. The image is shown below the fold.
The picture was taken from 3,200 miles, and shows a pockmarked irregularly shaped world. While many features that resemble the Moon (the craters, the rays radiating out from those craters), that Vesta itself is not spherical makes it very much unlike the Moon. It is probably going to take scientists several months at least to decipher the data they are getting and come up with some concrete conclusions about this strange dwarf planet.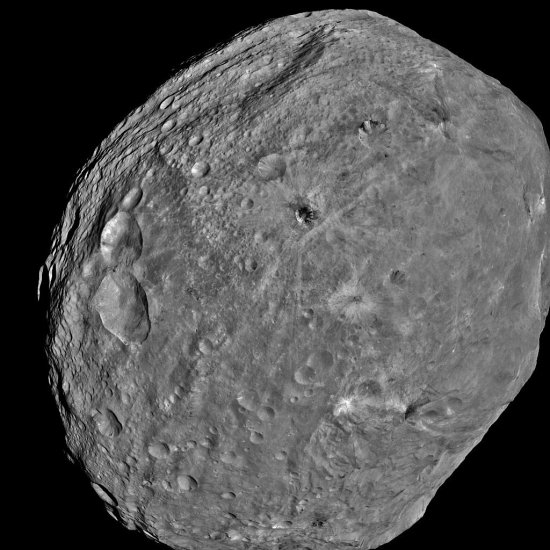 Readers!
Please consider donating to Behind the Black, by giving either a one-time contribution or a regular subscription, as outlined in the tip jar below. Your support will allow me to continue covering science and culture as I have for the past twenty years, independent and free from any outside influence.
Your support is even more essential to me because I keep this site free from advertisements and do not participate in corrupt social media companies like Google, Twitter, and Facebook. I depend wholly on the direct support of my readers.
You can provide that support to Behind The Black with a contribution via Patreon or PayPal. To use Patreon, go to my website there and pick one of five monthly subscription amounts, or by making a one-time donation. For PayPal click one of the following buttons:

If Patreon or Paypal don't work for you, you can support Behind The Black directly by sending your donation by check, payable to Robert Zimmerman, to


Behind The Black
c/o Robert Zimmerman
P.O.Box 1262
Cortaro, AZ 85652