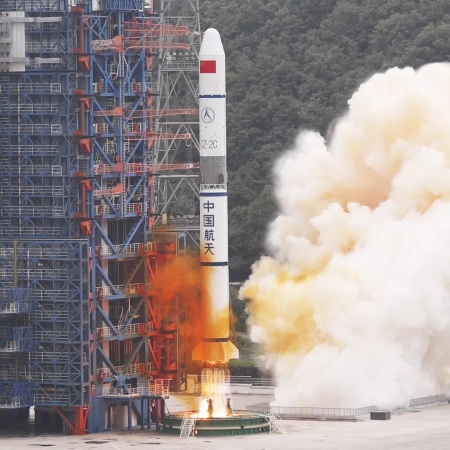 China's Long March 2C rocket
On October 17th The Financial Times published a story claiming, based on anonymous sources, that one of China's five launches in August tested a hypersonic weapon, which supposedly circled the globe to impact the Earth only 24 miles from its target.
The Financial Times story is behind a paywall, but not surprisingly it was picked up by much of the mainstream press, with the conservative press — as illustrated by this Daily Wire story — accepting the weapon as fact, while the leftist press — as illustrated by this CNN story — giving China the opportunity to deny the claim.
Did it actually happen? I have no idea. I would add however that I would not trust any story dependent wholly on anonymous sources, considering the unreliability of today's press and the repeated evidence that numerous federal agencies in the military and intelligence communities routinely feed it disinformation for their own political purposes. These agencies, including the Space Force, want to encourage Congress to fund them, and creating a bogey man threat that the press can tout has for decades been the standard way to do it.
To get a better idea whether this hypersonic flight happened, let's review the actual Chinese launches in August to see if any might be a likely candidate. For a launch to fit the description, there would have to be almost no information about its payload, and that payload would have to have not reached orbit, since the hypersonic test circled the globe once and then impacted the Earth.

On August 4th China used its Long March 6 rocket to launch two satellites testing new "interference suppression technology" aimed at satellite communications in certain wavelengths. Both satellites were built by China's Academy of Sciences, but operated by the German company KLEO-connect. That European connection almost certainly rules this launch out. That both satellites reached orbit also tells us that this could not be the hypersonic launch.
On August 5th China used its Long March 3B rocket to launch what is believed to be the fourth in its Zhongxing series of military communications satellites, used for standard military communications. Whether this information, as released by China, is correct or a lie is of course impossible to confirm. However, the satellite reached orbit, once again eliminating this launch as the hypersonic test.
On August 19th China used its Long March 4B rocket to launch two radar surveying satellites. Once again, both satellites reached orbit, which means this launch could not be the hypersonic test flight.
On August 24th China completed two launches. First, a Long March 2C rocket launched two satellites testing technology for a planned large constellation of satellites to provide global internet capabilities, similar technology to SpaceX's Starlink constellation. Both made orbit as planned, and thus could not be the hypersonic test. However, the launch also included a third unnamed satellite supposedly a "communications test demo mission." No details about that third payload or its eventual fate in orbit were ever released. [See the comment below. This payload is definitely in orbit, and I have revised my essay below accordingly.]
The second August 24th launch used a Long March 3B rocket to launch a geosynchronous satellite claimed by China to be for communications. Since it reached orbit this could not be that hypersonic test.
Those are all of China's launches in August. All put their payloads into orbit, where they remain. None involved a payload that reached orbit and then immediately returned to Earth.
Thus, I remain skeptical. The U.S. and Russia have been attempting to build a hypersonic missile for decades. Both the U.S. and Russia have claimed recently to have successfully tested such a rocket on a short flight (see here and here). Neither have come close to launching something that could circle the globe. Then again, neither have used a rocket to lift their hypersonic missile into orbit first.
For China to suddenly leap ahead of both seems unlikely. It is not impossible, but until the story is confirmed by more reliable sources or by another independent news organization, it remains questionable. More important, someone is going to have to identify the missile's actual launch, which at this time remains nonexistent.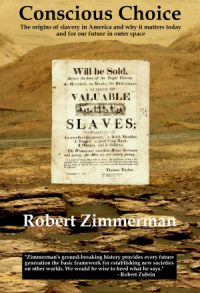 Now available in hardback and paperback as well as ebook!
From the press release: In this ground-breaking new history of early America, historian Robert Zimmerman not only exposes the lie behind The New York Times 1619 Project that falsely claims slavery is central to the history of the United States, he also provides profound lessons about the nature of human societies, lessons important for Americans today as well as for all future settlers on Mars and elsewhere in space.
Conscious Choice: The origins of slavery in America and why it matters today and for our future in outer space
, is a riveting page-turning story that documents how slavery slowly became pervasive in the southern British colonies of North America, colonies founded by a people and culture that not only did not allow slavery but in every way were hostile to the practice.
Conscious Choice
does more however. In telling the tragic history of the Virginia colony and the rise of slavery there, Zimmerman lays out the proper path for creating healthy societies in places like the Moon and Mars.
"Zimmerman's ground-breaking history provides every future generation the basic framework for establishing new societies on other worlds. We would be wise to heed what he says." —Robert Zubrin, founder of founder of the Mars Society.
All editions are available at Amazon, Barnes & Noble, and all book vendors, with the ebook priced at $5.99 before discount. The ebook can also be purchased direct from my ebook publisher, ebookit, in which case you don't support the big tech companies and I get a bigger cut much sooner.
Autographed printed copies are also available at discount directly from me (hardback $24.95; paperback $14.95; Shipping cost for either: $5.00). Just email me at zimmerman @ nasw dot org.