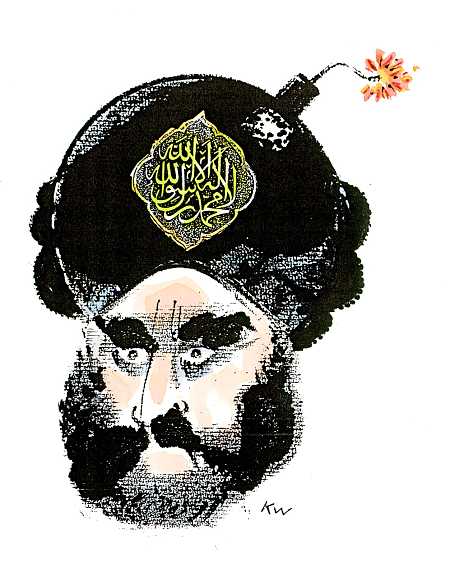 The cartoon on the right prompted the first Islamic riots. More recent ones in the French magazine Charlie Hebdo apparently prompted today's violent murders.
The goal of these Islamic acts of violence: To stop people from criticizing Islam.
My goal in publishing this cartoon: To defy these thugs and to encourage people to criticize Islam. In the past two decades we have seen nothing but violence, terrorism, death, and destruction from this Arabic religion, fed by hatred and bigotry of Jews and Christians. It is time to say so, bluntly.
If Muslims wish this criticism to stop, they need to do something about it themselves, as the President of Egypt has, instead of demanding others to shut up.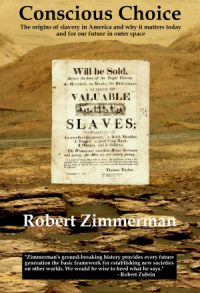 From the press release: In this ground-breaking new history of early America, historian Robert Zimmerman not only exposes the lie behind The New York Times 1619 Project that falsely claims slavery is central to the history of the United States, he also provides profound lessons about the nature of human societies, lessons important for Americans today as well as for all future settlers on Mars and elsewhere in space.
Conscious Choice: The origins of slavery in America and why it matters today and for our future in outer space
, is a riveting page-turning story that documents how slavery slowly became pervasive in the southern British colonies of North America, colonies founded by a people and culture that not only did not allow slavery but in every way were hostile to the practice.
Conscious Choice
does more however. In telling the tragic history of the Virginia colony and the rise of slavery there, Zimmerman lays out the proper path for creating healthy societies in places like the Moon and Mars.
"Zimmerman's ground-breaking history provides every future generation the basic framework for establishing new societies on other worlds. We would be wise to heed what he says." —Robert Zubrin, founder of founder of the Mars Society.
Available everywhere for $3.99 (before discount) at Amazon, Barnes & Noble, and all ebook vendors, or direct from the ebook publisher, ebookit. And if you buy it from ebookit you don't support the big tech companies and I get a bigger cut much sooner.