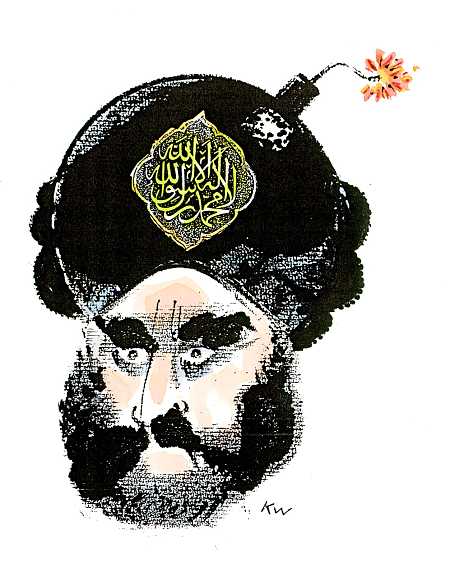 The cartoon on the right prompted the first Islamic riots. More recent ones in the French magazine Charlie Hebdo apparently prompted today's violent murders.
The goal of these Islamic acts of violence: To stop people from criticizing Islam.
My goal in publishing this cartoon: To defy these thugs and to encourage people to criticize Islam. In the past two decades we have seen nothing but violence, terrorism, death, and destruction from this Arabic religion, fed by hatred and bigotry of Jews and Christians. It is time to say so, bluntly.
If Muslims wish this criticism to stop, they need to do something about it themselves, as the President of Egypt has, instead of demanding others to shut up.

Readers!
My July fund-raising campaign for 2021 has now ended. Thank you all for your donations and subscriptions. While this year's campaign was not as spectacular as last year's, it was the second best July campaign since I began this website.
And if you have not yet donated or subscribed, and you think what I write here is worth your support, you can still do so. I depend on this support to remain independent and free to write what I believe, without any pressure from others. Nor do I accept advertisements, or use oppressive social media companies like Google, Twitter, and Facebook. I depend wholly on the direct support of my readers.
If you choose to help, you can contribute via Patreon or PayPal. To use Patreon, go to my website there and pick one of five monthly subscription amounts, or by making a one-time donation. For PayPal click one of the following buttons:

If Patreon or Paypal don't work for you, you can support Behind The Black directly by sending your donation by check, payable to Robert Zimmerman, to


Behind The Black
c/o Robert Zimmerman
P.O.Box 1262
Cortaro, AZ 85652