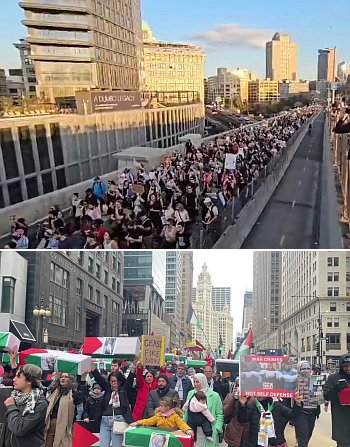 As Israel now ramps up its offensive against Hamas in Gaza, slowly but steadily moving tanks and troops into the strip from numerous directions, protests by supporters of Hamas's mass murders on October 7th have exploded in numerous locations in the United States and elsewhere.
To the right are screen captures from two very large protests, the top showing a demonstration of an estimated 7,000 pro-Hamas protesters taking over the Brooklyn Bridge in New York on October 28, 2023. In the video at one point you can read a sign that clearly says, "Our soldiers will not be held accountable for anything."
The second picture is from a protest in Chicago. The demonstrators at this moment are chanting "From the river to the sea, Palestine will be free!", a chant that has always meant in plain language, "We will kill all the Jews in Israel because Allah said only Muslims can live there." It is also written into the Hamas founding charter, which states unequivocally that it "owes its loyalty to Allah, derives from Islam its way of life, and strives to raise the banner of Allah over every inch of Palestine."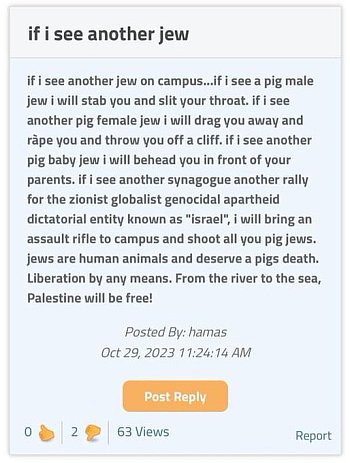 These large protests in New York and Chicago follow many other demonstrations of support for Hamas (and its recent acts of Jewish genocide) on many American campuses, underlined yesterday when Cornell was forced to shut down its Jewish student Hillel Center at the university because of threats of violence, warning its Jewish students to stay away from the building. The warning was instigated by tweets such as the one to the right, signed by someone calling his or herself "hamas".
Even after this, if you have any doubts about the genocidal goals of Hamas, supported unequivocally by these demonstrators, you need only listen to the words of this Hamas official, calling for the cleansing of all Jews and Christians from the entire Earth.
The entire 510 million square kilometers of the planet Earth will come under (a system) where there is no injustice, no oppression, no treachery, no Zionism, no treacherous Christianity. [emphasis mine]
And if you think he means Jews, Christians, and Muslims will all live in peace, you are being willfully dishonest. He means that all non-Muslims will either convert, or be killed. And with Jews, he almost certainly considers conversion untrustworthy. Better to kill them to make sure they are converted.
None of these stories above are really breaking news, especially if you have been paying attention during the past two weeks. Many news outlets (mostly in the new alternative press) have already reported on these demonstrations and their violent genocidal intent. Organizations like MEMRI have been documenting the genocidal goals of Hamas, the Palestinian Authority, and Iran for years, using their own words.
What has not been noted enough however is the political allegiances of these pro-Hamas demonstrators. While not every Democrat favors what Hamas did on October 7th, we can be very very VERY confident that practically every single one of these pro-Hamas protesters, calling for the death of every Jew in Israel and numbering in the tens of thousands, is a Democrat, and has been voting for Democrats their entire lives.
This is the base of the Democratic Party. It is why the anti-Semitic "squad" of Rashida Tlaib (D-Michigan), Ilhan Omar (D-Minnesota), Alexandria Ocasio-Cortez (D-New York), and Ayanna Pressley (D-Massachusetts) are all elected members of the Democratic Party caucus in the House of Representatives. The first two represent districts strongly controlled by Democrats, most of whom come from the local Muslim communities, while latter two come from the one-party secular cities of New York and Boston, controlled wholly by Democrats.
As I say, not all Democrats are anti-Semites and supporters of Hamas's genocidal mass murder of over a thousand people on October 7th, including the torture and killing of women, children, and babies. Nonetheless, the Democratic Party obtains much of its power and agenda from people who do support this evil, and thus shape much of its agenda. For years it has also looked the other way when these bigots and other bigots in its midst promoted the new racial segregation and discrimination of critical race theory and "diversity, equity, and inclusion" on college campuses and inside corporations. Now many members of that party are struggling to do whatever they can to hide their alliance with these bigots, if only to protect their power.
None of that matters. We now know where the Democratic Party and its base really stand. We also know that it is a party that is willing to harbor bigots in its midst, merely to remain in power.
Thus, if you are a registered Democrat but consider yourself a decent human being who finds what Hamas has done beyond the pale, why in God's name are you still a Democrat? Or are you deep down a bigot as well, and really approve of what Hamas did, and consider it a good proxy so you can make believe you are virtuous while others do the dirty work for you?
Or you simply an example of a "good German", who makes believe evil isn't happening in your name, and will later claim "you just didn't know, you had no idea what the Nazis were really doing?"
It is time to face these facts. In fact, it is long past time.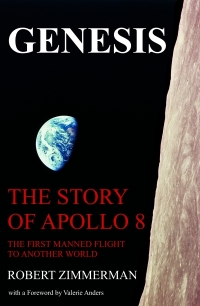 On Christmas Eve 1968 three Americans became the first humans to visit another world. What they did to celebrate was unexpected and profound, and will be remembered throughout all human history. Genesis: the Story of Apollo 8, Robert Zimmerman's classic history of humanity's first journey to another world, tells that story, and it is now available as both an ebook and an audiobook, both with a foreword by Valerie Anders and a new introduction by Robert Zimmerman.
The ebook is available everywhere for $5.99 (before discount) at
amazon
, or direct from my ebook publisher,
ebookit
. If you buy it from
ebookit
you don't support the big tech companies and the author gets a bigger cut much sooner.
The audiobook is also available at all these vendors, and is also
free with a 30-day trial membership to Audible.
"Not simply about one mission, [Genesis] is also the history of America's quest for the moon... Zimmerman has done a masterful job of tying disparate events together into a solid account of one of America's greatest human triumphs."--San Antonio Express-News